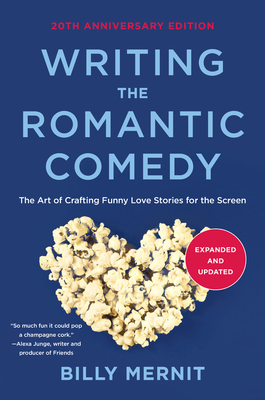 Writing The Romantic Comedy, 20th Anniversary Expanded and Updated Edition
The Art of Crafting Funny Love Stories for the Screen
Paperback

* Individual store prices may vary.
Description
"Writing the Romantic Comedy is so much fun to read it could pop a champagne cork."—Alexa Junge, writer and producer of Friends
Revised and expanded to celebrate a new generation of romantic comedies, Billy Mernit's insightful look into the mechanics of writing Hollywood's most enduring genre features case studies that reveal the screenwriting secrets behind classics new and old.
Whether you're a first-time screenwriter, an intermediate marooned in the rewriting process, or a professional wanting to explore the latest genre trends, this thoroughly charming and insightful guide to the basics of crafting a winning and innovative script will take you step by step from "meet cute" all the way to "joyous defeat." You'll learn the screenwriting secrets behind some of the funniest scenes ever written; how to create characters and dialogue that getsparks flying; why some bedroom scenes sizzle and others fall flat; and much more. 
Written in a refreshingly accessible style and updated and expanded to recognize the contributions of a fresh generation of romantic comedies, this newly revised 20th Anniversary edition of Writing the Romantic Comedy features case studies drawn from beloved romantic classics such as When Harry Met Sally, Annie Hall, Tootsie, and The Lady Eve to modern-day favorites including Hitch, (500) Days of Summer, Bridesmaids, and Silver Linings Playbook. Field-tested writing exercises are also included, guaranteed to short-circuit potential mistakes and ensure inspiration.
Praise For Writing The Romantic Comedy, 20th Anniversary Expanded and Updated Edition: The Art of Crafting Funny Love Stories for the Screen…
"Moving well beyond generic pronouncements and 'rules', Billy Mernit's specific, well-tested exercises guide writers to create real, personal, credible characters and plots that speak to the romantic in all of us." — Linda Venis, Director, UCLA Extension Writers' Program
Mernit's screenwriting knowledge shines through this highly readable volume. This is no "formula" book but an essential guide to finding your own voice. — Denver Rocky Mountain News
"Insightful, thorough, and easy to use, this step-by-step guide expertly balances the craft and the art of writing the romantic comedy. Billy Mernit really knows his stuff, and after reading this book, you will too." — Stephen Mazur, co-writer of Liar, Liar and The Little Rascals
"Writing the Romantic Comedy is so much fun to read it could pop a champagne cork." — Alexa Junge, writer/producer of Friends
Harper Paperbacks, 9780062950260, 480pp.
Publication Date: February 11, 2020
About the Author
BILLY MERNIT serves as a story analyst and script consultant at Universal Pictures, and is a Distinguished Instructor at the UCLA Extension Writers' Program. Author of the novel Imagine Me and You (Random House) and co-author (with Claudia Nizza) of That's How Much I Love You (Tallfellow Press), he has also published twenty romance novels for Harlequin and Berkeley/Jove under a female nom de plume. During his many years in the entertainment industry, he has written for NBC's Santa Barbara, and composed songs recorded by Carly Simon, Judy Collins, and Morrissey.