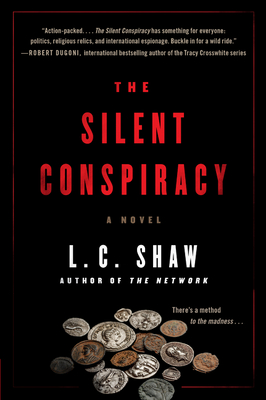 The Silent Conspiracy
A Novel
Paperback

* Individual store prices may vary.
Other Editions of This Title:
Digital Audiobook (9/14/2020)
MP3 CD (9/15/2020)
Compact Disc (9/15/2020)
Description
The past is about to catch up to Jack Logan and Taylor Parks in this gripping follow-up to The Network—praised by Steve Berry as "mandatory reading for any thriller aficionado."
It's been almost two years since investigative reporter Jack Logan and television producer Taylor Parks brought down the Institute—the secret facility responsible for indoctrinating a generation of America's political and media power players. Their lives are just getting back to normal, and Jack and Taylor have settled into married life with their young son, Evan.
But soon a series of bizarre, seemingly random murder/suicides captures Jack's attention as a disturbing pattern emerges. Could someone be intentionally causing people to become homicidal? At the same time, Taylor is producing a story about a class action suit against a national insurance company that has reached the Supreme Court.
As Jack and Taylor start to suspect that their stories are connected, they realize there is something far more insidious at play that could not only directly threaten them—but the very future of the country…
Praise For The Silent Conspiracy: A Novel…
"Riveting and relentless . .  .. It's a truly scary tale, the implications of which are even more dire because it's grounded in reality." — Providence Journal
"The premise is a good one, the tension is high, and the characters are well developed." — New York Journal of Books
"Another white-knuckle conclusion. . . . Shaw creates nearly unbearable tension as the bodies pile up, the cabal seizes the advantage and Logan and Parks struggle for survival." — The Free Lance-Star
"Action-packed. . . . The characters are well drawn and the story amps up to a cliff-hanger ending that will satisfy most thriller lovers. This book will appeal to fans of puzzle-solving thrillers and catastrophe stories from authors such as Steve Berry, David Baldacci, and Robin Cook." — Library Journal
"Very diverting. . . . The pace is zippy, Jack and his family are sympathetic characters, and if you enjoy this kind of thriller, you can lose yourself in the action." — Mystery Scene
"An action-packed follow up to The Network, The Silent Conspiracy has something for everyone: politics, religious relics, and international espionage. Buckle in for a wild ride." — Robert Dugoni, internationally best-selling author of the Tracy Crosswhite series
"Masterfully entertaining, The Silent Conspiracy by L.C. Shaw is a mesmerizing brew of seeming innocence and good intentions. Powerhouse author Shaw takes us by the hand and leads us step by fascinating step from the normalcy of a happily married modern couple with a son, into a dark conspiracy of power, religion, passion, and untouchable evil.  And it all begins with Judas Iscariot's 30 pieces of silver. This spell-binding web of danger isn't to be missed!" — Gayle Lynds, New York Times bestselling author of The Assassins
"The Silent Conspiracy is a tense and riveting thriller that keeps you turning the pages as it reels you in to the very end, with a terrifying villain and a shocking conclusion that you won't soon forget." — Jamie Freveletti, international bestselling author of the Emma Caldridge series and Robert Ludlum's Covert One series
Praise for THE NETWORK:  "Revel in L.C. Shaw's thriller, The Network. . . . Part Dan Brown, part Ira Levin, part Ian Fleming, part Steve Berry—and wholly terrifying—The Network displays Shaw's talents, skills that enable her to produce nearly unbearable tension and multiple shocks as she seizes the reader and never lets go, not even on the final page." — The Free-Lance Star (Fredericksburg, VA)
"Batten down the hatches, thriller fans. L.C. Shaw's The Silent Conspiracy is a wild, harrowing ride that never lets up. From the jaw-dropping first chapter to a conclusion that leaves gobs thoroughly-smacked, this Jack Logan saga has it all." — Chris Hauty, author of Deep State, a New York Times Book Review Editors' Choice
"Foreboding, timely and necessary, THE SILENT CONSPIRACY is a gripping page-turner, rife with corruption, intrigue and haunting suspense. Totally engrossing!" — A.F. Brady, author of The Blind and Once A Liar
"THE SILENT CONSPIRACY has got such a delicious conceit at the heart of it that I wish I'd thought of it. You'll wonder how on earth the author is going to pull all the threads and characters together, then marvel as they manage it, page after page-turning page." — Simon Toyne, Sunday Times bestselling author of Sanctus
"The merciless Crosse makes a timely villain in this thriller from Lynne Constantine, who with her sister Valerie writes under the name Liv Constantine." — BBC, "Ten Books to Read in December"
"Exhilarating . . . . From the opening pages to the thrilling conclusion, The Network is an intense and action-packed roller-coaster ride of emotions. . . . The suspense and intrigue is relentless from beginning to end. It has it all: political corruption, religious under tones, immorality, hidden treasures, historical artifacts, conspiracy, heart-pounding action, along with a cast of characters you'll love and hate. The conclusion leaves the reader with a bit of a cliff-hanger and certainly wanting more." — New York Journal of Books 
"Readers with a taste for action thrillers will best appreciate this one"
— Publishers Weekly
"A staccato-paced series opener that will appeal to readers seeking conspiracy-laced thrillers." — Booklist
"Once you start reading, you'll be hooked." — Suspense Magazine
"This is mandatory reading for any thriller aficionado." — Steve Berry, New York Times bestselling author
"Washington power plays, Supreme Court intrigue, religious relics, and a chase for the ages. Fans of Brad Meltzer and James Rollins will love L.C. Shaw's THE NETWORK." — Anthony Franze, author of The Outsider
"There are books that keep you up at night, and there are books that keep you up all night — L.C. Shaw's THE NETWORK is the latter. Sophisticated, suspenseful, and unpredictable, Shaw's deft plotting and breakneck pacing set the standard for the modern political thriller. Once I started reading, I couldn't stop. Absolutely electrifying."   — Jennifer Hillier, USA Today bestselling author of Jar of Hearts
"The Network" is thriller-writing at its best: a sinister conspiracy with international power, a pulse-pounding chase to save the world, an unlikely romance with heart-wrenching complications, and one mysterious hero to untangle it all. Jack Reacher and Jack Ryan, watch out! Jack Logan is hot on your trail." — Allison Leotta, author of The Last Good Girl
"Shaw's blistering pacing, compelling drama, and tight prose mesh together to create an unputdownable read. Journalist Jack Logan rips down the curtain masking one of mankind's oldest secrets in an all-out battle for the human soul. Tune into THE NETWORK for the gritty news of today—and yesterday. Breathtaking." — K.J. Howe, international bestselling author of SKYJACK
"THE NETWORK offers a superb blend of a political, speculative, and action thriller.  Lynne Constantine manages this delicate balancing act with a skill and aplomb that is both a throwback to Robert Ludlum and testament to Dan Brown.  The kind of tale Alfred Hitchcock would have loved to adapt and thriller lovers are certain to devour." — Jon Land, USA Today bestselling author
"With a decades-old cabal, ancient relic, conspiracy, action, and twists, THE NETWORK delivers on the goods. The result: an addicting read that keep you up long past bedtime." — Tosca Lee, New York Times bestselling author
"Political intrigue, religious artifacts, great characters, and plot twists galore. You will not be able to put THE NETWORK down." — DP Lyle, award-winning author of the Jake Longly and Cain/Harper thriller series

"Wow! Talented storyteller L.C. Shaw has perfected the vacation-airplane-beach read! Unfailingly entertaining, riveting, and breathtakingly timely—you will absolutely devour this thrilling and cautionary tale. Attention, Hollywood: this one has blockbuster written all over it." — Hank Phillippi Ryan, nationally bestselling author of The Murder List
"THE NETWORK is a thriller with all the right ingredients: power-drunk capitalists, corrupt politicians, existential moral questions, and global conspiracies spawning life-or-death consequences. Add into the mix well-crafted characters and the result is a recipe for success. With Shaw's breakneck pacing, intricate twists, and constant cliffhangers, thriller fans will blaze though this book in one sitting." — Carter Wilson, USA Today bestselling author

Harper Paperbacks, 9780062950949, 336pp.
Publication Date: September 15, 2020
About the Author
L. C. Shaw is the pen name of internationally bestselling author Lynne Constantine who also writes psychological thrillers with her sister as Liv Constantine. Her husband wonders if she is actually a spy, and never knows which name to call her. She loves to procrastinate by spending time on social media and, when stuck on a plot twist, has been known to run ideas by her silver Labrador and golden retriever who wish she would stop typing and play ball with them. Lynne has a master's degree from Johns Hopkins University and her work has been translated into twenty-seven foreign languages.