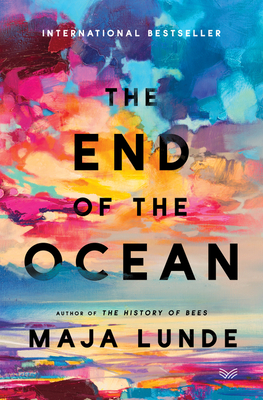 The End of the Ocean
A Novel
Hardcover

* Individual store prices may vary.
Other Editions of This Title:
Digital Audiobook (1/13/2020)
Digital Audiobook (10/30/2019)
Paperback (2/9/2021)
MP3 CD (1/14/2020)
Compact Disc (1/14/2020)
Description
From the author of the number-one international bestseller The History of Bees, a captivating story of the power of nature and the human spirit that explores the threat of a devastating worldwide drought, witnessed through the lives of a father, a daughter, and a woman who will risk her life to save the future.

In 2019, seventy-year-old Signe sets sail alone on a hazardous voyage across the ocean in a sailboat. On board, a cargo that can change lives. Signe is haunted by memories of the love of her life, whom she'll meet again soon.
In 2041, David and his young daughter, Lou, flee from a drought-stricken Southern Europe that has been ravaged by thirst and war. Separated from the rest of their family and desperate to find them, they discover an ancient sailboat in a dried-out garden, miles away from the nearest shore. Signe's sailboat.
As David and Lou discover Signe's personal effects, her long ago journey becomes inexorably linked to their own.
An evocative tale of the search for love and connection, The End of the Ocean is a profoundly moving father daughter story of survival and a clarion call for climate action.
Translated from the Norwegian by Diane Oatley
Praise For The End of the Ocean: A Novel…
"If we somehow manage to save the planet from ourselves, it will be because of big-hearted beautiful books like this one, that make us feel the devastating cost of our current climate inaction. Not just the planet-wide consequences, but the human-scale ones as well. Gripping and powerful." — Sam J. Miller, Nebula Award Winning author of Blackfish City 
"Lyrical, atmospheric, and eerily prescient, The End of the Ocean is my favorite kind of speculative fiction. Lunde expertly weaves together both a warning and a gorgeous literary work of love and survival that will leave you wishing for rain." — Christina Dalcher, national bestselling author of Vox  
"Imagine The Leftovers, but with honey." — Elle on The History of Bees
"Without ever banging an apocalyptic drum, Lunde paints an achingly pure picture of what happens if we fail to protect the bees, our biospheric conscience, our fragile, sacred spinners of gold." — Jacquelyn Mitchard, New York Times bestselling author, on The History of Bees
"As a lover of honeybees and a fan of speculative fiction, I was doubly smitten by The History of Bees. Maja Lunde's novel is an urgent reminder of how much our survival depends on those remarkable insects. It is also a gripping account of how—despite the cruelest losses—humanity may abide and individual families can heal." — Jean Hegland, author of Still Time and Into the Forest, on The History of Bees
"By turns devastating and hopeful, The History of Bees resonates powerfully with our most pressing environmental concerns. Following three separate but interconnected timelines, Lunde shows us the past, the present, and a terrifying future in a riveting story as complex as a honeycomb." — Bryn Greenwood, New York Times bestselling author, on The History of Bees
"Two stories on the impact of climate change intersect in this thoughtful and suspenseful novel… Both halves of the story are convincingly detailed and quietly wrenching, and Lunde gradually and subtly draws them together to powerful effect."  — Kirkus Reviews (starred review)
" As the water crisis gets worse, the desperation echoes the extremities of Emily St. John Mandel's postapocalyptic Station Eleven (2014). In a gripping narrative, Lunde portrays the profit-motivated decisions that created and are now exacerbating David's horrific existence. This is another brilliant call to arms from a vital contemporary novelist." — ALA Booklist
HarperVia, 9780062951366, 304pp.
Publication Date: January 14, 2020
About the Author
Maja Lunde is a Norwegian author and screenwriter. Lunde has written five books for children and young adults. She has also written scripts for Norwegian television, including for the children's series Barnas supershow ("The Children's Super Show"), the drama series Hjem("Home") and the comedy series Side om Side ("Side by Side"). THE HISTORY OF BEES was her first novel for adults. She lives with her husband and three children in Oslo.
1. Magnus once tells Signe that the beautiful landscape of Ringfjorden with its glaciers and rivers "created" her. How does Signe's connection with water shape her actions and relationships? How does David and Lou's environment change them? Going further, how has nature shaped humankind rather than the other way around?
2. The End of the Ocean alternates between Signe's story in 2017 and David's in 2041. Why do you think the author chose two time periods decades apart? How are their stories and worlds connected, and what do you think the author is trying to illustrate about our future world?
3. At twenty-five, David is a young and inexperienced father. How does his relationship with Lou and role as a father develop? How is Lou's childhood different from the way Signe imagines her own youth?
4. Discuss each character's relationship with water. How does Signe view water differently than Magnus? How does it affect their relationship? Contrast this with how David and Lou treat water as a precious resource.
5. Why do you think the author chose to tackle issues of climate change through dystopian fiction rather than non-fiction? How does character and plot influence how we relate to very real problems like man-made drought or uncontrollable wildfires?
or
Not Currently Available for Direct Purchase