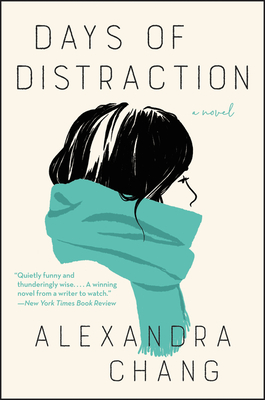 Days of Distraction
A Novel
Paperback

* Individual store prices may vary.
Other Editions of This Title:
Digital Audiobook (3/30/2020)
Hardcover (3/31/2020)
Compact Disc (3/31/2020)
MP3 CD (3/31/2020)
Description
"Startlingly original and deeply moving.... Chang here establishes herself as one of the most important of the new generation of American writers."   — George Saunders
A Recommended Book From
Buzzfeed * TIME * USA Today * NPR * Vanity Fair * The Washington Post * New York Magazine * O, the Oprah Magazine * Parade * Wired * Electric Literature * The Millions * San Antonio Express-News * Domino * Kirkus
A wry, tender portrait of a young woman—finally free to decide her own path, but unsure if she knows herself well enough to choose wisely—from a captivating new literary voice

The plan is to leave. As for how, when, to where, and even why—she doesn't know yet. So begins a journey for the twenty-four-year-old narrator of Days of Distraction. As a staff writer at a prestigious tech publication, she reports on the achievements of smug Silicon Valley billionaires and start-up bros while her own request for a raise gets bumped from manager to manager. And when her longtime boyfriend, J, decides to move to a quiet upstate New York town for grad school, she sees an excuse to cut and run.
Moving is supposed to be a grand gesture of her commitment to J and a way to reshape her sense of self. But in the process, she finds herself facing misgivings about her role in an interracial relationship. Captivated by the stories of her ancestors and other Asian Americans in history, she must confront a question at the core of her identity: What does it mean to exist in a society that does not notice or understand you?
Equal parts tender and humorous, and told in spare but powerful prose, Days of Distraction is an offbeat coming-of-adulthood tale, a touching family story, and a razor-sharp appraisal of our times.
Praise For Days of Distraction: A Novel…
"Quietly funny and thunderingly wise…. What matters here is Chang's honest, unconventional storytelling…. [A] winning novel from a writer to watch." — New York Times Book Review
"Alexandra Chang's debut "Days of Distraction" brims with the predicaments of our current moment….. With echoes of Jenny Offill's similarly titled "Dept. of Speculation," [Days of Distraction] both reflects and caters to our distracted age…. But for all its formal interplay and textual shifts, the novel is also, somehow, a cohesive, thoroughly absorbing read…. By creating such a smart, thoughtful, funny, observant narrator, and taking us on a familiar arc of leaving home, contending with new surroundings, reconnecting with the past and negotiating a crossroads, Chang achieves the opposite effect of distraction culture…. An immersive, emotionally honest novel." — Washington Post
"Gripping…. Pointed, witty, and free of easy resolutions. And Chang's deadpan style offers up moments of absurd humor…. Chang shows the challenge of trying to raise issues about racism that even those closest to her wish to avoid. Struggling to spark a conversation nobody wants to have, she conducts an engrossing one with herself." — USA Today
"A sharp, wise and truly contemporary debut novel." — Time
"[Chang] transmutes millennial malaise into an astute meditation on identity in the age of algorithms with this deadpan novel of an Asian American journalist fighting to be truly seen—by both her employer and her white boyfriend." — O, the Oprah Magazine
"Days of Distraction is a novel that puts political issues in individual terms. In a cultural moment of forced self-analysis and rising anti-Asian racism, it's not just resonant but also timely." — The Atlantic
"A strikingly quiet, tender book that simultaneously traces the many big questions — in Chang's words, the 'precarity of young adulthood, dynamics of being in an interracial relationship,' the insidious forces of capitalism, racism and sexism — shadowing the protagonist's struggle to find her place in the world…. Remarkable." — San Francisco Chronicle
"[Chang's prose] flows so gracefully across themes of millennial ennui, capitalist disillusionment, immigration, love, and sacrifice." — Buzzfeed
"Days of Distraction masterfully complicates the many harmful ways in which societal rage is placated daily.... It's no easy feat to present these issues using bountiful evidence within an expansive work of fiction. Chang does this expertly. Her debut is a reminder that the novel can show and tell, convey story and social message, and dare the reader to participate in their own upheaval." — Chicago Review of Books
"A book of stunning moments.... The book's structure—the fragments, the white space—is what emphasizes these sharp, subtle, comic, intimate, often of-the-now observations.... One of Chang's many gifts here is her ability to write grave doubt with focused prose." — The Rumpus.com
"Beautiful, urgent.... The most exciting aspect of Days of Distraction is the way information is revealed. Chang holds back for a long time until, suddenly—just as in life—everything is exposed." — Bust Magazine
"A coming-of-age tale for the 21st century… The narrator's meditations on themes like racism, capitalism, the role of technology in our lives, and complicated family relationships are simultaneously uniquely insightful and accessible to anyone who has grappled with these issues themselves. Beautifully crafted and deeply thoughtful." — Kirkus Reviews (starred review)
"Chang portrays early adulthood with elegance and an offbeat humor that complements her poignant and deeply significant observations of life as a woman of color. She explores the struggle to be free in an oppressive society with incredible insight and clear, captivating prose that set her apart as a striking new voice in literature." — Booklist (starred review)
"Chang's humorous, timely observations on race, technology, and relationships lend immediacy to the narrator's chronicle of self-awareness. [Days of Distraction] introduces a formidably talented writer." — Publishers Weekly (starred review)
"A startlingly original and deeply moving debut—kaleidoscopic, funny, heart-rending, beautifully observed, and formally daring.  It struck me as a new variety of novel.... Chang here establishes herself as one of the most important of the new generation of American writers." — George Saunders
"A wholly engaging joy to read. Chang writes with wit and sharpness as she curates moments, observations and histories that together make something of beautiful depth and significance. It takes great bravery to make art of so many of those things we fear and love. An important, gratifying read." — Nana Kwame Adjei-Brenyah, author of Friday Black
"Days of Distraction seized my attention like no other novel, distracting me entirely from my own life. The magic of this book is that its scale seems small, fixating on the minute details that make up our days: the anxieties, the obsessions, the observations made in the office, the neighborhood, the coffee shop. And yet inside Alexandra Chang's brilliant narrator is a grand, restless consciousness.... This is a book about America, and also an American love story, one that will leave you achingly awakened."  — Eleanor Henderson, author of Ten Thousand Saints
"How exhilarating to encounter a first novel this willing to take risks in both form and subject. Chang examines the fraught convergence of racism and intimate relationships with audacious, unsparing clarity, but also with tenderness. There are so many brave, beautiful passages in this book. I relished every page of it."  — Idra Novey, author of Those Who Knew
"Days of Distraction is the kind of book so alive with intelligence, humor, and attention that it made me feel more awake to the world just to read it. Alexandra Chang's finely tuned observations are a miracle of precision and clarity as she illuminates how complex and entangled our notions of selfhood, family, love, history, and existence ultimately are, and how perilous and exhilarating the journey to navigate them can be." — Catherine Chung, author of The Tenth Muse
Ecco, 9780062951793, 320pp.
Publication Date: February 16, 2021
About the Author
Alexandra Chang is the author of Days of Distraction. She is a National Book Foundation 5 Under 35 honoree, and her writing has appeared in Zoetrope: All-Story, The New York Times, Harper's Bazaar, Guernica, and elsewhere. She lives in Ventura County.