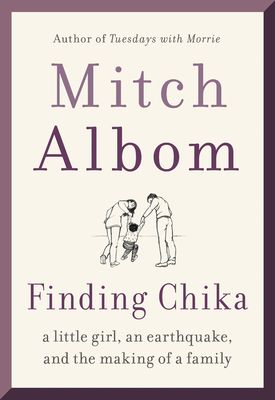 Finding Chika
A Little Girl, an Earthquake, and the Making of a Family
Hardcover

* Individual store prices may vary.
Other Editions of This Title:
Digital Audiobook (11/4/2019)
Paperback (5/18/2021)
Paperback, Large Print (11/5/2019)
Paperback, Chinese (4/30/2020)
Compact Disc (11/5/2019)
MP3 CD (11/5/2019)
Description
"Mitch Albom has done it again with this moving memoir of love and loss. You can't help but fall for Chika. A page-turner that will no doubt become a classic." --Mary Karr, author of The Liars' Club and The Art of Memoir
From the #1 New York Times bestselling author of Tuesdays With Morrie comes Mitch Albom's most personal story to date: an intimate and heartwarming memoir about what it means to be a family and the young Haitian orphan whose short life would forever change his heart. 
Chika Jeune was born three days before the devastating earthquake that decimated Haiti in 2010. She spent her infancy in a landscape of extreme poverty, and when her mother died giving birth to a baby brother, Chika was brought to The Have Faith Haiti Orphanage that Albom operates in Port Au Prince.

With no children of their own, the forty-plus children who live, play, and go to school at the orphanage have become family to Mitch and his wife, Janine. Chika's arrival makes a quick impression. Brave and self-assured, even as a three-year-old, she delights the other kids and teachers. But at age five, Chika is suddenly diagnosed with something a doctor there says, "No one in Haiti can help you with."

Mitch and Janine bring Chika to Detroit, hopeful that American medical care can soon return her to her homeland. Instead, Chika becomes a permanent part of their household, and their lives, as they embark on a two-year, around-the-world journey to find a cure. As Chika's boundless optimism and humor teach Mitch the joys of caring for a child, he learns that a relationship built on love, no matter what blows it takes, can never be lost.

Told in hindsight, and through illuminating conversations with Chika herself, this is Albom at his most poignant and vulnerable. Finding Chika is a celebration of a girl, her adoptive guardians, and the incredible bond they formed—a devastatingly beautiful portrait of what it means to be a family, regardless of how it is made.
Praise For Finding Chika: A Little Girl, an Earthquake, and the Making of a Family…
Albom conveys the heartbreak of watching her suffer (Chika endured surgeries, and lost teeth and hair), while capturing Chika's sweet spirit and youthful resilience. He speaks candidly about being too career-focused and putting off having kids until it was too late, and shares how Chika allowed him and his wife to experience the glory of parenthood decades into their marriage. Albom addresses Chika directly: "You never have to worry about us forgetting you... we'd lose every memory we ever had before we would let go of yours." Both painfully sad and beautiful, this is an absolute tearjerker.
— Publishers Weekly (starred review)

The takeaway from this simple, moving memoir is that love has no boundaries and should not be hindered by ethnicity, religion, education, or money.A highly expressive, tender story about how "families are like pieces of art, they can be made from many materials.
— Kirkus Reviews

"This is a story of such heart-wrenching beauty that you think it would take a Mitch Albom to compose it. But Albom is more than the author, for it was his own heart that was broken open by the surprising arrival and excruciating departure of a dazzling little Haitian girl named Chika—who became, in every way that matters, his and his wife's precious daughter — and it is his own life he seeks to patch back together in the telling."
— Melissa Fay Greene, two-time Nation a l Book Award finalist and author of There Is No Me Without You

"Mitch Albom has done it again with this moving memoir of love and loss. You can't help but fall for Chika. A page-turner that will no doubt become a classic."
— Mary Karr, author of The Liars' Club and The Art of Memoir

Albom's memoir is a lens into his grief but also a celebration of Chika's spirit and lessons gleaned from their time together as a family. The heartbreaking but uplifting story is a testament to the bravery and resilience of children and the power of love.
— Library Journal
Harper, 9780062952394, 256pp.
Publication Date: November 5, 2019
About the Author
Mitch Albom is the author of numerous books of fiction and nonfiction, which have collectively sold more than forty million copies in forty-seven languages worldwide. He has written seven number-one New York Times bestsellers – including Tuesdays with Morrie, the bestselling memoir of all time, which topped the list for four straight years – award-winning TV films, stage plays, screenplays, a nationally syndicated newspaper column, and a musical. Through his work at the Detroit Free Press, he was inducted into both the National Sports Media Association and Michigan Sports halls of fame and is the recipient of the 2010 Red Smith Award for lifetime achievement. After bestselling memoir Finding Chika and "Human Touch," the weekly serial written and published online in real-time to raise funds for pandemic relief, his latest work is a return to fiction with The Stranger in the Lifeboat (Harper, November 2021). He founded and oversees SAY Detroit, a consortium of nine different charitable operations in his hometown, including a nonprofit dessert shop and food product line to fund programs for Detroit's most underserved citizens. He also operates an orphanage in Port-Au-Prince, Haiti, which he visits monthly. He lives with his wife, Janine, in Michigan. Learn more at www.mitchalbom.com, www.saydetroit.org, and www.havefaithaiti.org.