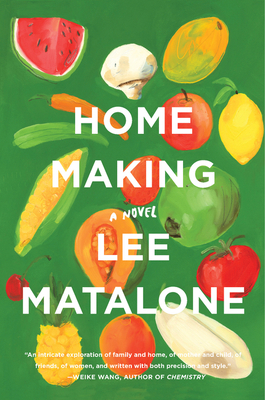 Home Making (Paperback)
A Novel
Harper Perennial, 9780062953667, 208pp.
Publication Date: February 18, 2020
Other Editions of This Title:
Compact Disc (2/18/2020)
MP3 CD (2/18/2020)
* Individual store prices may vary.
Description
About the Author
Lee Matalone's writing has been featured in the The Offing, Lit Hub, The Rumpus, Denver Quarterly, and Hobart, among other places. Home Making is her first novel. She lives in South Carolina.
Praise For Home Making: A Novel…
"[A] heady and somber debut...While Matalone's Home Making is partially concerned with the aesthetics and processes of domestic labor, it's that last part, that magic by which a woman — for this is nearly always women's work, no? — transforms a physical structure into a place of comfort and safety, that is the subject of this heady and somber debut.  The architecture of the story is solid.  . . [It's] exciting to see her wrestle so artfully with her ideas."
— New York Times Book Review

"Matalone's heady, lyrical debut overlays an adopted woman's journey into motherhood with her daughter's story of making a home for herself as an adult. In measured prose, Matalone draws out connections between past and present to illuminate the mother and daughter's shared sense of ambiguity toward motherhood. Matalone's cool reflections on art and architecture will appeal to fans of Chris Kraus."
— Publishers Weekly

"In her poetic first novel, Matalone probes the meaning of home and family. . .These vivid characters revisit their pasts and make plans to build a place "where happiness can bloom." Chloe's renovation watchword is "Rome," as in "not built in a day." So it is with home-making. The work is never done. The layers of meaning Matalone evokes provide a rich trove for discussion."
— Booklist

"Home Making becomes a pleasure, full of weird jumps, interesting encounters, and beautiful images… it's wide-ranging and ambitious."
— Washington Independent

"Lee Matalone's Home Making is simply put — incredible. Her style is reminiscent of Pat Conroy and Flannery O'Connor yet uniquely her own. Her characters are well-drawn, and after a few pages, you feel as if they were old friends coming to visit for a couple of days…Home Making is more than a metaphor, more than an idea or a story. It's a piece of literary magic."
— Rapid River Magazine

Matalone's whimsical and endearing voice shines like a perfectly placed lamp in a freshly painted room. . .The room-by-room structure grounds the meandering nature of the stream-of-consciousness style and gives it the weight it needs to keep the story focused. . .Home Making is a debut whose quiet power will fill its readers with the comforting warmth of nostalgia and a bittersweet desire to return home, wherever that may be."
— Paperback Paris

"An intricate exploration of family and home, of mother and child, of friends, of women and written with both precision and style."
— Weike Wang, author of Chemistry

"In this remarkable novel, Lee Matalone fashions a world of rich and nuanced characters. Matalone has created something original, almost kaleidoscopic, as she constructs the interwoven tales of the characters who each strive to form a home. She writes skillfully about relationships, living and dying, and love. Cleverly and beautifully rendered, this is the work of an author plunging beneath the surface, into the very heart of what fabricates our inner and outer lives. This is a smart, uncanny, and ambitious debut."
— Nina McConigley, author of Cowboys and East Indians , winner of the PEN Open Book Award

"Home Making is subtle, funny, and original. An enormously moving novel about learning to make a home and, ultimately, a life."
— Erin Somers, author of Stay Up with Hugo Best

"In Home Making, Lee Matalone has written the debut novel of the year. Structurally bold and metaphorically rich, Matalone constructs a whole new world from the empty spaces inside us all. In Home Making, Matalone provides a rich, new blueprint of how we find meaning in the places we inhabit, the people we know, and how ultimately we continue to build that home which is our self. Brilliant."
— Scott McClanahan, author of The Sarah Book