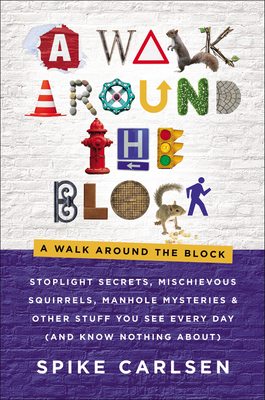 A Walk Around the Block
Stoplight Secrets, Mischievous Squirrels, Manhole Mysteries & Other Stuff You See Every Day (And Know Nothing About)
Hardcover

* Individual store prices may vary.
Other Editions of This Title:
Digital Audiobook (10/19/2020)
Paperback (9/14/2021)
MP3 CD (10/20/2020)
Compact Disc (10/20/2020)
Description
"Carlsen sees a world of wonder hiding in plain sight and may just change how you look at the world around you." - TODAY Show
A simple walk around the block set journalist Spike Carlsen, bestselling author of A Splintered History of Wood, off to investigate everything he could about everything we take for granted in our normal life—from manhole covers and recycling bins to bike lanes and stoplights.
In this celebration of the seemingly mundane, Carlsen opens our eyes to the engineering marvels, human stories, and natural wonders right outside our front door. He guides us through the surprising allure of sewers, the intricacies of power plants, the extraordinary path of an everyday letter, and the genius of recycling centers—all the while revealing that this awesome world isn't just a spectator sport.
Engaging as it is endearing, A Walk Around the Block will change the way you see things in your everyday life. Join Carlsen as he strolls through the trash museum of New York City, explores the quirky world of squirrels, pigeons, and roadkill, and shows us how understanding stoplights, bike lanes, and fine art of walking can add years to our lives. In the end, he brings a sense of wonder into your average walk around the block, wherever you are. Guaranteed. 
Praise For A Walk Around the Block: Stoplight Secrets, Mischievous Squirrels, Manhole Mysteries & Other Stuff You See Every Day (And Know Nothing About)…
"Carlsen sees a world of wonder hiding in plain sight…he may just change how you look at the world around you." — TODAY Show
"No neighborhood walk will ever be the same after Spike Carlsen reveals to you the extraordinary origins of your ordinary surroundings. His grand storytelling style will make you wonder why you've always taken for granted alleyways, asphalt, and manhole covers, and how your ancestors could ever have lived without them." — Rebecca Martin, technical editor, Mother Earth News and Grit
"Writing in the mode of Edward Humes, David Owen, and Mary Roach, Carlsen offers an eye-opening and exuberantly informative walk-around-the-block tour that is made-to-order for this time of necessary at-homeness." — Booklist (starred review)
"Carlsen takes 'mundane' objects and illuminates their importance to society, creating a unique book that will have readers looking at everyday objects in different ways."
— Library Journal
"An entertaining and informative read" — Physics Today
"A Walk Around the Block succeeds in making the mundane fascinating, opening our minds (and front doors) to an everyday world easily taken for granted." — Bookpage (starred review)
"This book is going to make you observe your world differently, which will lessen your stuck-at-home boredom." — Philadelphia Tribune
HarperOne, 9780062954756, 336pp.
Publication Date: October 20, 2020
About the Author
Spike Carlsen is the author of seven books, including "A Splintered History of Wood: Belt Sander Races, Blind Woodworkers and Baseball Bats," which was selected as a NPR "Best Book of the Year for Gift Giving." He is former Executive Editor of Family Handyman magazine and has written articles for The Minneapolis Star Tribune, Men's Health, MAKE, Fine Homebuilding, Mother Earth News and other publications. He has made appearances on Modern Marvels, the CBS Early Show, Cabin Living, The Weekend Today Show, HGTV's "25 Biggest Renovating Mistakes" and many other national radio and television shows. Spike is an avid cyclist and woodworker. He and his wife Kat live in Stillwater, Minnesota in close proximity to their 5 kids and 9 granddaughters. Visit him at spikecarlsen.com.