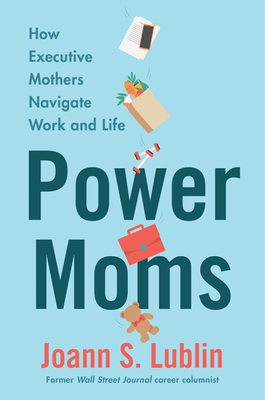 Power Moms
How Executive Mothers Navigate Work and Life
Hardcover

* Individual store prices may vary.
Other Editions of This Title:
Digital Audiobook (2/15/2021)
Compact Disc (2/16/2021)
MP3 CD (2/16/2021)
Description
A retired Wall Street Journal editor and mother compares two generations of women—boomers and GenXers—to examine how each navigates the emotional and professional challenges involved in juggling managerial careers and families.

For the first time in American history, a significant number of mothers are heading major corporations, including General Motors, Ulta Beauty, and Best Buy. Over the past several decades, women have made gains throughout executive suites. Yet these "Power Moms" still struggle with balancing their management responsibilities with raising children. Joann S. Lublin draws on the experiences of the nation's two generations of these successful women to measure how far we've come—and how far we still need to go.
Lublin combines her own insights with those of eighty-five executive mothers across industries—including experienced public-company chiefs such as Carol Bartz, the first woman to command Autodesk and Yahoo; Hershey's Michele Buck, DuPont's Ellen Kullman, ITT's Denise Ramos, and WW International's Mindy Grossman—and twenty-five of their grown daughters. Lublin reveals how trailblazer boomers, many now in their sixties, often endured sweeping disapproval for their demanding management careers, even as their own daughters sometimes rejected their choices. While the second wave of executive mothers—all under forty-five—handle working parenthood with less angst, they still lead stressful lives. 
Power Moms provides lessons and advice to help today's professional women, their families, and their employers navigate this challenging terrain.  Lublin looks at the trade-offs mothers are too often forced to make between work and family and the root causes, including the dearth of large-scale paid parental leave and other family-friendly policies. While it celebrates the gains women have made, Power Moms makes clear how much more must be done to make being a working mother easier.
Praise For Power Moms: How Executive Mothers Navigate Work and Life…
"Power Moms releases us working mothers from the guilt of outdated roles and unrealistic expectations. Most important, Lublin empowers us with the stories of incredible female leaders." — Sarah Alter, CEO and president of Network of Executive Women
"Joann Lublin helps unravel the myth of having it all and reminds working moms to embrace the messy realities of work/life balance. It's a fantastic case study of working women." — Meg Whitman, former CEO of Quibi, Hewlett Packard Enterprise, and Hewlett-Packard
"Powerful women aren't yet powerful enough because they still face obstacles their male counterparts don't, such as the motherhood pay gap and unequal division of labor in the home. That's both unfair and costly, not only to the individual women who suffer unjustly but also to families, communities, businesses, and society. Thanks to Joann Lublin for her gripping account of the real lives of today's executive mothers and her practical recommendations for our movement to an egalitarian world." — Stewart D. Friedman, Professor Emeritus of Management Practice, University of Pennsylvania's Wharton School, and author of the bestsellers Total Leadership and Leading the Life You Want and co-author of Parents Who Lead
"Power Moms is a must read for the next generation of business leaders and working moms and moms-to-be. Yes, the world has changed for young women balancing motherhood and business. But Power Moms illustrates how much further we have to go so that women and men can raise their children well while carving out successful careers." — Abbe Raven, former CEO and acting chairman, A+E Networks
"There is no person better qualified to opine on this subject than Joann Lublin. Through her career at the Wall Street Journal, she has developed an unparalleled understanding of the world of work as seen through the eyes of highly successful women. As a devoted journalist, wife, and mother, she has a deep and visceral understanding of the dance required to raise a family and navigate one's career journey through that world of work. As a society, we can do better, and Joann helps us see how." — Doug Conant, founder, ConantLeadership; former CEO, Campbell Soup Company; New York Times and Wall Street Journal bestselling author
Harper Business, 9780062954909, 288pp.
Publication Date: February 16, 2021
About the Author
Joann S. Lublin was management news editor for The Wall Street Journal, working with reporters in the U.S. and abroad, until she retired in April 2018.  She continues to frequently appear at conferences to discuss leadership, executive women and other management issues.  She created The Journal's first career advice column in 1993 and kept writing its "Your Executive Career" column until May 2020. She shared its Pulitzer Prize in 2003 for stories about corporate scandals. She won the 2018 Lifetime Achievement from the Loeb Awards, the highest accolade in business journalism. She earned a bachelor's degree in journalism with honors from Northwestern University and a master's degree in communications from Stanford University. She lives in Dresher, Pa.