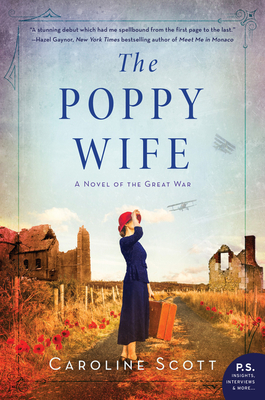 The Poppy Wife
A Novel of the Great War
Paperback

* Individual store prices may vary.
Other Editions of This Title:
Digital Audiobook (11/11/2019)
Library Binding, Large Print (1/29/2020)
MP3 CD (11/12/2019)
Compact Disc (11/12/2019)
Description
"A beautifully evocative reminder of what it means to come back from war and to face the age-old question of whether it is better to have survived or to have died. Highly recommended."—Library Journal, starred review
In the tradition of Jennifer Robson and Hazel Gaynor, this unforgettable debut novel is a sweeping tale of forbidden love, profound loss, and the startling truth of the broken families left behind in the wake of World War I.
1921. Survivors of the Great War are desperately trying to piece together the fragments of their broken lives. While many have been reunited with their loved ones, Edie's husband Francis has not come home. Francis is presumed to have been killed in action, but Edie believes he might still be alive.
Harry, Francis's brother, was there the day Francis was wounded. He was certain it was a fatal wound—that he saw his brother die—but as time passes, Harry begins questioning his memory of what happened. Could Francis, like many soldiers, merely be lost and confused somewhere? Hired by grieving families, Harry returns to the Western Front to photograph gravesites. As he travels through battle-scarred France and Belgium gathering news for British wives and mothers, he searches for evidence of Francis.
When Edie receives a mysterious photograph of Francis, she is more convinced than ever he might still be alive. And so, she embarks on a journey in the hope of finding some trace of her husband. Is he truly gone? And if he isn't, then why hasn't he come home?
As Harry and Edie's paths converge, they get closer to the truth about Francis and, as they do, are faced with the life-changing impact of the answers they discover.
Artful and incredibly moving, The Poppy Wife tells the unforgettable story of the soldiers lost amid the chaos and ruins, and those who were desperate to find them.
Praise For The Poppy Wife: A Novel of the Great War…
"A beautiful, tender novel which explores the aftermath of the Great War, and the shattered lives left behind. Written with gorgeous prose and a cast of memorable characters, this is a stunning debut which had me spellbound from the first page to the last."
— Hazel Gaynor, New York Times bestselling author of The Lighthouse Keeper's Daughter

"Scott says outright what Hemingway could only imply. Masterfully-wrought, with patiently-crafted characters, this World War I narrative enthralls from start to finish. I literally could not put it down. Sheer brilliance."
— Teresa Messineo, author of The Fire By Night

"A tribute to remembrance, The Poppy Wife is one of the most meticulously researched WWI novels I have read. Scott's characters rise off the page with passion, heartache, and unbreakable hope."
— Sarah McCoy, New York Times and international bestselling author of Marilla of Green Gables

"Beautifully written, poignant and harrowing, The Poppy Wife makes us experience the destruction of WWI--not only the physical destruction to property and to bodies but to spirits and souls. I can't say I loved this book, because how can one love something that embodies the suffering and futility so perfectly, but I devoured it."
— Rhys Bowen, New York Times Bestselling author of the Molly Murphy and Royal Spyness mysteries

"Part mystery, part love story, and part exploration of the aftermath of World War I, The Poppy Wife by Caroline Scott is a beautifully written, haunting novel. Scott masterfully weaves a layered story of both personal tragedy and redemption, filled with rich historical detail and lyrical prose."
— Jillian Cantor, USA Today bestselling author of The Lost Letter and In Another Time

"A lyrical page-turner, The Poppy Wife is both a love story and a profound meditation on the paradoxes of war…a powerful, redemptive novel, one that teaches us not only about history, but about our capacity for love."
— Abigail DeWitt, author of News of Our Loved Ones

"Scott's bold novel, inspired by her own family history, is instantly appealing for historical fiction fans. But the timeless story of love, loyalty, and honor will have appeal for readers of all interests."
— Publishers Weekly

"I've visited many WWI battlefields and villages, but never has the history come to life for me the way it does in this remarkable debut. Through seamless storytelling and characters shaped with incredible care, Caroline Scott shows us that the suffering didn't end when the artillery fell silent, but the battles carried on at the homefront for years to come."
— Ellen Keith, author of The Dutch Wife

"Beautiful, unflinching, elegiac: [The Poppy Wife] is going to be on an awful lot of Best Books of the Year lists, mine included...it's unforgettable."
— Iona Grey, author of The Glittering Hour

"A poignant hymn to those who gave up their lives for their country and to those who were left behind."
— Fanny Blake, author of What Women Want

"British historian Scott's first novel is a beautifully evocative reminder of what it means to come back from war and to face the age-old question of whether it is better to have survived or to have died. Highly recommended."
— Library Journal (starred review)

"The pain of not knowing where a son, brother or husband lies, and the guilt and psychological dissonance that torment survivors, are movingly conveyed in this terrific first novel."

— Daily Mail (UK)

"A dazzling intersection of romance and historical fiction." 
— Popsugar

"This excellent debut is a melancholic reminder of the rippling after-effects of war."

— The Times (UK)

"[I]mpressive…a touching novel of love and loss."
— Sunday Times (London)

"Scott has done an amazing job of drawing on real stories to craft a powerful novel."
— Good Housekeeping, UK
William Morrow Paperbacks, 9780062955326, 448pp.
Publication Date: November 5, 2019
About the Author
Caroline Scott is a freelance writer and historian specializing in WWI and women's history, with a PhD from Durham University. Born in the UK, Caroline currently resides in France. The Poppy Wife is partially inspired by her family history.
or
Not Currently Available for Direct Purchase