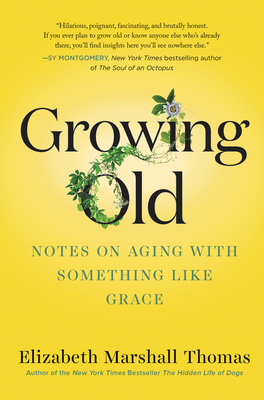 Growing Old
Notes on Aging with Something like Grace
Hardcover

* Individual store prices may vary.
Other Editions of This Title:
Paperback (4/20/2021)
Library Binding, Large Print (11/1/2020)
MP3 CD (4/28/2020)
Compact Disc (4/28/2020)
Description
From the revered author of the bestselling The Hidden Life of Dogs, a witty, engaging, life-affirming account of the joy, strength, and wisdom that comes with age.

Elizabeth Marshall Thomas has spent a lifetime observing the natural world, chronicling the customs of pre-contact hunter-gatherers and the secret lives of deer and dogs. In this book, the capstone of her long career, Thomas, now eighty-eight, turns her keen eye to her own life. The result is an account of growing old that is at once funny and charming and intimate and profound, both a memoir and a life-affirming map all of us may follow to embrace our later years with grace and dignity.
A charmingly intimate account and a broad look at the social and historical traditions related to aging, Growing Old explores a wide range of issues connected with growing older, from stereotypes of the elderly as burdensome to the methods of burial humans have used throughout history to how to deal with a concerned neighbor who assumes you're buying cat food to eat for dinner.
Written with the wit of Nora Ephron's I Feel Bad About My Neck and the lyrical beauty and serene wisdom of When Breath Becomes Air, Growing Old is an expansive and deeply personal paean to the beauty and the brevity of life that offers understanding for everyone, regardless of age.
Praise For Growing Old: Notes on Aging with Something like Grace…
"Growing Old is unlike anything you've read before about old age. It's not a chirpy guidebook to successful aging (often written by people in their forties and fifties—who haven't gotten there yet!) but something far deeper and revelatory. By turns hilarious, poignant, fascinating, and disturbing, every page is brutally honest. If you ever plan to grow old or know anyone else who's already there, you'll find insights here you'll see nowhere else."
— Sy Montgomery, New York Times bestselling author of The Soul of an Octopus 

"Written by one of our most distinguished observers of human and animal behavior who has now decided to observe herself, this book is a witty, wise, frank, and ultimately comforting look--from the inside out--at the universal experience of growing old."
— Dale Peterson, author of Jane Goodall: The Woman Who Redefined Man and The Ghosts of Gombe

"This is a true gift. Elizabeth has trekked the Arctic Circle and lived with the Bushmen—not your typical human. Yet, she shares how time catches up with us all. Her unexpectedly delightful book made me realize the good decisions my grandparents made, and think about how I should should approach my own future. A unique look at a universal process that we need not fear—and might come to relish."
— Dr. Mark W. Moffett, anthropologist-explorer and author of The Human Swarm: How Our Societies Arise, Thrive, and Fall

"Octogenarian Thomas tackles old age in this clever and astute memoir…Thomas is an inspiring example of a life well lived, and her sense of humor, honesty, and curiosity will resonate." 
— Publisher's Weekly, STARRED review

"With wit and humor, Thomas thoughtfully conveys the realities of aging. This fully absorbing memoir will especially resonate with readers over 65 and those who work with geriatric populations, yet all readers should find much wisdom to be gained from this warm offering."
— Library Journal

"Thomas turns her curiosity about all things natural toward a subject that many choose to ignore, willfully or not....With each age-related topic, Thomas writes candidly and with occasional dark humor, sharing both the good and the bad...."
— Kirkus Reviews
HarperOne, 9780062956439, 224pp.
Publication Date: April 28, 2020
About the Author
One of the most widely read American anthropologists, Elizabeth Marshall Thomas has observed dogs, cats, and elephants during her half-century-long career. In the 1980s Thomas studied elephants alongside Katy Payne—the scientist who discovered elephants' communication via infrasound. In 1993 Thomas wrote The Hidden Life of Dogs, a groundbreaking work of animal psychology that spent nearly a year on the New York Times bestseller list. Her book on cats, Tribe of Tiger, was also an international bestseller. She lives in Peterborough, New Hampshire, on her family's former farm, where she observes deer, bobcats, bear, and many other species of wildlife.
1. In what ways might it be true or not that, as Thomas says in the introduction, nobody wants or likes a book about old age? Why might this be so?
2. Consider Thomas' contemplation of a stone in the field. Of what value is such evolutionary perspective, the thought of hundreds of millions of years, to her?
3. In what ways is our imagination both a great gift and a challenge? How does our awareness of our own life cycle and our eventual death alter the way we live?
4. Thomas argues that "how we perceive" old age is very important. What are different ways to think about it? Which of these seems healthiest?
5. Thomas believes that "all facts are important, not just good facts." What does she mean? What are some of the less pleasant factual truths she is thinking of? Why might these be so difficult to keep in mind?
6. Why might it be true that "many younger people don't really like old people"?
7. How did modern American culture come to devalue age and the wisdom that can come from it? What values might have replaced it?
8. What does Thomas' extensive observation and understanding of certain animals in the wild contribute to her thoughts on aging? In what ways are her pets of similar or different value to her?
9. What has Thomas learned about life and aging by living in profoundly different cultures, like in Namibia with the San or in Uganda and other places?
10. What is our evolutionary, subconscious knowledge that Thomas discusses? In what ways is it helpful or limiting to us to, for example, be afraid of the dark? How might these kinds of deeply-rooted predispositions be related to the experience of aging?
11. To what extent is it true or not that "iPhones with a GPS…are for young people"? What might it take for older people to have a productive relationship with modern technologies?
12. Is it unavoidable for older people to be "set in their ways"? What are the potential benefits or limitations of refusing new thoughts, ideas, and experiences?
13. Consider the "cautious language" used to discuss aging and dying. In what ways might it be potentially harmful to use euphemisms and speak indirectly? How might language of respect and reverence become avoidant of important truths?
14. Thomas also suggests that, "reality can be disturbing, and sometimes avoiding it helps." What does she mean? When does an illusion that "feels good" become unhealthy or dangerous?
15. Thomas argues that, "as we age…we revitalize the past." What does she mean? How does this affect the experience of the present? What is valuable about having the perspective of a long life?
16. For such a social species as humans, isolation, Thomas says, is "serious" and "painful." Why might people become isolated as they age? How might we go about "creating temporary, personal groups of our own"? What determines whether retirement is a problem or an opportunity?
18. Much of aging well seems predicated on making sure "funding is secure." What are particular difficulties if it is not? What types of solutions—personal, social, political—might exist for such economic challenge, especially in the modern era of expensive health care?
19. Consider what Thomas has to say about "senior living communities." What are the different types? What are the risks and rewards? How might one determine a place and community of quality?
20. Thomas celebrates the vibrant memory of Gran, her grandmother, that, after so many years, "her voice [was still] inside." What is the profound value of memory? What's the difference between reliving fond memories and living in the past? In what ways might the latter become unhealthy?
21. Thomas admits that as an adult she's never been able to cry. Why might this be? What might be healthy or not about it? What explains the two exceptions, her husband Steve's ALS diagnosis and the death of her Australian shepherd, Pearl?
22. Why was Thomas' sixty-year marriage to her husband Steve so successful? How is it that they "slid…into being one person" but were also "content to let each other lead the lives [they] chose, even though these were far from the same"?
23. Why is Thomas "always depressed" when she wakes in the morning? What does she do about that? What might it mean that she "brightens" when she's working? What determines when effortful work is healthy and enjoyable as opposed to drudgery?
24. What is important to understand about doulas, hospice nurses, and those who help with the process of dying? What do they know that many people do not?
25. Consider Thomas' document of preferences. What kinds of affairs should be clarified and put in order well before one's death? What are some key choices one should make?
26. After her honest talk about the challenges of growing old, Thomas turns to the "advantages of aging." What are they? What additional benefits are worth celebrating?
27. About death, whenever it might come, Thomas says, "I'm ready." What does she mean? What does it take to come to terms with such a powerful, profound unknown and be ready?