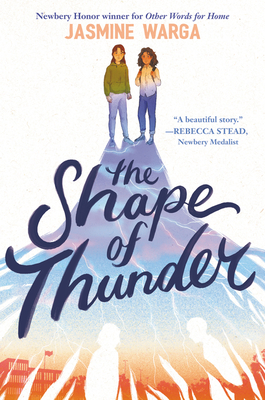 The Shape of Thunder
Hardcover

* Individual store prices may vary.
Description
An extraordinary new novel from Jasmine Warga, Newbery Honor–winning author of Other Words for Home, about loss and healing—and how friendship can be magical.
Cora hasn't spoken to her best friend, Quinn, in a year.
Despite living next door to each other, they exist in separate worlds of grief. Cora is still grappling with the death of her beloved sister in a school shooting, and Quinn is carrying the guilt of what her brother did.
On the day of Cora's twelfth birthday, Quinn leaves a box on her doorstep with a note. She has decided that the only way to fix things is to go back in time to the moment before her brother changed all their lives forever—and stop him.
In spite of herself, Cora wants to believe. And so the two former friends begin working together to open a wormhole in the fabric of the universe. But as they attempt to unravel the mysteries of time travel to save their siblings, they learn that the magic of their friendship may actually be the key to saving themselves.
The Shape of Thunder is a deeply moving story, told with exceptional grace, about friendship and loss—and how believing in impossible things can help us heal.
Praise For The Shape of Thunder…
Praise for OTHER WORDS FOR HOME: "[In] this timely book... rhythmic lines distill Jude's deepest emotions…. Warga effectively shows, as she writes in an author's note, that "children who are fleeing from a war zone... want the same things all of us do—love, understanding, safety, a chance at happiness."

— Publishers Weekly (starred review)

"Warga portrays with extraordinary talent the transformation of a family's life before and after the war began in Syria.… Her free-verse narration cuts straight to the bone... [and] confront[s] the difficult realities of being Muslim and Arab in the U.S. Poetic, immersive, hopeful."

— Kirkus Reviews (starred review)

"Warga's middle-grade debut puts its hands around your heart and holds it, ever so gently, so that you're aware of your own fragility and resilience: just as Jude is while her life changes drastically… Other Words for Home should find its way into every middle-grade reader's hands."

— ALA Booklist (starred review)

"This powerful middle grade novel explores the complicated concepts of war and corruption, home, family, [and] belonging.... Highly recommended for all libraries, this title will easily find a home next to books like Refugee by Alan Gratz and Inside Out and Back Again by Thanhha Lai."

— School Library Journal (starred review)

"Convincing and authentic, infused with thoughtfulness, humor, determination, and hope…. A realistic portrait of the strength it takes to move to a new country, as well as of the complicated dynamics between first- and second-generation immigrants."

— Horn Book (starred review)

"Warga situates her verse novel at a sweet spot for middle-graders…the complications of assessing whether Jude is as lucky as everyone makes her out to be ring poignantly true, and when Jude takes her place on the school stage, Warga's audience will surely applaud."

— Bulletin of the Center for Children's Books

"Through Jude's eyes readers see firsthand what it is to leave behind one's beloved home and family as many refugees do every single day. Young readers will laugh with Jude, cry with her, and root for her every step of the way. A beautiful, powerful, and necessary book for all readers."

— Aisha Saeed, New York Times bestselling author of Amal Unbound

"Other Words for Home is a salve for the world we live in today. It's a hope-filled story that doesn't pander but instead peels back layers of culture and identity, fear and prejudice, exile and belonging, all wrapped around a young Syrian girl—Jude. Checked with equal parts fear and moxie, Jude is a heart trying to figure out how to beat outside the body. I ached for, but simultaneously found that though our stories are different, I am her. This is a necessary story. We're lucky to have it in the world."

— Jason Reynolds, award-winning, bestselling author of Ghost and Long Way Down
Balzer + Bray, 9780062956675, 288pp.
Publication Date: May 11, 2021
About the Author
Jasmine Warga's debut middle grade book, Other Words for Home, is a Newbery Honor Book. She is the author of the novels for teens My Heart and Other Black Holes, which has been translated into over twenty languages, and Here We Are Now. She lives and writes in Cincinnati, Ohio. You can visit Jasmine online at www.jasminewarga.com.