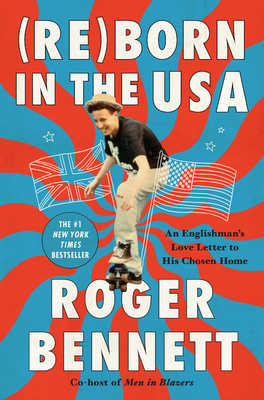 Reborn in the USA
An Englishman's Love Letter to His Chosen Home
Hardcover

* Individual store prices may vary.
Other Editions of This Title:
Digital Audiobook (6/28/2021)
Compact Disc (6/29/2021)
MP3 CD (6/29/2021)
Paperback (6/7/2022)
Description
The #1 New York Times Bestseller
One-half of the celebrated Men in Blazers duo, longtime culture and soccer commentator Roger Bennett traces the origins of his love affair with America, and how he went from a depraved, pimply faced Jewish boy in 1980's Liverpool to become the quintessential Englishman in New York. A memoir for fans of Jon Ronson and Chuck Klosterman, but with Roger Bennett's signature pop culture flair and humor.
Being a teenager isn't easy, no matter where in the world you live or how much it does or doesn't rain in your hometown. As an outsider—a private-schooled Jewish kid in working-class, heavily Catholic Liverpool—Roger Bennett wasn't winning any popu­larity contests. But there was one idea, or ideal, that burned bright in Roger's heart. That was America— with its sunny skies, beautiful women, and cool kids with flipped collars who ate at McDonald's. When he embraced American popular culture, the dull gray world he lived in turned to neon teal—a color which had not even been invented in England yet. Intro­duced first through the gateway drug of The Love Boat, then to Rolling Stone, the NFL, John Hughes movies, Run-DMC, and Tracy Chapman, Roger embraced everything that would capture the imagination of a teenager growing up Stateside. When he made a real, in-the-flesh American friend who invited him over for the summer, he got to visit the promised land. A month in Chicago, and a life-changing night spent in the company of the Chicago Bears, was the first hit of freedom, of independence, of the Roger Bennett he knew he could be.
(Re)Born in the USA captures the universality of growing pains, growing up, and growing out of where you come from. Drenched in the culture of the late '80s and '90s from the UK and the USA, and the heartfelt, hilarious sense of humor that has made Roger Bennett so beloved by his listeners, here is both a truly unique coming-of-age story and the love letter to America that the country needs right now.
Praise For Reborn in the USA: An Englishman's Love Letter to His Chosen Home…
"Fast, funny and often endearing. . . a candid and funny account of growing up in the wrong country and making it right."
— Wall Street Journal

Roger Bennett – a co-host of the "Men in Blazers" show – wrote a memoir filled with silliness, sports, and pop culture. It's good for a laugh, but it's also a thoughtful memoir about his love for the US and how to be a beacon of joy in a divided country.
— Business Insider

"What makes Reborn in the USA so special is the storytelling: Bennett's hilarious, keenly observed, and deeply moving memoir reminds us that dreams can come true—if not always quite in the way we dreamt them. A wonderful book about coming-of-age in the 1980s, dreaming of a different life, and falling in love with an idea of a place—and then with the place itself."
— John Green, #1 New York Times bestselling author of The Fault in Our Stars and Turtles All the Way Down 

What's most compelling about this book is the way it shifts the view of how we're supposed to think about the United States. It's a British projection of late 20th century America that's now rejected by most Americans and assumed to be false. Yet what people in American have been conditioned to view as an illusion was wholly genuine to Roger Bennett, and this memoir is a remarkable reminder that perception is not merely a form of historical reality. Perception is all that we have.
— Chuck Klosterman, bestselling author of But What If We're Wrong? and Chuck Klosterman X

Reborn in the USA is about a kid who grows up in the North of England, yearning to be an American in all its terrible glory. But it's really about so much more. Hilariously written from Roger Bennett's wry and thoughtful perspective, this book is a universal story of growing up and trying to figure out who you are in the world. A time capsule but also a timeless coming of age tale.
— Nick Kroll, co-creator of Big Mouth, Netflix 

Bennett might be the only writer alive who can weave childhood obsessions with both the Super Bowl-winning Chicago Bears and Tracy Chapman into a singular coming of age story. Reborn in the USA is a poignant, rollicking read, reminding us not only of what it means to pursue the American dream, but what that dream should—and still can—represent.
— Mina Kimes, NFL Analyst and Senior Writer, ESPN

"How many worlds can one bloke conquer? When that bloke is a warm hearted, funny, smart and hilarious storyteller named Roger Bennett, the answer seems to be: as many as he wants. This book, part memoir part love letter to his adopted home country of the United States, Reborn in the USA captivated me from first page to last."
— Brian Koppelman, co-creator and showrunner, Billions

"It may not have been your teenage fever dream to leave your dull, rainy hometown in England to move to the land of neon, MTV, and the NFL. But it was Roger Bennett's, and lucky for us, we get to read about it in hilarious, excruciating, and ultimately uplifting detail in (Re)Born in the USA. A book that celebrates growing up, popular culture, and, the universality of needing to become the person you're meant to be." 
— Nora McInerny, bestselling author of It's Okay to Laugh (Crying Is Cool Too) and creator of the Terrible, Thanks for Asking podcast

Entertaining... Bennett is good-natured, self-deprecating, and wryly observant throughout… A three-cheers homage to an America that, Bennett suggests, is returning to its open-arms promise of days past.
— Kirkus Reviews
Dey Street Books, 9780062958693, 336pp.
Publication Date: June 29, 2021
About the Author
Roger Bennett is a broadcaster and podcaster and half of the duo Men in Blazers. He is the co-author of the New York Times bestseller Men in Blazers Present Encyclopedia Blazertannica.