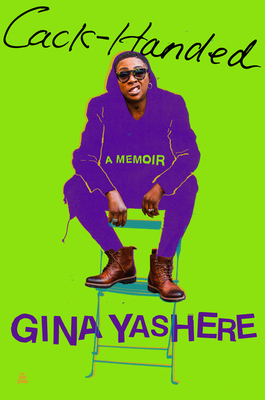 Cack-Handed
A Memoir
Hardcover

* Individual store prices may vary.
Other Editions of This Title:
Digital Audiobook (6/7/2021)
Paperback (5/24/2022)
MP3 CD (6/8/2021)
Compact Disc (6/8/2021)
Description
The British comedian of Nigerian heritage and co-executive producer and writer of the CBS hit series Bob Hearts Abishola chronicles her odyssey to get to America and break into Hollywood in this lively and humorous memoir.

According to family superstition, Gina Yashere was born to fulfill the dreams of her grandmother Patience. The powerful first wife of a wealthy businessman, Patience was poisoned by her jealous sister-wives and marked with a spot on her neck. From birth, Gina carried a similar birthmark—a sign that she was her grandmother's chosen heir, and would fulfill Patience's dreams. Gina would learn to speak perfect English, live unfettered by men or children, work a man's job, and travel the world with a free spirit.
Is she the reincarnation of her grandmother? Maybe. Gina isn't ruling anything out. In Cack-Handed, she recalls her intergenerational journey to success foretold by her grandmother and fulfilled thousands of miles from home. This hilarious memoir tells the story of how from growing up as a child of Nigerian immigrants in working class London, running from skinheads, and her overprotective Mom, Gina went on to become the first female engineer with the UK branch of Otis, the largest elevator company in the world, where she went through a baptism of fire from her racist and sexist co-workers. Not believing her life was difficult enough, she later left engineering to become a stand up comic, appearing on numerous television shows and becoming one of the top comedians in the UK, before giving it all up to move to the US, a dream she'd had since she was six years old, watching American kids on television, riding cool bicycles, and solving crimes.
A collection of eccentric, addictive, and uproarious stories that combine family, race, gender, class, and country, Cack-Handed reveals how Gina's unconventional upbringing became the foundation of her successful career as an international comedian. 
Praise For Cack-Handed: A Memoir…
"Gina is one of those comedians you watch on TV and be like I want to meet her. I got the honor to meet Gina in the trenches of the LA comedy scene. Her story is funny, inspiring, and thought provoking. Her success is a testament to her crazy work ethic. This Book is a Must Read, Trust."
— Tiffany Haddish, New York Times bestselling author of The Last Black Unicorn

"As a fellow Nigerian, I've also felt the weight of my parents expectations, Gina and I have kindred experiences from opposite sides of the Atlantic. Her story is at times  hilarious,  heartbreaking and inspiring,  but oh, what a story it is!" 
— Yvonne Orji, actor, comedian, and author of Bamboozled by Jesus

"Gina Yashere is always going up. Perhaps that's because she began as an elevator repair person. After conquering the world of standup comedy, she ascended to successful standup, sitcom creator, showrunner and series costar. And now she's an author. And like everything else she does, it's wonderful.  Hilarious. Irreverent. Insightful. Holy shit she really said that. Now of course, we all know elevators go up and down. But the smart money on Gina is up. Always up."
— Chuck Lorre

"Gina has this incredible way of painting each moment in her life in such vivid color, that it almost feels like you are sitting right next to her looking at what she sees. She is a connoisseur of humor and is so sharp witted that I had to be careful turning the pages for fear of getting a paper cut, which still wouldn't have deterred me from devouring the pages. A wonderful guided journey through Gina's world." 
— Cynthia Erivo

"There is no man, woman or child funnier than Gina Yashere.  They may be as funny but definitely not funnier.  If you don't believe me, read this funny ass book."
— Chris Spencer, comedian, writer, and executive producer

"Gina is a woman. She's a Black woman. But that wasn't enough so she decided to go be a A Nigerian Immigrant Black woman in America. But that wasn't enough so she decided to be a Nigerian Immigrant Black woman in America pursuing a career in entertainment…an industry that traditionally is not favorable to Immigrants or Black Women. Gina has lived the American dream, the immigrant's dream, all of our dreams. This book is not big enough for an existence that spans 3 continents."

— Roy Wood Jr., Correspondent 'The Daily Show with Trevor Noah'

"Yashere's voice is consistently candid and unique. By virtue of her raw honesty and acerbic wit, Yashere makes it easy to root for her."
— Kirkus Reviews

"Enhanced by Yashere's splendid storytelling and generous wit, Cack-Handed honors the emotionally resilient, cosmopolitan, proud Black lesbian identity Yashere confidently claims as her own."
— Shelf Awareness
Amistad, 9780062961716, 320pp.
Publication Date: June 8, 2021
About the Author
Gina Yashere has appeared on countless television shows both in the UK and US. In the US she was the first and only British comic to perform on Def Comedy Jam. She has performed on The Tonight Show, has been featured as a correspondent on The Daily Show with Trevor Noah, and is a co-executive producer, writer, and series regular on the CBS sitcom Bob Hearts Abishola, which she co-created with Chuck Lorre. She has three comedy specials currently streaming and appears in The Standups: Season 2 on Netflix.