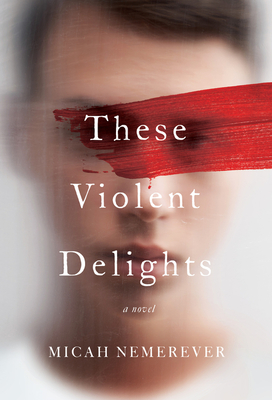 These Violent Delights (Hardcover)
A Novel
Harper, 9780062963635, 480pp.
Publication Date: September 15, 2020
Other Editions of This Title:
Compact Disc (9/15/2020)
MP3 CD (9/15/2020)
* Individual store prices may vary.
Description
An O Magazine.com LGBTQ Book That Is Changing the Literary Landscape in 2020
The Secret History meets Lie with Me in Micah Nemerever's compulsively readable debut novel—a feverishly taut Hitchcockian story about two college students, each with his own troubled past, whose escalating obsession with one another leads to an act of unspeakable violence.

When Paul and Julian meet as university freshmen in early 1970s Pittsburgh, they are immediately drawn to one another. A talented artist, Paul is sensitive and agonizingly insecure, incomprehensible to his working-class family, and desolate with grief over his father's recent death. 
Paul sees the wealthy, effortlessly charming Julian as his sole intellectual equal—an ally against the conventional world he finds so suffocating. He idolizes his friend for his magnetic confidence. But as charismatic as he can choose to be, Julian is also volatile and capriciously cruel. And admiration isn't the same as trust.
As their friendship spirals into an all-consuming intimacy, Paul is desperate to protect their precarious bond, even as it becomes clear that pressures from the outside world are nothing compared with the brutality they are capable of inflicting on one another. Separation is out of the question. But as their orbit compresses and their grip on one another tightens, they are drawn to an act of irrevocable violence that will force the young men to confront a shattering truth at the core of their relationship.   
Exquisitely plotted, unfolding with a propulsive ferocity, These Violent Delights is a novel of escalating dread and an excavation of the unsettling depths of human desire.
About the Author
Micah Nemerever studied art history and queer theory at the University of Connecticut, where he wrote his MA thesis on gender anxiety in the art of the Weimar Republic. He is a prolific home chef and an avid amateur historian of queer cinema. He lives in Seattle, Washington.
Praise For These Violent Delights: A Novel…
"Nemerever's darkly shrewd debut exists in that hazy liminal space between desire and obsession, where the vagaries of a relationship come shaded with the constant threat of cruelty."
— O Magazine.com

"As unsettling as it is enthralling, These Violent Delights will engulf you: first in the intoxication of obsession, then in its toxic consequences. Micah Nemerever's debut is a beautiful portrait of intimacy, desperation, and the damage that damaged hearts can cause. It shattered me."
— Robin Wasserman, author of Girls on Fire and Mother Daughter Widow Wife

"These Violent Delights is an utterly captivating fever dream of a novel whose tone and atmosphere will haunt you long after you finish. More haunting still is the skill with which Micah Nemerever reveals to us the lengths we will go to in order to be known, to be seen, to be understood. A thrilling first novel."
— Brandon Taylor, author of Real Life

"A gorgeous and wickedly smart novel. I was so seduced by the dazzling love story of these two vulnerable young men I became an unwitting accomplice in their swerve toward violence. Nemerever has created a rich, engrossing, and morally complex book filled with dark truths and dangerous delights."
— Christopher Bollen, author of A Beautiful Crime

"Visceral, intimate, and all-consuming, this gutsy debut is both intellectual and fiercely animal. A chilling exploration into desire and infatuation that questions how well we ever really know our lovers—or ourselves. Nemerever's propulsive, crystalline language and gutting insights make the pages fly by, hurtling you toward the inevitable, astounding ending."
— Julia Fine, author of What Should Be Wild

"These Violent Delights is a captivating portrait of alienation and loneliness with the cool gaze of a Highsmith novel. Punctuated by arpeggios of violence and rage, Micah Nemerever has crafted a thrilling page-turner anchored in an examination of desire, love, and moral inquiry."
— Patty Yumi Cottrell, author of Sorry to Disrupt the Peace