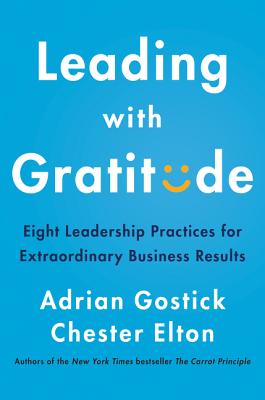 Leading with Gratitude (Hardcover)
Eight Leadership Practices for Extraordinary Business Results
Harper Business, 9780062965783, 272pp.
Publication Date: March 3, 2020
Other Editions of This Title:
Compact Disc (3/3/2020)
MP3 CD (3/3/2020)
* Individual store prices may vary.
Description
The influential New York Times bestselling authors—the "apostles of appreciation" Chester Elton and Adrian Gostick—provide managers and executives with easy ways to add more gratitude to the everyday work environment to help bolster moral, efficiency, and profitability.

Workers want and need to know their work is appreciated. Showing gratitude to employees is the easiest, fastest, most inexpensive way to boost performance. New research shows that gratitude boosts employee engagement, reduces turnover, and leads team members to express more gratitude to one another—strengthening team bonds. Studies have also shown that gratitude is beneficial for those expressing it and is one of the most powerful variables in predicting a person's overall well-being—above money, health, and optimism. The WD-40 Company knows this firsthand. When the leadership gave thousands of managers training in expressing gratitude to their employees, the company saw record increases in revenue.
Despite these benefits, few executives effectively utilize this simple tool. In fact, new research reveals "people are less likely to express gratitude at work than anyplace else." What accounts for the staggering chasm between awareness of gratitude's benefits and the failure of so many leaders to do it—or do it well? Adrian Gostick and Chester Elton call this the gratitude gap. In this invaluable guide, they identify the widespread and pernicious myths about managing others that cause leaders to withhold thanks.
Gostick and Elton also introduce eight simple ways managers can show employees they are valued. They supplement their insights and advice with stories of how many of today's most successful leaders—such as Alan Mulally of Ford and Hubert Joly of Best Buy—successfully incorporated gratitude into their leadership styles.
Showing gratitude isn't just about being nice, it's about being smart—really smart—and it's a skill that everyone can easily learn.
About the Author
#1 bestselling leadership author Adrian Gostick provides real solutions for managing change, driving innovation, and leading a multi-generational workforce.Gostick is a global workplace expert and thought leader in the fields of corporate culture, teamwork, and engagement. He is a founder of the training company The Culture Works and author of the #1 New York Times, USA Today and Wall Street Journal bestsellers All In and The Carrot Principle. His books have been translated into 30 languages and have sold 1.5 million copies around the world. As a leadership expert, he has been called "fascinating," by Fortune magazine and "creative and refreshing" by the New York Times. Gostick has appeared on NBC's Today show and CNN and is often quoted in The Economist, Newsweek, and Wall Street Journal. If you Google the 30 Top Leadership Gurus, he is on the list alongside Jack Welch and Jim Collins. His consulting clients include Danaher, Bank of America, Rolls Royce, JELD-WEN and California Pizza Kitchen.
Chester Elton has spent two decades helping clients engage their employees to execute on strategy, vision, and values. In his provocative, inspiring and always entertaining talks, #1 bestselling leadership author Chester Elton provides real solutions to leaders looking to manage change, drive innovation, and lead a multi-generational workforce. Elton's work is supported by research with more than 850,000 working adults, revealing the proven secrets behind high-performance cultures and teams. He has been called the "apostle of appreciation" by Canada's Globe and Mail, "creative and refreshing'" by the New York Times, and a "must read for modern managers" by CNN Elton is co-author of the New York Times and #1 USA Today and Wall Street Journal bestselling leadership books, All In, The Carrot Principle and The Best Team Wins. His books have been translated into more than 30 languages and have sold more than 1.5 million copies worldwide. Elton is often quoted in publications such as the Wall Street Journal, Washington Post, Fast Company and the New York Times. He has appeared on NBC's Today, CNN, ABC, MSNBC, National Public Radio and CBS's 60 Minutes. In 2017 Global Gurus research organization ranked him as #15 in the world's top leadership experts and #10 in the world's top organizational culture experts, and he is a member of Marshall Goldsmith's 100 Coaches (MG100), pay it forward project. Elton is the co-founder of The Culture Works, a global training company and is a board member of Camp Corral, a non-profit for the children of wounded and fallen military heroes. He serves as a leadership consultant to firms such as American Express, AT&T, Avis Budget Group and Procter & Gamble. He is most proud, however, to be the father of four exceptional children-more exceptional now they've grown up and left home.
Praise For Leading with Gratitude: Eight Leadership Practices for Extraordinary Business Results…
"I love, love, love this book! You will not only read but mark up and send to your friends."
— Alan Mulally, retired CEO of The Ford Motor Company

"Leading with Gratitude is a wonderful gift for leaders, those who aspire to lead, and anyone who wants to bring more joy and meaning into their lives."                                                                  
— Dr. Jim Yong Kim, 17th President of Dartmouth College & 12th President of the World Bank Group

"Seeing and appreciating excellence is foundational in running a great team, and yet so few leaders have mastered this seemingly simple skill. A powerful, poignant roadmap that can lead you and your team to extraordinary results."
— Amy Edmondson, Harvard Business School Professor & author of The Fearless Organization and Teaming

"Amazing! Ideas that will have a remarkable and immediate impact on your ability to lead other people."
— Marshall Goldsmith, author of What Got You Here Won't Get You There

"Carefully researched, witty, and packed with a hundred practical tips, Leading with Gratitude is a blueprint to developing your soft skills (from) Gostick and Elton, the undisputed thought leaders in building All In cultures."
— Whitney Johnson, CEO of WLJ Advisors & author of Disrupt Yourself and Build an A Team

"In this timely book, Gostick and Elton show how the power of gratitude can supercharge results and transform organizations."
— Henry Timms, President of Lincoln Center for the Performing Arts and co-author New Power

"Another instant classic by Gostick and Elton. Learning how to Lead with Gratitude is a core business competency and should be required reading for all people leaders. An exceptionally inspired workforce will respond in kind."
— David Kasiarz, Executive Vice President, Global Total Rewards and Medical American Express

"This is THE book people will be talking about this year. A powerful and profound method to inspire people to rally to your cause and achieve outstanding long-term results. Jam-packed with ideas and tips to engage the people in your care, this book should be in every leader's library."
— Lance Trenary, President & CEO, Golden Corral Corporation

"Rooted in profound theory; nurtured by rigorous research; and illustrated by moving stories, Gostick and Elton turn the ideal of gratitude into a vibrant, flourishing, and renewing lifestyle. Their remarkable work will inspire and improve anyone from senior leader to front line employee in any setting where we work, live, play, and worship." 
— Dave Ulrich, Rensis Likert Professor, School of Business, University of Michigan Partner, The RBL Group

"I love how this book uses hard-data to explain that the soft-stuff that makes all the difference for great leaders. Then, through benchmarking great leaders, provides relevant and actionable ideas for how to make gratitude a sustainable force for good. As you'll see, authentic gratitude can change lives and change companies."
— Mark A. Beck, CEO, B-Square Precision Group

"Research has clearly shown that the best leaders positively engage with their people consistently. Leading with Gratitude hits at the essence and continued rebirth of what it is to be a leader. If you want sustained performance, hire leaders who possess 'power skills' like gratitude. The research in this book shows that people drive performance ... leaders who understand this—and routinely show appreciation and gratitude for work and effort—will drive even more business!"
— Todd Billingsley, Director of Business & Leadership Development, Boehringer Ingelheim

"Gostick and Elton have captured the extraordinary essence of a driving life force to grow every sustainable organization. This book inspires, provokes, encourages and serves as a launching pad for that next level of performance of your team, your company and your community!"
— Mark C. Thompson, New York Times bestselling leadership author and #1 ranked CEO coach