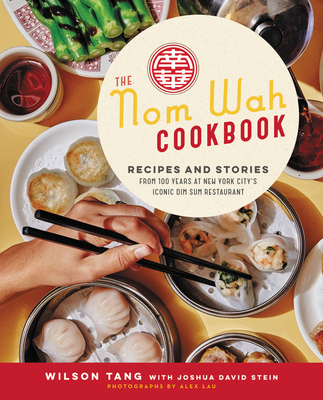 The Nom Wah Cookbook
Recipes and Stories from 100 Years at New York City's Iconic Dim Sum Restaurant
Hardcover

* Individual store prices may vary.
Other Editions of This Title:
Digital Audiobook (10/19/2020)
MP3 CD (10/20/2020)
Compact Disc (10/20/2020)
Description
A RECOMMENDED BOOK FROM:
Bon Appetit * The New York Times Book Review * Epicurious * Plate * Saveur * Grub Street * Wired * The Spruce Eats * Conde Nast Traveler * Food & Wine * Heated
For the last 100 years, Nom Wah Tea Parlor has been slinging some of the world's greatest dim sum from New York's Chinatown. Now owner Wilson Tang tells the story of how the restaurant came to be—and how to prepare their legendary dishes in your own home.

Nom Wah Tea Parlor isn't simply the story of dumplings, though there are many folds to it. It isn't the story of bao, though there is much filling. It's not just the story of dim sum, although there are scores and scores of recipes. It's the story of a community of Chinese immigrants who struggled, flourished, cooked, and ate with abandon in New York City.  (Who now struggle, flourish, cook, and eat with abandon in New York City.) It's a journey that begins in Toishan, runs through Hong Kong, and ends up tucked into the corner of a street once called The Bloody Angle. 
In this book, Nom Wah's owner, Wilson Tang, takes us into the hardworking kitchen of Nom Wah and emerges with 75 easy-to-make recipes: from bao to vegetables, noodles to desserts, cakes, rice rolls, chef's specials, dumplings, and more.
We're also introduced to characters like Mei Lum, the fifth-generation owner of porcelain shop Wing on Wo, and Joanne Kwong, the lawyer-turned-owner of Pearl River Mart. He paints a portrait of what Chinatown in New York City is in 2020. As Wilson, who quit a job in finance to take over the once-ailing family business, struggles with the dilemma of immigrant children—to jettison tradition or to cling to it—he also points to a new way: to savor tradition while moving forward. A book for har gow lovers and rice roll junkies, The Nom Wah Cookbook portrays a culture at a crossroads.
Praise For The Nom Wah Cookbook: Recipes and Stories from 100 Years at New York City's Iconic Dim Sum Restaurant…
"In this engagingly written, gorgeously photographed cookbook, the story of Nom Wah, a 100-year-old dim sum restaurant in New York's Chinatown, comes to life…. Just as essential as its recipes, the cookbook is suffused with lively storytelling that imparts a deep appreciation for the people, the history and hard work behind each dish, behind Nom Wah, and behind Chinatown itself." — Food and Wine
"From the very first tattoo- and Tsingtao-studded photograph by Alex Lau, Wilson Tang's The Nom Wah Cookbook had me so eager to get into the kitchen that I had to read it standing up…. As much a history lesson as it is a dumpling primer." — Epicurious
"Tang's pride in his community is reflected in the glossy pages of "The Nom Wah Cookbook," a collection of mouth-watering dim sum recipes that manages to be much more than that. It's also a social history of New York's Chinatown, with profiles of merchants and artisans who are trying to keep the historic neighborhood alive now." — Associated Press
"A cookbook that gives a thoughtful history of [Nom Wah], as well as a survey of the evolution of Chinatown." — New York Times
"Nom Wah is one of the most legendary dining establishments in New York City. Having been open for more than 100 years, this restaurant has seen Chinatown change and evolve in spectacular ways. However, owner Wilson Tang doesn't get lost in the past. Instead, he uses this moment to celebrate the Chinatown of now, sharing profiles and recipes that celebrate today." — Bon Appétit
"Nom Wah Tea Parlor is a classic restaurant that defines New York dining…. Tucked between the pages are tales from the restaurant, a touch of dim sum history, and essays from other members of the Chinatown community…. Reading the book isn't quite the same as sitting at a table in the golden-hued restaurant, but during a pandemic, it's as close as we can get." — Heated
"The cluster of people typically huddled outside Nom Wah Tea Parlor in New York's Chinatown tells you there's something special inside. Once you tuck into the 100-year-old dim sum restaurant's food, you realize it was worth the wait for silky dumplings, toothsome char sui bao, scallion pancakes, egg rolls, and other dim sum dishes passed down through three generations of owners. The latest, Wilson Tang, reveals these long-standing family secrets and recipes in this new cookbook, along with illustrations that demonstrate how to stuff bao, close eggrolls, and more." — Plate
"For those who miss those stacks of steaming baskets piled high on the table, Tang and Joshua David Stein help you bring home the experience with THE NOM WAH COOKBOOK… Making dumplings is easy — really!" — New York Times Book Review
"A mouthwatering love letter to Nom Wah's neighborhood." — Saveur
"What resonates most is the celebration of Chinatown's family-run shops, its cultural institutions, and the characters who make the neighborhood an enduring source of pride and inspiration." — Grub Street
"A primer on how dim sum works.... The pages of Nom Wah are a beautiful place to be."
— Wired
"While Nom Wah Tea Parlor might be New York City's oldest dim sum restaurant, this is its very first cookbook, spanning 100 years of recipes and stories from the legendary Chinatown spot. It's an opportunity to master everything from rice rolls to scallion pancakes to shrimp balls."
— Conde Nast Traveler
"You'll get a colorful historical background to the restaurant classics you know and love." — The Spruce Eats
Ecco, 9780062965998, 272pp.
Publication Date: October 20, 2020
About the Author
Wilson Tang is the owner and operator of Nom Wah Tea Parlor. Prior to taking over the business in 2010, he was a financial analyst for Morgan Stanley. Wilson has expanded the Nom Wah footprint to include Nom Wah Tea Parlor in Philadelphia and Nom Wah Nolita, a contemporary offshoot in New York City that opened in 2016. Wilson lives with his wife and two children, Ryan and Lucy, a few blocks away from Nom Wah Tea Parlor.
Joshua David Stein is an author and editor living in Brooklyn. He is the coauthor of Notes from a Young Black Chef, Il Buco Essentials, Food and Beer, and Epicurean Journeys, and the author of To Me He Was Just Dad. He served as the U.S. editor for the bestselling Where Chefs Eat. Stein is the editor at large at Fatherly, a contributing editor at Food & Wine, and the former restaurant critic for the New York Observer and the Village Voice. His work has appeared in New York, the New York Times, Esquire, GQ, the Guardian, and many other outlets.