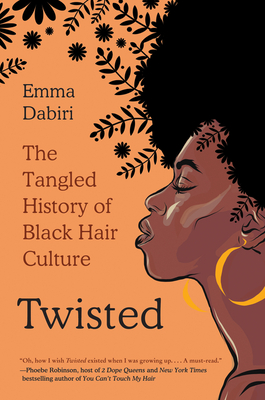 Twisted
The Tangled History of Black Hair Culture
Paperback

* Individual store prices may vary.
Other Editions of This Title:
Digital Audiobook (6/22/2020)
Description
A Kirkus Best Book of the Year
Stamped from the Beginning meets You Can't Touch My Hair in this timely and resonant essay collection from Guardian contributor and prominent BBC race correspondent Emma Dabiri, exploring the ways in which black hair has been appropriated and stigmatized throughout history, with ruminations on body politics, race, pop culture, and Dabiri's own journey to loving her hair.
Emma Dabiri can tell you the first time she chemically straightened her hair. She can describe the smell, the atmosphere of the salon, and her mix of emotions when she saw her normally kinky tresses fall down her shoulders. For as long as Emma can remember, her hair has been a source of insecurity, shame, and—from strangers and family alike—discrimination. And she is not alone.
Despite increasingly liberal world views, black hair continues to be erased, appropriated, and stigmatized to the point of taboo. Through her personal and historical journey, Dabiri gleans insights into the way racism is coded in society's perception of black hair—and how it is often used as an avenue for discrimination. Dabiri takes us from pre-colonial Africa, through the Harlem Renaissance, and into today's Natural Hair Movement, exploring everything from women's solidarity and friendship, to the criminalization of dreadlocks, to the dubious provenance of Kim Kardashian's braids.
Through the lens of hair texture, Dabiri leads us on a historical and cultural investigation of the global history of racism—and her own personal journey of self-love and finally, acceptance.
Deeply researched and powerfully resonant, Twisted proves that far from being only hair, black hairstyling culture can be understood as an allegory for black oppression and, ultimately, liberation.
Praise For Twisted: The Tangled History of Black Hair Culture…
"Oh, how I wish Twisted existed when I was growing. This book is a must read and more importantly, one that must be taught in schools. Emma Dabiri, a well-researched and talented writer, takes the seemingly insurmountable task of contextualizing the contributions, trials, complexities and beauty of the black hair experience in way that not only allows you to see the world more clearly, but leaves you with a hunger to learn more. And that, in my estimation, is one of greatest powers of literature. Cannot wait to see what Dabiri writes next."   — Phoebe Robinson, host of 2 Dope Queens and author of You Can't Touch My Hair
"Poignant and thoroughly researched." — Parade
"Compelling and engrossing…. A deft geopolitical and economic meditation....Dabiri blends thorough research with incisive commentary and artful memoir...sure to become the definitive book on the politics, culture, and economics of black hair." — Kirkus, starred review
"A complex, layered, and full history of Black hair… Dabiri carefully deconstructs this history without pathologizing the Black hair experience." — Bitch Magazine
"Engaging and enlightening… Dabiri introduces readers to the rich, complex cultures and politics of black hair in locations around the world." — Library Journal, starred review
"A lively and wide-ranging essay collection… Dabiri explores both her personal story and the larger history with a fierce sense of purpose and an appealing eclecticism." — Publishers Weekly
"Written in a style that will both challenge readers and create the sense of joining in a confiding conversation with a friend, Twisted provides a new perspective on a complexly resonant topic." — Booklist, starred review
"A triumph! Refreshingly accessible, enlightening and thorough ... an impeccably researched journey into our Black Hair and the ideas and feelings that have surrounded it, to this day." — Yrsa Daley-Ward
"Emma Dabiri has written a fantastically interesting and original book which explores black hair through the prism of history, culture, feminism, and philosophy." — Bernardine Evaristo, author of Girl, Woman, Other
"Both a richly researched cultural history and a voyage to empowerment." — The Guardian
"Pulled together with meticulous research, Twisted is an unmissable read by a writer who's set to become a household name." — Stylist (UK)
"Sensational." — Women's Health
"Groundbreaking...Her sources are rich, diverse and sometimes heartbreaking. Some books make us feel seen and for me, that is what Twisted does. I would urge everyone to read it." — Charlie Brinkhurst-Cuff, The Guardian
Harper Perennial, 9780062966728, 272pp.
Publication Date: June 23, 2020
About the Author
Emma Dabiri is a regular presenter on BBC and contributor for The Guardian. She is a teaching fellow in the Africa department at SOAS and a Visual Sociology PhD researcher at Goldsmiths. Her writing has been published in a number of anthologies, academic journals, and the national press. She lives in London.