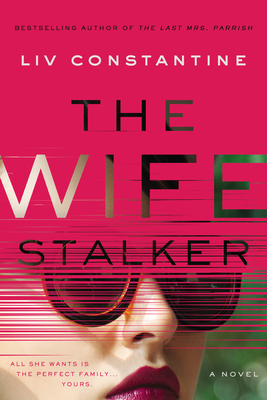 The Wife Stalker
A Novel
Paperback

* Individual store prices may vary.
Other Editions of This Title:
Digital Audiobook (5/18/2020)
Paperback, Large Print (5/19/2020)
Hardcover (5/19/2020)
Description
The bestselling author of The Last Mrs. Parrish—a Reese Witherspoon Book Club pick—returns with a psychological thriller, filled with chilling serpentine twists, about a woman fighting to hold onto the only family she's ever loved—and how far she'll go to preserve it.
Named one of the most anticipated thrillers of the year by Goodreads, Bustle, SheReads, and Library Journal; A LibraryReads pick of the month 
Breezing into the upscale seaside paradise of Westport, Connecticut, gorgeous thirtysomething Piper Reynard sets down roots, opening a rehab and wellness space and joining a local yacht club. When she meets Leo Drakos, a handsome, successful lawyer, the wedding ring on his finger is the only thing she doesn't like about him. Yet as Piper well knows, no marriage is permanent.
Meanwhile, Joanna has been waiting patiently for Leo, the charismatic man she fell in love with all those years ago, to re-emerge from the severe depression that has engulfed him. Though she's thankful when Leo returns to his charming, energetic self, paying attention again to Evie and Stelli, the children they both love beyond measure, Joanna is shocked to discover that it's not her loving support that's sparked his renewed happiness—it's something else.
Piper. Leo has fallen head over heels for the flaky, New Age-y newcomer, and unrepentant and resolute, he's more than willing to leave Joanna behind, along with everything they've built. Of course, he assures her, she can still see the children.
Joanna is devastated—and determined to find something, anything, to use against this woman who has stolen her life and her true love. As she digs deeper into Piper's past, Joanna begins to unearth disturbing secrets . . . but when she confides to her therapist that she fears for the lives of her ex-husband and children, her concerns are dismissed as paranoia. Can she find the proof she needs in time to save them?
Praise For The Wife Stalker: A Novel…
"Wickedly entertaining. With THE WIFE STALKER, Liv Constantine proves once again to be a master of domestic malice."

— Riley Sager, New York Times bestselling author of  Lock Every Door


"A twisty, engrossing house of mirrors...smart, propulsive, and tricky-in-all-the-best-ways psychological suspense."

— Lisa Unger, New York Times bestselling author of The Stranger Inside

"Exciting. . . . Strong storytelling draws in the reader — hook, line and sinker.  . . . Constantine keeps the suspense high. A clever twist pulls The Wife Stalker in a unique direction that readers will savor."
— South Florida Sun-Sentinel

"By their very nature, thrillers and novels of suspense typically have any number of twists. However, THE WIFE STALKER is teeming with them, and a big one that will leave you totally reeling. You may read this entire book thinking you know what's going on. At least 99 percent won't get it right. Once you've reached the aha moment, you'll want to go back to the beginning to see the perspective in a whole new light. Liv Constantine really is that clever with this plot."
— Book Reporter

"If you're looking for an entertaining binge-read, this book is for you.  . . . The sister authors do a masterful job telling the story from Joanna and Piper's points of view. Readers will not see the twist coming, and the nuances of the writing will ultimately come together in not one, but two 'what just happened?!?' moments."
— Portland Book Review

"The Constantine sisters are as astute observers of class as any literary writer I can think of; they understand how people signal their social status both consciously and subliminally. And class is really at the heart of The Wife Stalker, which I don't want to spoil, so I will just say it's about a woman who has a habit of marrying rich men who then have fatal accidents."
— CrimeReads, "10 Novels You Should Read This Month"

"The Wife Stalker is a daring, dastardly story with complex characters and a sinister plot. A read-through-the-night thriller that mesmerizes to the final page. An absolute must for your 2020 list!"
— Samantha Downing, USA Today and Sunday Times bestselling author of My Lovely Wife

"Liv Constantine has done it again. Suspenseful and mesmerizing, Constantine's third novel is a breakneck thriller that keeps you riveted from the first page to that explosive, jaw-dropping twist. If you're looking for an addictive, up-all-night read, The Wife Stalker is as good as it gets."
— Jennifer Hillier, award-winning author of Jar of Hearts and Little Secrets

The Constantine sisters (The Last Mrs. Parrish) have done it again: crafted a psychological thriller that keeps readers squirming until the last harrowing page, as it alternates between the two voices. Readers will enjoy the twists, turns, and surprises as the story unfolds.
— Library Journal

"Tense and deliciously twisty, THE WIFE STALKER is a hall of mirrors in which Liv Constantine delivers sinister surprises with characteristic sleight of hand."
— Gilly Macmillan, New York Times bestselling author of The Nanny

"Thrillers with a big twist near the end make for good reading, and that's what Liv Constantine's recently published The Wife Stalker provides. It saves lots of its ammunition for the denouement, making it a page-turner—not surprising considering its authors, the sister duo Lynne and Valerie Constantine as Liv Constantine, have written nothing but best-sellers. . . . Both narrators are scarred. Neither is particularly sympathetic, but they keep the reader riveted with their machinations." 
— Washington City Paper

"The Wife Stalker is skillfully constructed and fast-paced—a mischievously tense and engaging novel filled with plenty of twists and turns that keep readers spellbound and guessing until the very final page."
— New York Journal of Books

"In true Liv Constantine fashion, this story wraps with a twist that you just won't see coming, no matter how hard you try. This one is definitely a must-read!"
— Suspense Magazine

"The story's swift pace and twist in the final act should keep domestic thriller fans engaged."
— Shelf Awareness

"Compelling and surprising, THE WIFE STALKER is a fast-paced page-turner, full of unexpected twists and an ending I did not see coming. Impossible to put down!"
— Megan Miranda, New York Times bestselling author of The Last House Guest and The Girl from Widow Hills

"Oh, you sneaky sisters. Liv Constantine got me in the best possible way with The Wife Stalker, a wicked, whip-smart bag of tricks about a woman fighting to hold onto her family. Read this one in one long gulp, then read it again to see what you missed the first time through. I promise you won't see it coming."
— Kimberly Belle, internationally bestselling author of Dear Wife

"Liv Constantine has done it again. THE WIFE STALKER is a masterclass of domestic suspense that keeps you up all night, turning the page, desperate to find out what happens next. Can't recommend this book enough! Fun, thrilling, and an ending you simply won't see coming!"
— Matthew Farrell, bestselling author of WHAT HAVE YOU DONE

"An Addictive & Thrilling Follow-Up To 'The Last Mrs. Parrish'"

— Bustle, on The Last Time I Saw You

"Increasingly ingenious twists...Constantine expertly ratchets up the tension."

— Publishers Weekly, on The Last Time I Saw You

"An absorbing tale . .. fans of Gone Girl and its successors will appreciate an ending that puts a pricey shoe on one foot and then changes it again . . . and again."
— Booklist, on The Last Time I Saw You

"Murder, threats and forgotten friendships come together in this thriller, from the author of the 2018 hit book The Last Mrs. Parrish."
— Newsweek, "Best Books of 2019 So Far," on The Last Time I Saw You

"From murder and madness to secrets and fraught family relationships, the non-stop glitz gives this tale soapy sheen that makes for perfect escapist summer reading."
— New York Journal of Books on The Last Time I Saw You

"Elegantly constructed. . . . [A] terrific tale of brooding noir that echoes Patricia Highsmith and her classic Ripley series, as complex as it is ambitious."
— Providence Journal on The Last Time I Saw You

"A fun and fast-paced psychological thriller about two determined women who play a high stakes game of deception that only one can win."
— Reese Witherspoon on The Last Mrs. Parrish

"[A] wicked debut thriller… you'll relish every diabolical turn."
— People on The Last Mrs. Parrish

"Utterly irresistible. . . . The Last Mrs. Parrish pivots on an enormous and satisfying twist. . . . the pages keep flying, flying, flying by."
— USA Today on The Last Mrs. Parrish
Harper Paperbacks, 9780062967299, 320pp.
Publication Date: January 26, 2021
About the Author
Liv Constantine is the pen name of sisters Lynne Constantine and Valerie Constantine. Together, they are the bestselling author of the Reese Witherspoon Book Club pick The Last Mrs. Parrish, The Last Time I Saw You, The Wife Stalker, and The Stranger in the Mirror. Their books have been praised by USA Today, The Sunday Times, People Magazine, and Good Morning America, among many others. Lynne and Valerie are national and international bestselling authors and their books have been translated into 27 languages, are available in 32 countries and are in development for television and film.  Lynne lives in Milford, Connecticut; Valerie in Annapolis, Maryland.