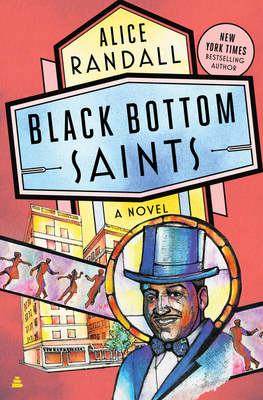 Black Bottom Saints
A Novel
Hardcover

* Individual store prices may vary.
Other Editions of This Title:
Digital Audiobook (8/17/2020)
Paperback (7/6/2021)
Compact Disc (8/18/2020)
Library Binding, Large Print (3/10/2021)
MP3 CD (8/18/2020)
Description
An enthralling literary tour-de-force that pays tribute to Detroit's legendary neighborhood, a mecca for jazz, sports, and politics, Black Bottom Saints is a powerful blend of fact and imagination reminiscent of E.L. Doctorow's classic novel Ragtime and Marlon James' Man Booker Award-winning masterpiece, A Brief History of Seven Killings.
From the Great Depression through the post-World War II years, Joseph "Ziggy" Johnson, has been the pulse of Detroit's famous Black Bottom. A celebrated gossip columnist for the city's African-American newspaper, the Michigan Chronicle, he is also the emcee of one of the hottest night clubs, where he's rubbed elbows with the legendary black artists of the era, including Ethel Waters, Billy Eckstein, and Count Basie. Ziggy is also the founder and dean of the Ziggy Johnson School of Theater. But now the doyen of Black Bottom is ready to hang up his many dapper hats.  
As he lays dying in the black-owned-and-operated Kirkwood Hospital, Ziggy reflects on his life, the community that was the center of his world, and the remarkable people who helped shape it.
Inspired by the Catholic Saints Day Books, Ziggy curates his own list of Black Bottom's venerable "52 Saints." Among them are a vulnerable Dinah Washington, a defiant Joe  Louis, and a raucous Bricktop. Randall balances the stories of these larger-than-life "Saints" with local heroes who became household names, enthralling men and women whose unstoppable ambition, love of style, and faith in community made this black Midwestern neighborhood the rival of New York City's Harlem.
Accompanying these "tributes" are thoughtfully paired cocktails—special drinks that capture the essence of each of Ziggy's saints—libations as strong and satisfying as Alice Randall's wholly original view of a place and time unlike any other.
Praise For Black Bottom Saints: A Novel…
"I cannot tell you how much I appreciate and really love this book. So many stories, our stories, Mom's, Bricktop Valda Grey...so many of us NEED to know these stories. Brava, Bravo!"
— Whoopi Goldberg

"Black Bottom Saints offers Randall's multihued genius -- as author of country music compositions, historical fiction, magazine profiles, essays, editorials, children's books, and screenplays -- a splendid venue to shine as she creates a magical world worthy of her magnificent gifts."
— Michael Eric Dyson

"Lively, engaging, and often wise."
— New York Times Book Review

"Alice Randall's magical Black Bottom Saints evokes Detroit's legendary Black Bottom, one of America's most influential, artful Black communities.  Her "Caramel Camelot" comes alive in the voice of Ziggy Johnson, whose School of the Theater  extravaganzas were actually "citizenship schools" of self discovery, performance and celebration for Black girls. Ziggy's decades of who's who and what's what weekly columns for the Michigan Chronicle document the "Saints" whose lives and talents created "fifty-two paths from trauma to transcendence." Effervescent, tragic, proud, and immensely compelling, Black Bottom Saints is a must-read-now triumph." 
— Jayne Anne Phillips, National Book Award/NBCC Finalist, author of Black Tickets, Machine Dreams, Shelter, Lark and Termite & Quiet Dell

"Black Bottom Saints is easily the most inventive and musical novel I've read in a decade. Alice Randall has rewritten and re-energized the rules of the American novel!"
— Kiese Laymon, author of Long Division and Heavy, Professor of English and Creative Writing, University of Mississippi

"Alice Randall's Black Bottom Saints arrives at a critical moment in our nation's history, and it's exactly the right book for our times—an entertaining and necessary act of hagiography and a singular hybrid of fiction, biography and history. I wish I could have seen Black Bottom in its heyday—and thrown back a cocktail with Ziggy Johnson--but reading Randall's latest novel makes me feel that, actually, I have."

— Jay McInerney, author of Bright Lights, Big City and The Good Life

"Alice Randall has done it again! Black Bottom Saints sneaks up on you--telling you the rich story of Black Michigan and Black Detroit in a way that has never been told before. Detroit is not just Motown. Detroit is a stronghold of black America and black culture.  This book tells the story. The characters, so rich, the story so strong, so complex.  This book is instantly an American classic.  Randall is at the top of her form."
— Randall Kenan, author of A Visitation of Spirits, Professor of English and Comparative Literature, University of North Carolina

"Black Bottom Saints is a tour-de-force; a toast to a mystical, gritty place; a tableau of Black arts and culture centering on Detroit City. Within these finely crafted and luminous pages that readers will never want to leave, Randall has resurrected a lost glitter world. Here, Detroit's original and best Black neighborhood, with its brilliant, yearning, brave, maddening, and ultimately mortal residents, bursts to colorful life in a flash of incomparable style. This is a ritual calling forth of the blazing spirits of bygone breadwinners, reminding  Detroiters, and all Black Americans, that 'Once upon a time, we did it.'"
— Tiya Miles, author of The Dawn of Detroit and Professor of History,  Harvard University

"A rambunctious portrait of the "caramel Camelot" that was Detroit's Black Bottom neighborhood from the late 1930s to the late 1960s."
— New York Times

"Alluring cocktail of a novel." 
— O, the Oprah Magazine

"…no book has ever brought Detroit's Black Camelot as radiantly to life as Alice Randall's Black Bottom Saints."
— New York Journal of Books

"Intriguing and beguiling."
— BookPage

"…a gorgeous swirl of fiction."
— NPR's Fresh Air

"This works as a memorable love letter to Detroit, as well as a remarkable tableau."
— Publishers Weekly

"an exuberant celebration of the arts…" 
— Booklist

"Rave."

— Literary Hub

"Randall writes this genre-bending story of black achievement with all the zing and fizz of the cocktail recipes sprinkled among the prose profiles of the community's 'saint' figures – all of whom, including the narrator, are fictionalised versions of real people."
— Monocle Magazine


"The novel's considerable power lies in Randall's vivid conjuring of 20th-century Black lives, Black genius and unforgettable dish. This joyous novel is an act of collective memory." 
— Shelf Awareness

"This is the way it was." 
— Artis Lane
Amistad, 9780062968623, 368pp.
Publication Date: August 18, 2020
About the Author
Alice Randall is the Harvard-educated author of novels, including The Wind Done Gone, Pushkin and the Queen of Spades, Rebel Yell, and Ada's Rules. An award-winning songwriter, she co-wrote the #1 hit XXX's and OOO's which celebrates Aretha Franklin. With her daughter, Caroline Randall Williams, she co-authored the acclaimed cookbook Soul Food Love which won the NAACP Image award and the young adult novel The Diary of B. B. Bright, Possible Princess, which received the Phillis Wheatley Award. A Professor and Writer-in-Residence at Vanderbilt University, Randall teaches courses on soul food, African-American children's literature, and African-American film. A native of Detroit, she lives in Nashville, Tennessee.