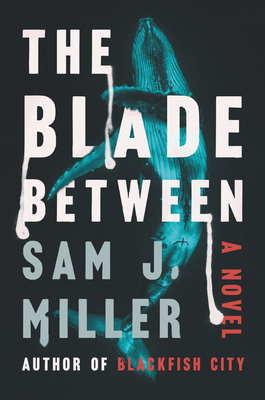 The Blade Between
A Novel
Hardcover

* Individual store prices may vary.
Other Editions of This Title:
Digital Audiobook (11/30/2020)
Paperback (2/1/2022)
MP3 CD (12/1/2020)
Compact Disc (12/1/2020)
Description
A Recommended Book from CrimeReads and Alma
From Nebula Award winner Sam J. Miller comes a frightening and uncanny ghost story about a rapidly changing city in upstate New York and the mysterious forces that threaten it.
Ronan Szepessy promised himself he'd never return to Hudson. The sleepy upstate town was no place for a restless gay photographer. But his father is ill and New York City's distractions have become too much for him. He hopes that a quick visit will help him recharge. 
Ronan reconnects with two friends from high school: Dom, his first love, and Dom's wife, Attalah. The three former misfits mourn what their town has become—overrun by gentrifiers and corporate interests. With friends and neighbors getting evicted en masse and a mayoral election coming up, Ronan and Attalah craft a plan to rattle the newcomers and expose their true motives. But in doing so, they unleash something far more mysterious and uncontainable. 
Hudson has a rich, proud history and, it turns out, the real-state developers aren't the only forces threatening its well-being: the spirits undergirding this once-thriving industrial town are enraged. Ronan's hijinks have overlapped with a bubbling up of hate and violence among friends and neighbors, and everything is spiraling out of control. Ronan must summon the very best of himself to shed his own demons and save the city he once loathed.
Praise For The Blade Between: A Novel…
"The Blade Between is more than a dystopian sci-fi thriller with a dash of poetry; it's an explosive narrative about a small town caught between the decaying ghosts of the past, the shattered dreams and mediocre lives of its residents, and the monster of gentrification that threatens to erase it all under shiny new buildings and fancy coffee shops. That Miller manages to discuss all three while also exploring the interstitial spaces between homosexuality, technology, and class privilege and resentment is a testament to his storytelling skills, and a powerful reason to read this haunting tale." — NPR.org
"A successful 'influencer' photographer returns to the gentrifying hometown that nearly broke him, and all hell breaks loose. The Blade Between is as addictive and brutal as it is smart and challenging. Miller unflinchingly confronts the sins of our past and present. The horrors here are rooted in there being no easy answers despite our individual and collective souls being ultimately at stake. Plus whales!" — Paul Tremblay, author of The Cabin at the End of the World and Survivor Song
"Like Clive Barker, Miller has a great talent for creating interesting characters and building up quiet dread.... Timely and interesting." — San Francisco Chronicle
"One of the best books I've read in 2020. Miller's prose is phenomenal…. Miller has crafted a mature, thoughtful, and challenging novel that tackles the problem of being ethical in the world…. While The Blade Between is full of hurt people who are struggling, it's far from grim. The observational clarity Miller brings to the page is unflinching but, somehow, kind. He gives all these characters grace without erasing their flaws….. A discomfiting but vital story that throbs off of the page." — Tor.com
"The book is full of moments of slowly rising dread that end in shocking revelations, all of them building to a nightmarish town festival where the growing horror finally reveals its true face and intent." — Nightmare Magazine
"[In] The Blade Between, the whole town of Hudson becomes a central character…. [A] sharp-edged novel… Stunning." — Locus
"The best horror is always timely…. Enter Sam J. Miller's THE BLADE BETWEEN, a supernatural thriller that hinges on an eviction crisis. Miller's novel, which also touches on homophobia, income inequality, and America's refusal to come to terms with its history, feels like the most 2020 novel imaginable." — The Big Thrill
"Miller expertly addresses the dark sides of gentrification.... All the characters in The Blade Between are three-dimensional (even the 'villain')." — Alma
"Sam J. Miller's The Blade Between stands out for its heroes' plan to raise sinister supernatural forces in defense of their city." — CrimeReads
"Miller's sprawling novel encapsulates the complex web of feelings brought on by witnessing the destruction of a town that made adolescence hell for a gay or trans teen…. Raw and volatile…. Highly recommended for anyone looking for a queer-themed, sea salt–laced dark fantasy." — Booklist (starred review)
"Supernatural and uncomfortably human forces threaten to rip a failing town apart…. An unsettling and visceral journey: powerful, twisted, and grim but ultimately uplifting." — Kirkus Reviews (starred review)
"[A] gripping mashup of psychological suspense and horror….The novel lifts off toward an exciting conclusion. Insightful social commentary is a bonus. Thriller fans will welcome Miller as a fresh new voice." — Publishers Weekly
"Miller (Destroy All Monsters) takes on cosmic horror with chillingly realistic results…. Filled with intense dread and unease…. This is a great example of how a century-old subgenre can still speak directly to today's readers." — Library Journal
Ecco, 9780062969828, 384pp.
Publication Date: December 1, 2020
About the Author
Sam J. Miller is the Nebula Award–winning author of The Art of Starving (an NPR best book of the year) and Blackfish City (a Nebula Award finalist and a John W. Campbell Award winner). Sam is a recipient of the Shirley Jackson Award and a graduate of the Clarion Workshop. His short stories have been nominated for the World Fantasy, Theodore Sturgeon, and Locus Awards, and reprinted in dozens of anthologies. He lives in New York City. 
or
Not Currently Available for Direct Purchase