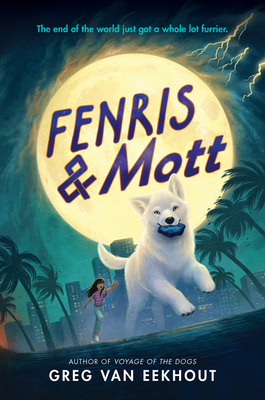 Fenris & Mott
Hardcover

* Individual store prices may vary.
Other Editions of This Title:
Digital Audiobook (8/1/2022)
Paperback (8/8/2023)
Description
A girl and her puppy face down the end of the world—which the puppy's partly responsible for—in this middle grade story from acclaimed author Greg van Eekhout, perfect for fans of Gordon Korman and J.C. Cervantes.
When Mott finds a puppy abandoned in a recycling bin, she's ready to do everything she can to protect him. What she doesn't realize, however, is that this is the legendary wolf Fenris, who's prophesied to bring about the end of the world by eating the moon.
Now Mott has found herself in charge of making sure the hungry pup—who's busy munching on lampposts, cars, and water towers—doesn't see all of California as an appetizer, while also hiding him from the Norse gods who are hot on his trail, determined to see the prophecy come true.
Mott vows to protect Fenris, rescue him from his destiny, and prevent the world from ending. But will she be able to keep her promise? Or has she bitten off more than she can chew?
Praise For Fenris & Mott…
"Van Eekhout gives readers both a redoubtable human protagonist who shows hidden depths of courage and resilience on the way to an ingenious resolution, and a canine one who is at once irresistibly winsome and terrifyingly destructive (not unlike many nonmythical dogs)." — Booklist (starred review)
"In this Rick Riordan–esque epic, modern and ancient worlds collide in a vividly sketched adventure that begs to be adapted for the screen. Thrilling and touching in equal measure." — Kirkus Reviews
"Van Eekhout applies a deft touch to Mott's difficult ethical dilemma, imbuing the quickly paced story with tenderness and genuine surprises." — Publishers Weekly
Praise for Weird Kid: Impeccably toned middle school humor, paired with action-packed hijinks and a poignant extended metaphor about finding one's identity, results in a heartfelt, pitch-perfect middle grade novel.  — Publishers Weekly (starred review)
"A wacky, witty, action-packed alien adventure with a poignant message about being your best self."
— John David Anderson, author of Posted
"Greg van Eekhout brings magic, mystery, humor, and weird science to his wonderful WEIRD KID! Devious and fun –and highly recommended!" — Jonathan Maberry, New York Times bestselling author of Rot & Ruin 
"No one mixes gonzo with heartfelt like Greg van Eekhout. Amid wacky aliens, secret organizations, and larger-than-life guitar solos, is one kid just trying to figure out who he is. I was rooting for Jake on every page, and you will be, too!" — Jenn Reese, author of A Game of Fox & Squirrels
"Exciting and intriguing twist on science-fiction tropes. A standout SF adventure."  — Kirkus Reviews
Praise for Cog: "A page-turning novel of friendship, family, and standing up for what's right." — Bulletin of the Center for Children's Books
"Cog is a gem of a robot, and his robotic observations are comedic gold. Readers will be charmed by this sci-fi tale of free choice, hot dogs, and fun word problems." — Booklist
"Van Eekhout brings considerable heart and wisdom to this coming-of-age tale. A thought-provoking tale for younger readers about hubris and what it means to be human." — Kirkus Reviews
Praise for Voyage of the Dogs: "Fast-moving, funny, and suspenseful. A deep-space furry adventure with heart and humor." — Kirkus Reviews
"Who's a good boy? Lopside and the canine crew of the starship Laika! This dogs in space romp will make you sit up and beg for more." —  Alan Gratz, New York Times bestselling author of Refugee
"A crackling page-turner about courage and wonder, full of warmth and heart and characters who jump off the page. It's my favorite book of the year." — Rae Carson, New York Times bestselling author of the Girl of Fire & Thorns series
"Dogs in space? Who knew we needed that? But Greg van Eekhout proves we did! Voyage of the Dogs  is a delight, and kids are going to love it." — Spencer Quinn, New York Times bestselling author of Woof
"Dog-lovers and space enthusiasts will gravitate to Van Eekhout's riveting book." — Booklist
HarperCollins, 9780062970633, 208pp.
Publication Date: August 2, 2022
About the Author
Greg van Eekhout lives in San Diego, California, with his astronomy/physics professor wife and two dogs. He's worked as an educational software developer, ice-cream scooper, part-time college instructor, and telemarketer. Being a writer is the only job he's ever actually liked. You can find more about Greg at his website: www.writingandsnacks.com.