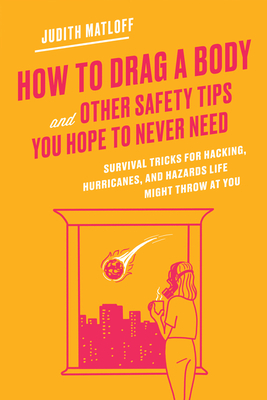 How to Drag a Body and Other Safety Tips You Hope to Never Need
Survival Tricks for Hacking, Hurricanes, and Hazards Life Might Throw at You
Hardcover

* Individual store prices may vary.
Other Editions of This Title:
Digital Audiobook (5/18/2020)
Compact Disc (5/19/2020)
MP3 CD (5/19/2020)
Compact Disc (5/19/2020)
Description
As we have seen with the recent COVID-19 pandemic, disaster preparedness is not a luxury. 
Everyone from Louis Pasteur to the Girl Scouts has championed the motto "Be Prepared"—but what does that mean in today's constantly changing world? In this age of anxiety, when reports of mass shootings, political unrest, the threat of nuclear war, devastating natural disasters, and digital attacks dominate the news and are transforming our lives, we yearn for some control. We want to make sensible decisions to help keep us on track when everything seems to be going off the rails. We want to be ready—to the best of our abilities—for the worst that can happen.
As a seasoned war correspondent with more than thirty years of experience working in crisis zones and a pioneering safety consultant, Judith Matloff knows about personal security and risk management. In How to Drag a Body and Other Safety Tips You Hope to Never Need, she shares her tried-and-true methods to help you confidently handle whatever challenges comes your way.
Learn how to:
Perform emergency first aid
Create a bunker
Keep yourself safe when traveling
Keep yourself safe from online hacks
and dozens of other invaluable tips to stay safe in any circumstances
Blending humorous stories and anecdotes with serious advice, Matloff explains how to remain upright in stampedes, avoid bank fraud, prevent sexual assault, stay clean in a shelter, and even be emotionally prepared for loss. From cyber security, active shooter situations, and travel, to natural disasters and emotional resilience, she shares tips that will give even the most anxious person a sense of control over life's unpredictable perils. Unfortunately, we can't anticipate all the crises of our lives. But with How to Drag a Body and Other Safety Tips You Hope to Never Need, you'll find the skills and confidence you need to weather an emergency.
The book includes 38-42 black-and-white illustrations.
Praise For How to Drag a Body and Other Safety Tips You Hope to Never Need: Survival Tricks for Hacking, Hurricanes, and Hazards Life Might Throw at You…
"How to Drag a Body and Other Safety Tips You Hope to Never Need is a brilliant mash-up of What to Expect When You're Expecting and The Worst-Case Scenario Survival Handbook. It manages to be extremely practical, laugh-out-loud funny, and somehow very comforting. In these uncertain times, thoughtful preparedness is a key to happiness, and Matloff covers every situation."  — Gretchen Rubin, New York Times bestselling author of The Happiness Project
"It's always nice to know that you're in the best of all possible hands, and that's how you'll feel reading Judith Matloff. This wise and witty book will tell you everything you need to know in order to face catastrophes great and small."  — Susan Cain, New York Times bestselling author of Quiet
"Matloff has turned decades of experience in war zones and disasters into a brilliantly practical guide for how to stay safe and help others when things go wrong. If you're going to read one book to prepare for the unthinkable, read this one.." — Sebastian Junger, author, journalist and founder of RISC (Reporters Instructed in Saying Colleagues) 
"Veteran journalist Judith Matloff assesses major threats with careful authority and good humor, then gives us the logistical and emotional tools necessary to cope with them. In any emergency, she's who I'd want to have by my side; now that she's written this marvelous book it's almost like I do." — Ada Calhoun, New York Times bestselling author of Why We Can't Sleep
"How to Drag a Body is a sobering, useful guide to dealing with ever-more prevalent problems. This title is essential for every library." — Booklist
Harper Wave, 9780062970930, 304pp.
Publication Date: May 19, 2020
About the Author
Judith Matloff teaches conflict reporting at Columbia's Graduate School of Journalism. She has pioneered safety training seminars for journalists, specifically women, helping hundreds of people feel confident to face an increasingly dangerous world. Her stories about war and violence have appeared in numerous publications, including the New York Times Magazine, the Economist, the Los Angeles Times, and the Wall Street Journal. Matloff's work has been supported by the MacArthur Foundation, the Fulbright Scholar Program, the Logan Nonfiction Fellowship, and the Hoover Institution. She lives in New York City with her family.