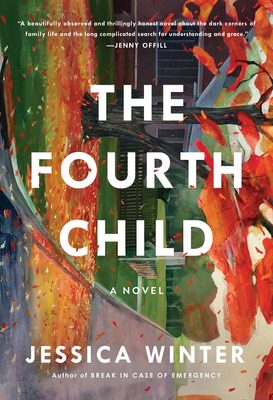 The Fourth Child
A Novel
Hardcover

* Individual store prices may vary.
Description
"A beautifully observed and thrillingly honest novel about the dark corners of family life and the long, complicated search for understanding and grace." —Jenny Offill, author of Dept. of Speculation and Weather
"The Fourth Child is keen and beautiful and heartbreaking—an exploration of private guilt and unexpected obligation, of the intimate losses of power embedded in female adolescence, and of the fraught moments of glancing divinity that come with shouldering the burden of love." —Jia Tolentino, New York Times bestselling author of Trick Mirror
"A remarkable family saga . . . The Fourth Child is a balm—a reminder that it is possible for art to provide a nuanced exploration of life itself." —Rumaan Alam, author of Leave the World Behind and Rich and Pretty
The author of Break in Case of Emergency follows up her "extraordinary debut" (The Guardian) with a moving novel about motherhood and marriage, adolescence and bodily autonomy, family and love, religion and sexuality, and the delicate balance between the purity of faith and the messy reality of life.
Book-smart, devoutly Catholic, and painfully unsure of herself, Jane becomes pregnant in high school; by her early twenties, she is raising three children in the suburbs of western New York State. In the fall of 1991, as her children are growing older and more independent, Jane is overcome by a spiritual and intellectual restlessness that leads her to become involved with a local pro-life group. Following the tenets of her beliefs, she also adopts a little girl from Eastern Europe. But Mirela is a difficult child. Deprived of a loving caregiver in infancy, she remains unattached to her new parents, no matter how much love Jane shows her. As Jane becomes consumed with chasing therapies that might help Mirela, her relationships with her family, especially her older daughter, Lauren, begin to fray. 
Feeling estranged from her mother and unsettled in her new high school, Lauren begins to discover the power of her own burgeoning creativity and sexuality—a journey that both echoes and departs from her mother's own adolescent experiences. But when Lauren is confronted with the limits of her youth and independence, Jane is thrown into an emotional crisis, forced to reconcile her principles and faith with her determination to keep her daughters safe. The Fourth Child is a piercing love story and a haunting portrayal of how love can shatter—or strengthen—our beliefs.
Praise For The Fourth Child: A Novel…
"Jessica Winter's sophomore novel is Franzen-esque in its broad sweep of a Rust Belt family coming down off the highs of mid-century American capitalism. . . . She manages to elegantly and movingly write a novel about faith that doesn't proselytize or condemn."
— Vulture (The Best Books of the Year (So Far))

"I loved this novel. It's as if Maile Meloy's Liars and Saints met Susan Choi's A Person of Interest. It's also a stealth treatise on Catholic mysticism. I loved its moral sophistication and nuance. There are consequences for character choices, which felt like a breath of fresh air."
— Brandon Taylor, author of Real Life, finalist for the Booker Prize

"This is a work of precise social realism, in which the intricate tableau of detail offers a backdrop for larger questions about morality, family, and obligation."
— Vogue (Best Books to Read in 2021)

"Jessica Winter's The Fourth Child is a brave, complex novel about a mother and her two daughters—and a morally astute exploration of the rewards, limits, and unexpected costs of faith and compassion." 
— New York Times bestselling author Francine Prose

"In this compassionate and riveting novel, Jessica Winter raises some of the hardest questions about motherhood, daughterhood, and personhood. In rich and insightful prose, The Fourth Child explores, with ravishing complexity, the inner lives of girls and women."
— Helen Phillips, author of The Need

"Winter elegantly delineates the circumstances that create her characters' belief systems, gently lays bare their foibles and convictions, and shows how even the most rigid ideology can chafe against the messy and tender realities of life."
— Lydia Kiesling, author of The Golden State

"The Fourth Child does something that seems impossible—it probes the Manichean abortion wars through a subtle and arresting family drama. Jessica Winter's portrait of Buffalo during the massive anti-abortion protests of the 1990s is pitch-perfect, and her exploration of the deep sacrifices of motherhood is indelible."
— Michelle Goldberg, New York Times columnist and author of The Means of Reproduction

"A wonder of shape-shifting characters shored up by a political and cultural backdrop that is forever alive with simmering portent. It is a haunting and sometimes prophetic immersion of the ways in which lives can be trapped by the impossibility of what might have once been and the cold truth of what is now. These characters spoke to me in my dreams . . . I could not bear to come to the end, and I find myself wondering, even now, where are they? What might happen? The Fourth Child is, frankly, everything our best novels can hope to be."
— Rachel Louise Snyder, author of No Visible Bruises: What We Don't Know About Domestic Violence Can Kill Us

"Intense . . . a vivid portrait of female coming-of-age . . . Winter is a genius. . . . [Her] greatest accomplishment is that she takes on enormous, highly charged topicsfaith, the right to choose, female identity—and presents a story without one shred of moralizing. . . . A writer in complete control of her talent."
— New York Times Book Review

"Magnificent . . . Winter gives us so much to chew on here—faith, adoption, sexuality, motherhood, abuse, autonomy—and the story warrants taking time to digest, to see how each moment informs and deepens another."
— Buzzfeed

"Expansive stunner."
— New York magazine

"Accomplished and rewarding . . . . Where The Fourth Child lives most vehemently is in the character of its problem child, Mirela. To her credit, Ms. Winter has done nothing to soften Mirela's broken edges, and her rages and demands seem somehow bigger and more real than the world that surrounds her."
— Wall Street Journal

"[Winter] deftly depicts an all-too-human inconsistency: we may hold deep convictions until reality hits close to home. Every page is absorbing; book clubs will love discussing this." 
— Booklist

"In The Fourth Child by Jessica Winter, Jane becomes pregnant in high school, gets married, and is raising three children by the time most of her friends are finishing college. Years later, she falls in with a pro-life group and adopts a child just as her teenage daughter is coming of age. What happens next forces Jane—and readers—to ask big questions about how firmly held principles can affect a family."
— Real Simple
Harper, 9780062971555, 352pp.
Publication Date: March 9, 2021
About the Author
Jessica Winter is an editor at The New Yorker and the author of the novel Break in Case of Emergency. Her writing has appeared in the New York Times, Slate, Bookforum, and other publications. She lives in Brooklyn, New York, with her family.