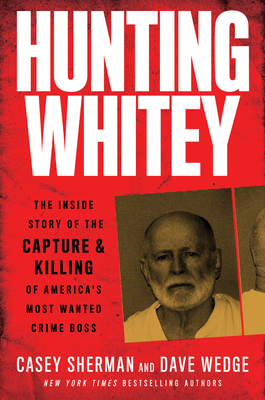 Hunting Whitey
The Inside Story of the Capture & Killing of America's Most Wanted Crime Boss
Hardcover

* Individual store prices may vary.
Other Editions of This Title:
Digital Audiobook (5/25/2020)
Paperback, Large Print (5/26/2020)
Paperback (5/4/2021)
MP3 CD (5/26/2020)
Compact Disc (5/26/2020)
Description
Based on exclusive, fresh reporting, the thrilling, definitive inside story of the pursuit, capture, and killing of legendary South Boston mob boss, James "Whitey" Bulger, detailing as never before his years on the run, how he evaded capture, and his brutal murder in prison.

For the first time, Boston reporters Casey Sherman and Dave Wedge draw on exclusive interviews and exhaustive investigative reportage to tell the complete story of Whitey Bulger, one of the most notorious crime bosses in American history—alongside Al "Scarface" Capone and Vito Genovese—and a longtime FBI informant. The leader of Boston's Winter Hill Gang and #1 on the FBI's Most Wanted list, Bulger was indicted for nineteen counts of murder, racketeering, narcotics distribution, and extortion. But it was his sixteen-year flight from justice on the eve of his arrest that made him a legend and exposed deep corruption within the FBI.
While other accounts have examined Bulger's crimes, this remarkable chronicle tells the story of his life on the run, his capture, and his eventual murder inside one of America's most dangerous prisons—"Misery Mountain"—in 2018. Interweaving the perspectives of Bulger, his family and cohorts, and law enforcement, Hunting Whitey explains how this dangerous criminal evaded capture for nearly two decades and shines a spotlight on the dedicated detectives, federal agents, and prosecutors involved in bringing him to justice. It is also a fascinating, detailed portrait of both Bulger's trial and his time in prison—including shocking new details about his death at Misery Mountain less than twenty-four hours after his arrival.
Granted access to exclusive prison letters and interviews with dozens of people connected to the case on both sides, Sherman and Wedge offer a trove of fascinating new stories and create an incomparable portrait of one of the most infamous criminals in American history.
Hunting Whitey includes an 8-page photo insert.
Praise For Hunting Whitey: The Inside Story of the Capture & Killing of America's Most Wanted Crime Boss…
"Hunting Whitey is a tour de force into the life and death of one of America's most infamous gangsters and offers a gritty glimpse into the soul of a pathological killer... "  — Providence Journal
"A page-turning saga of real-life killer." — Boston Herald
"Fascinating and pulse-pounding, Hunting Whitey kept me up all night. Casey Sherman and Dave Wedge are masters of the craft; their reportage is exceptional, and the narrative moves like a bullet train. I've been reading about Whitey Bulger my whole life and most of this was brand new to me. Truly compelling!" — Ben Mezrich, New York Times bestselling author of Bringing Down The House and Bitcoin Billionaires 
"Hunting Whitey feels like pulling up to the bar to hear the story of a lifetime. With extraordinary access to firsthand witnesses, Casey Sherman and Dave Wedge report the incredible real story of how America's most wanted criminal met his final judgment." — Joseph Finder, New York Times bestselling author of House on Fire
"Sherman and Wedge have uncovered the riveting untold story behind the headlines. This page-turner reads like a thriller. The authors masterfully bring the reader inside the dark world of one of America's most notorious gangsters while also providing a front row seat to the remarkable 16-year hunt for him. The epic case of Whitey Bulger is closed at last." — Gerald Posner, New York Times bestselling author of Pharma and Case Closed: Lee Harvey Oswald and the Assassination of JFK
 "Absolutely riveting—and absolutely terrifying. A captivating and impeccably researched chronicle of one of the most shockingly high-stakes criminal manhunts in contemporary times. With betrayal, manipulation, and malfeasance at the highest levels and a once-in-a-lifetime criminal, this inside scoop on the clash between Boston organized crime and government duplicity is not to be missed. You may think you know what happened with the infamous Whitey Bulger—but Sherman and Wedge provide the definitive history, journalism at its best, and a breathtakingly compelling story." — Hank Phillippi Ryan, Emmy-winning journalist and nationally bestselling author

"Hunting Whitey actually breaks new ground many times with its revelations about Bulger's post-crime life put in print for the first time." — Houston Press
"Sherman and Wedge have crafted a thorough, detailed, and gripping story of a larger-than-life crime boss who met a disturbing end. Compelling reading for true crime buffs." — Library Journal
"A compelling new portrait of one of the most infamous criminals in American history." — Irish Central
William Morrow, 9780062972545, 352pp.
Publication Date: May 26, 2020
About the Author
Casey Sherman and Dave Wedge are one of the premier nonfiction writing teams telling stories out of Boston. Together, they co-wrote the definitive story of the Boston Marathon bombings in Boston Strong: A City's Triumph Over Tragedy, which was adapted for the Mark Wahlberg film Patriots Day. They also wrote Ice Bucket Challenge: Pete Frates and the Fight against ALS, which is in development as a feature film, and the New York Times bestselling 12: The Inside Story of Tom Brady's Fight for Redemption.  They live in Boston.
Dave Wedge is a New York Times bestselling author, podcaster and writer based in Boston. Dave was an award-winning investigative journalist for the Boston Herald for 14 years and has co-written five books with acclaimed author Casey Sherman. He has also written for VICE, Esquire, Newsweek and Boston magazine and has appeared on CNN, MSNBC, E!, France 24, Fox News Channel, and Good Morning America. He is co-host of the acclaimed true crime podcast "Saints, Sinners & Serial Killers" on the MuddhouseMedia network.
or
Not Currently Available for Direct Purchase