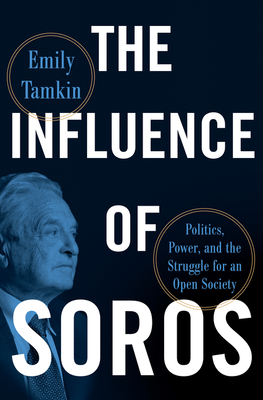 The Influence of Soros
Politics, Power, and the Struggle for an Open Society
Hardcover

* Individual store prices may vary.
Description
A seasoned journalist probes one of the right-wing's favorite targets, Hungarian-American investor and philanthropist George Soros, to explore the genesis of his influence and the truth of the conspiracies that surround him.

For years, hedge fund tycoon George Soros has been demonized by GOP politicians, fringe outlets, and right-wing media personalities, who claim Soros often manipulates the global economy and masterminds the radical left. He has been accused of using his billions to foment violence, support "white genocide," and pay migrants to seek asylum in the United States. Right-wing media personalities have described him as working to hijack our democracy and undermine sovereignty. Left-leaning outlets, meanwhile, have suggested that his philanthropy is a distraction from the economic misery he himself has made. 
But who is George Soros? How did he make his money? What causes does he actually support? How did this billionaire become the right's favorite target—used by elected officials sympathetic to the idea that their country's opposition can be blamed on one man in the endless messaging war? How much of the hatred is driven by rising antisemitism? 
Though his name appears often in the media, most people know little about Soros. Weaving biography, cultural commentary, and investigative reporting, Emily Tamkin brings into focus the man and his myth to examine how much influence he actually has on politics. Is Soros simply a left-wing version of the Koch brothers? Or is he genuinely trying to make the world a better place? 
The Influence of Soros offers an understanding of the man and his money, his contributions and donations, and his true sway over our politics, elections, and our societies. Ultimately, Tamkin asks, can a truly open society exist if any one man can have the kind of power Soros wields?
Praise For The Influence of Soros: Politics, Power, and the Struggle for an Open Society…
"More than just a much needed reality check on all the wild Soros conspiracies out there, this clever and well-written book shows Soros as a sort of Zelig through whom one can view the history of the 20th and 21st centuries, from Nazi occupied Europe to Obama-era US, and across the rise and destruction of many ideologies." 
— Peter Pomerantsev, author of Nothing Is True and Everything Is Possible and This Is Not Propaganda

"The Influence of Soros is a gripping, deeply insightful book. It takes readers behind a thick curtain of confusion and conspiracy theory to shine a light on one of the most fascinating political stories of our time. George Soros, as it turns out, isn't who you think he is. His political project is more profound, and more interesting, than the caricatures portrayed by his many opponents around the world. Emily Tamkin is the perfect tour guide to explore Soros's world. 
— Christopher Leonard, author of Kochland

"With this elegantly written and engaging book, Emily Tamkin coolly sweeps away a thousand conspiracy theories, while never losing sight of all the paradoxes thrown up when a billionaire seeks to buy his way towards an open society." 
— Julian Borger, author of The Butcher's Trail: How the Search for Balkan War Criminals Became the World's Most Successful Manhunt

"[Tamkin] offers shrewd insights into the mechanisms by which a person can amass vast wealth and use it to effect change on a global scale. This judicious account cuts through the fog of conspiracy surrounding Soros." 
— Publishers Weekly

"A welcome study of a man whose outsize power in the marketplace and public sphere fascinates."
— Kirkus Reviews
Harper, 9780062972637, 320pp.
Publication Date: July 7, 2020
About the Author
Emily Tamkin is a writer and reporter. Her work has appeared in the Columbia Journalism Review, the Economist, the New Republic, Politico, Slate, and the Washington Post, among other publications. She previously covered foreign affairs on staff at Foreign Policy and BuzzFeed News. She studied Russian literature and culture at Columbia University and Russian and East European studies at the University of Oxford. She researched Soviet dissidence in Moscow, Russia; Tbilisi, Georgia; and, on a Fulbright grant, in Bremen, Germany. She lives in Washington, D.C.