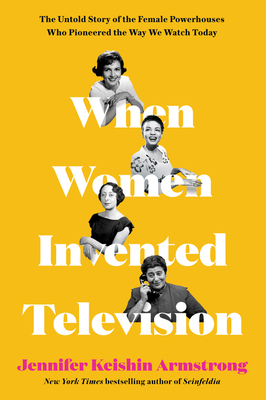 When Women Invented Television
The Untold Story of the Female Powerhouses Who Pioneered the Way We Watch Today
Hardcover

* Individual store prices may vary.
Description
The New York Times bestselling author of Seinfeldia tells the little-known story of four trailblazing women in the early days of television who laid the foundation of the industry we know today.

It was the Golden Age of Radio and powerful men were making millions in advertising dollars reaching thousands of listeners every day. When television arrived, few radio moguls were interested in the upstart industry and its tiny production budgets, and expensive television sets were out of reach for most families. But four women—each an independent visionary— saw an opportunity and carved their own paths, and in so doing invented the way we watch tv today.
Irna Phillips turned real-life tragedy into daytime serials featuring female dominated casts. Gertrude Berg turned her radio show into a Jewish family comedy that spawned a play, a musical, an advice column, a line of house dresses, and other products. Hazel Scott, already a renowned musician, was the first African American to host a national evening variety program. Betty White became a daytime talk show fan favorite and one of the first women to produce, write, and star in her own show.
Together, their stories chronicle a forgotten chapter in the history of television and popular culture.
But as the medium became more popular—and lucrative—in the wake of World War II, the House Un-American Activities Committee arose to threaten entertainers, blacklisting many as communist sympathizers. As politics, sexism, racism, anti-Semitism, and money collided, the women who invented television found themselves fighting from the margins, as men took control. But these women were true survivors who never gave up—and thus their legacies remain with us in our television-dominated era. It's time we reclaimed their forgotten histories and the work they did to pioneer the medium that now rules our lives.
This amazing and heartbreaking history, illustrated with photos, tells it all for the first time. 
Praise For When Women Invented Television: The Untold Story of the Female Powerhouses Who Pioneered the Way We Watch Today…
"Keishin Armstrong always finds fresh relevance and excitement in pop culture, and she has really outdone herself here. Armstrong uncovers the  hidden heroines of the TV world, and shows us how Betty White became one of TV's first female multi-hyphenate moguls; how Hazel Scott became the first Black person to host a primetime, network show before she stood up to McCarthyites; how Irna Phillips raised two children  while creating the soap opera; and how Gertrude Berg ruled her production empire with precision and righteous ambition. An essential contribution toward a more complete, inclusive, and true history of television."
— Sheila Weller, author of Girls Like Us

"When Women Invented Television turns a pivotal moment in history into a page-turner, with a depiction of four powerhouse talents that is so vivid and detailed, you feel like you're riding their career ups and downs along with them. The kinescopes of their groundbreaking earliest work may be gone, but thanks to Armstrong's clearly painstaking research, the world now has this wonderful, preserved record of the days when visionary women brought forth the medium which so influences our world today." 
— Jim Colucci, New York Times bestselling author of Golden Girls Forever: An Unauthorized Look Behind the Lanai

"Armstrong's look into the powerhouses who shaped an industry reflects a respect and reverence for her subjects as much as her dedication to calling out the social norms that worked tirelessly to keep these pioneers down. Armstrong's research is thorough, her arguments thoughtful, and her responsibility to history unparalleled. Frankly, we're lucky to have Armstrong, an author who so eloquently constructs a picture we might otherwise have overlooked." 
— Anne T. Donahue, author of Nobody Cares

"These profiles in creativity and courage amount to a feminist revelation, a pre-history of television that is as brightly written as the pioneers might wish--a prize of a book, intelligent, sobering, and a delight to read." 
— Patrick McGilligan, author of Funny Man: Mel Brooks

"These women not only ruled television -- their vision, skill, and talent shaped how the world's most influential contemporary form of media would function for the next century. They understood TV as a vector where creativity and entertainment could also inspire empathy and social change. Jennifer Keishin Armstrong has meticulously written these women back into TV history as the genre-defining, medium-morphing titans they were."
— Jennifer Pozner, author of Breaking (the) News and Reality Bites Back, and founder of Women In Media & News

"Just as they did in the early moving picture industry, women played key roles in the earliest days of television, although their roles as pioneers have largely been forgotten. Armstrong corrects the record to reclaim these women's stories and document their influence. When Women Invented Television is rediscovered history at its finest."

— William J. Mann, author of Tinseltown: Murder, Morphine and Madness at the Dawn of Hollywood and The Contender: The Story of Marlon Brando 
Harper, 9780062973306, 352pp.
Publication Date: March 23, 2021
About the Author
Jennifer Keishin Armstrong is the New York Times bestselling author of Seinfeldia: How a Show About Nothing Changed Everything; Mary and Lou and Rhoda and Ted; and Sex and the City and Us: How Four Single Women Changed the Way We Think, Live, and Love. She worked at Entertainment Weekly for a decade, and has written for many publications, including BBC Culture, the New York Times Book Review, Vice, New York magazine, and Billboard. She also speaks about pop culture history and creativity. Armstrong lives in New York City.