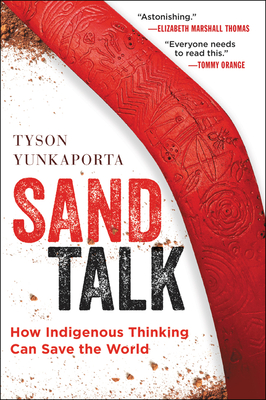 Sand Talk
How Indigenous Thinking Can Save the World
Paperback

* Individual store prices may vary.
Other Editions of This Title:
Digital Audiobook (5/11/2020)
Hardcover (5/12/2020)
MP3 CD (5/12/2020)
Compact Disc (5/12/2020)
Description
A paradigm-shifting book in the vein of Sapiens that brings a crucial Indigenous perspective to historical and cultural issues of history, education, money, power, and sustainability—and offers a new template for living.
As an indigenous person, Tyson Yunkaporta looks at global systems from a unique perspective, one tied to the natural and spiritual world. In considering how contemporary life diverges from the pattern of creation, he raises important questions. How does this affect us? How can we do things differently?

In this thoughtful, culturally rich, mind-expanding book, he provides answers. Yunkaporta's writing process begins with images. Honoring indigenous traditions, he makes carvings of what he wants to say, channeling his thoughts through symbols and diagrams rather than words. He yarns with people, looking for ways to connect images and stories with place and relationship to create a coherent world view, and he uses sand talk, the Aboriginal custom of drawing images on the ground to convey knowledge. 
In Sand Talk, he provides a new model for our everyday lives. Rich in ideas and inspiration, it explains how lines and symbols and shapes can help us make sense of the world. It's about how we learn and how we remember. It's about talking to everyone and listening carefully. It's about finding different ways to look at things.
Most of all it's about a very special way of thinking, of learning to see from a native perspective, one that is spiritually and physically tied to the earth around us, and how it can save our world.
Sand Talk include 22 black-and-white illustrations that add depth to the text.
Praise For Sand Talk: How Indigenous Thinking Can Save the World…
"Sand Talk unpacks for us something originally genius about Indigenous thought, which has for too long been dismissed as archaic folk knowledge from old oral cultures of interest only to academics and fetishists. This book shows how vital and alive and essential Indigenous ways of being and thinking are. Yunkaporta is so smart, funny, and accessible. Everyone needs to read this." — Tommy Orange, bestselling author of There There
"An astonishing revelation of ancient Aboriginal wisdom as it applies to science and modern times. It's one of the best books I ever read, and I've been reading books for 80 years. There's nothing like it. It leaves you gasping. If you care about yourself, the world around you, and where you come from, you'd better read it. You won't put it down." — Elizabeth Marshall Thomas, New York Times bestselling author of The Hidden Life of Dogs and Growing Old
"This is a book of cultural and philosophic intrigue. Read it." — Bruce Pascoe, author of Dark Emu
"An exhilarating meditation on different ways of knowing and being. Sand Talk is playful, profound, and fiercely original." — Billy Griffiths, author of Deep Time Dreaming
HarperOne, 9780062975621, 256pp.
Publication Date: May 18, 2021
About the Author
Tyson Yunkaporta is an academic, an arts critic, and a researcher who is a member of the Apalech Clan in far north Queensland. He carves traditional tools and weapons and also works as a senior lecturer in Indigenous Knowledges at Deakin University in Melbourne. He lives in Melbourne.