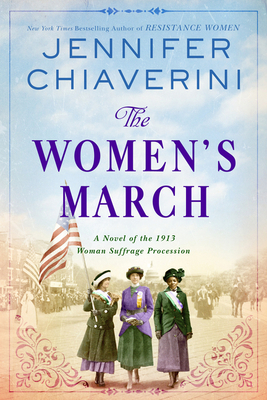 The Women's March
A Novel of the 1913 Woman Suffrage Procession
Hardcover

* Individual store prices may vary.
Other Editions of This Title:
Digital Audiobook (7/26/2021)
Paperback (6/14/2022)
Paperback, Large Print (7/27/2021)
Compact Disc (7/27/2021)
MP3 CD (7/27/2021)
Description
New York Times bestselling author Jennifer Chiaverini returns with The Women's March, an enthralling historical novel of the women's suffrage movement inspired by three courageous women who bravely risked their lives and liberty in the fight to win the vote.
Twenty-five-year-old Alice Paul returns to her native New Jersey after several years on the front lines of the suffrage movement in Great Britain. Weakened from imprisonment and hunger strikes, she is nevertheless determined to invigorate the stagnant suffrage movement in her homeland. Nine states have already granted women voting rights, but only a constitutional amendment will secure the vote for all.
To inspire support for the campaign, Alice organizes a magnificent procession down Pennsylvania Avenue in Washington, DC, the day before the inauguration of President-elect Woodrow Wilson, a firm antisuffragist.
Joining the march is thirty-nine-year-old New Yorker Maud Malone, librarian and advocate for women's and workers' rights. The daughter of Irish immigrants, Maud has acquired a reputation—and a criminal record—for interrupting politicians' speeches with pointed questions they'd rather ignore.
Civil rights activist and journalist Ida B. Wells-Barnett resolves that women of color must also be included in the march—and the proposed amendment. Born into slavery in Mississippi, Ida worries that white suffragists may exclude Black women if it serves their own interests.
On March 3, 1913, the glorious march commences, but negligent police allow vast crowds of belligerent men to block the parade route—jeering, shouting threats, assaulting the marchers—endangering not only the success of the demonstration but the women's very lives.
Inspired by actual events, The Women's March offers a fascinating account of a crucial but little-remembered moment in American history, a turning point in the struggle for women's rights. 
Praise For The Women's March: A Novel of the 1913 Woman Suffrage Procession…
"On March 3, 1913, a day before President Wilson's inauguration, suffragists marched down Pennsylvania Avenue in Washington, DC, to advocate for a constitutional amendment. In her latest women-focused historical novel, Chiaverini offers an impassioned account that pulls readers in, making the details feel freshly alive. This politically aware novel about a historic quest for democratic justice compels readers to contemplate everything that has and hasn't changed regarding voting rights and gender and racial equality." — Booklist
"Undeniably valuable and timely, informative and insightful. Chiaverini's latest work of historical fiction weaves together the actions of three real women, advocating for social and legal change while also speaking to the tensions regarding race, class, and rhetorical arguments that prevent these groups from working together smoothly (if at all)." — Kirkus Reviews
"Chiaverini never loses her focus on her four extraordinarily courageous, resourceful, yet relatable narrators. Chiaverini's many fans and every historical fiction reader who enjoys strong female characters, will find much to love in this revealing WWII novel." — Booklist on Resistance Women
"Chiaverini offers an intimate and historically sound exploration of the years leading up to and through WWII . . . exceptionally insightful, making for a sweeping and memorable WWII novel."  — Publishers Weekly on Resistance Women
"Chiaverini's latest historical novel masterfully reimagines the real lives of Mildred Fish Harnack, Greta Lorke, Martha Dodd.… A riveting, complex tale of the courage of ordinary people." — Kirkus Reviews on Resistance Women
"Through meticulously researched historical detail and sympathetic portrayal of each character, including Mary herself, Chiaverini provides a fascinating glimpse into the women of an influential family on the front lines of some of the most important moments of that indelible time." — Booklist on Mrs. Lincoln's Sisters
"An engaging glimpse of women's privilege and anguish during the Civil War era." — Kirkus Reviews on Mrs. Lincoln's Sisters
"Chiaverini has drawn a loving portrait of a complex and gifted woman. . . . Mrs. Lincoln's Dressmaker helps to illuminate the path on which her long and remarkable life led her." — St. Louis Post-Dispatch on Mrs. Lincoln's Dressmaker
"Taking readers through times of war and peace as seen through the eyes of an extraordinary woman, the author brings Civil War Washington to vivid life through her meticulously researched authentic detail. Chiaverini's characters are compelling and accurate; the reader truly feels drawn into the intimate scenes at the White House." — Library Journal on Mrs. Lincoln's Dressmaker
William Morrow, 9780062976000, 352pp.
Publication Date: July 27, 2021
About the Author
Jennifer Chiaverini is the New York Times bestselling author of several acclaimed historical novels, including Mrs. Lincoln's Sisters and Resistance Women, as well as the beloved Elm Creek Quilts series. A graduate of the University of Notre Dame and the University of Chicago, she lives with her husband and two sons in Madison, Wisconsin.