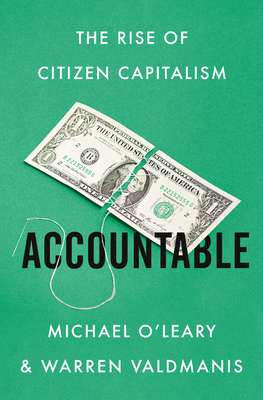 Accountable
The Rise of Citizen Capitalism
Hardcover

* Individual store prices may vary.
Other Editions of This Title:
Digital Audiobook (8/17/2020)
Description
"More than ever before, this is the book our economy needs." – Dr. Rajiv Shah, president of the Rockefeller Foundation
"Unwilling to settle for easy answers or superficial changes, O'Leary and Valdmanis push us all to ask more of our economic system." – Senator Michael F. Bennet
This provocative book takes us inside the fight to save capitalism from itself.
Corporations are broken, reflecting no purpose deeper than profit. But the tools we are relying on to fix them—corporate social responsibility, divestment, impact investing, and government control—risk making our problems worse.
With lively storytelling and careful analysis, O'Leary and Valdmanis cut through the tired dogma of current economic thinking to reveal a hopeful truth: If we can make our corporations accountable to a deeper purpose, we can make capitalism both prosperous and good.
What happens when the sustainability-driven CEO of Unilever takes on the efficiency-obsessed Warren Buffett? Does Kellogg's—a company founded to serve a healthy breakfast—have a sacred duty to sell sugary cereal if that's what maximizes profit? For decades, government has tried to curb CEO pay but failed. Why? Can Harvard students force the university to divest from oil and gas? Does it even matter if they do?
O'Leary and Valdmanis, two iconoclastic investors, take us on a fast-paced insider's journey that will change the way we look at corporations. Likely to spark controversy among cynics and dreamers alike, this book is essential reading for anyone with a stake in reforming capitalism—which means all of us.
Praise For Accountable: The Rise of Citizen Capitalism…
"A well-informed and idealistic call for a more ethical version of capitalism. . . . O'Leary and Valdmanis offer an astute record of American capitalism's best and worst qualities." — Publishers Weekly
"Thought-provoking and insightful, Accountable offers a pragmatic and original roadmap to transform capitalism into a system that's more inclusive, sustainable, and just. More than ever before, this is the book our economy needs." — Dr. Rajiv J. Shah, President of The Rockefeller Foundation
"If we don't contend with climate change, inequality, and the generational challenges tearing at our democracy, we will destroy our economy. Accountable offers a different vision. Unwilling to settle for easy answers or superficial changes, O'Leary and Valdmanis push us all to ask more of our economic system." — United States Senator Michael F. Bennet
"If we want to save free market, enterprise economics and all the benefits it brings, we have to reform capitalism and the way corporations behave. The authors do a great job in explaining that this is not a wealth-bashing, negative agenda but a positive and exciting one. Business doing good is good business—and this book puts that beyond doubt." — David Cameron, former Prime Minister of the United Kingdom
"Accountable takes a fresh look at a fundamental question of capitalism—whose interests should corporations serve. Its call for collective action by consumers, workers, and investors to reorient corporate behavior may foretell the next decade." — Jonathan Levin, Dean of Stanford Graduate School of Business

"Accountable reminds us that today's short-termism is as dangerous for corporations as it is for the world and uses a combination of great stories and thoughtful analysis to suggest that we must find a way to change the purpose of our corporations if we are to build a society that works for all of us. I enjoyed it enormously." — Rebecca M. Henderson, John & Natty McArthur University Professor at Harvard University
"Even most capitalists know that capitalism, as practiced in the United States in recent decades, has a lot to answer for. O'Leary and Valdmanis have given us thoughtful, well researched and compelling ways to rethink how to assure that prosperity and fairness are linked." — Deval Patrick, Former Massachusetts Governor
"Accountable presents a fresh, balanced, highly readable and deeply informed case for how the pursuit of sustained financial success and the exercise of social responsibility to employees, consumers and society not only can—but must—go hand in hand if we are to have the world we seek in the future. I learned a lot." — John Pepper, former Chairman and CEO of P&G
"Accountable is striking in its clarity and insights borne from the authors' experience as investors on the frontlines of capitalism's excesses and potential. The case studies of some of the best-known companies and investors don't pull punches while offering tangible examples of the changes in culture and rules of the game required for a new type of capitalism." — Daniella Ballou-Aares, CEO and Co-Founder of the Leadership Now Project
"Solving our biggest social and environmental problems means reshaping the role that businesses play in our society. This informative book addresses the challenges we face in achieving this crucial transformation." — Sir Ronald Cohen, Chair GSG (Global Steering Group for Impact Investment)

"In today's reality, business represents a picture of dysfunctionality, of excesses benefitting the few, of gross injustice. Tomorrow's business leaders have an obligation to create a different reality reflecting our better hopes and inspirations. Accountable takes you on that journey. It's a wonderful trip." — Peter Georgescu, Chairman Emeritus of Young & Rubicam
"For decades the dominant view has been that the purpose of companies is to make money for their shareholders. No more. Combining compelling examples and analytical insights, O'Leary and Valdmanis explain why the world is changing and provide a roadmap for how shareholders and citizens can and must transform the corporate landscape to save capitalism from itself." — Oliver Hart, Harvard University, Nobel Laureate in Economics, 2016
"The issues posed could not be more topical or provocative. The coronavirus pandemic has catapulted capitalism into the future, where we need new and better answers to the crucial questions: "What matters most in our society? How should we organize work to support those priorities? And what's a fair way to pay people for their contributions?" Accountable offers a fresh and compelling perspective on these questions." — David Roux, founder of Silver Lake
"The authors have been at the forefront of thinking on how markets and business can better serve society for many years. Accountable captures not only the history that underpins modern-day corporate purpose, but its present and future. The central message—that capitalism can and must be part of the solution to society's greatest challenges—has never been more important." — Martin Whittaker, CEO of JUST Capital

Harper Business, 9780062976512, 368pp.
Publication Date: August 18, 2020
About the Author
Michael O'Leary was on the founding team of Bain Capital's social impact fund. Previously, he invested in consumer, industrial, and technology companies through Bain Capital's private equity fund. He has served as an economic policy adviser in the United States Senate and on two presidential campaigns. Michael studied philosophy at Harvard College and earned his MBA from the Stanford Graduate School of Business. He lives in New York.
Warren Valdmanis leads a social impact firm that invests in the American workforce. He was previously a managing director with Bain Capital's social impact fund, and before that invested with Bain Capital's private equity team for over a decade. He grew up in Canada and has lived and worked in Australia, Chile, France, Hong Kong, Japan, South Africa, and the United States. Warren studied economics at Dartmouth College and earned his MBA from Harvard Business School. He lives with his wife, Kristin, and four children in Portland, Maine.

or
Not Currently Available for Direct Purchase