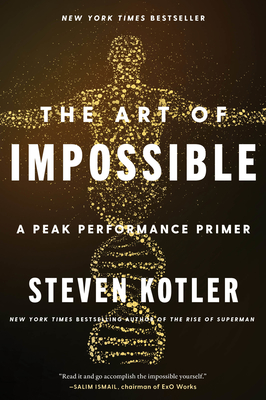 The Art of Impossible
A Peak Performance Primer
Paperback

* Individual store prices may vary.
Other Editions of This Title:
Digital Audiobook (1/18/2021)
Hardcover (1/19/2021)
Compact Disc (1/19/2021)
MP3 CD (1/19/2021)
Description
New York Times Bestseller
Bestselling author and peak performance expert Steven Kotler decodes the secrets of those elite performers—athletes, artists, scientists, CEOs and more—who have changed our definition of the possible, teaching us how we too can stretch far beyond our capabilities, making impossible dreams much more attainable for all of us.
What does it take to accomplish the impossible? What does it take to shatter our limitations, exceed our expectations, and turn our biggest dreams into our most recent achievements? 
We are capable of so much more than we know—that's the message at the core of The Art of Impossible. Building upon cutting-edge neuroscience and over twenty years of research, bestselling author, peak performance expert and Executive Director of the Flow Research Collective, Steven Kotler lays out a blueprint for extreme performance improvement. If you want to aim high, here is the playbook to make it happen!
Inspirational and aspirational, pragmatic and accessible, The Art of Impossible is a life-changing experience disguised as a how-to manual for peak performance that anyone can use to shoot for the stars . . . space-suit, not included. 
Praise For The Art of Impossible: A Peak Performance Primer…
"Thoroughly grounded in science, writing of the biological systems that drive fear, anger, grief, lust, and other emotions, all of which can be turned to advantage. . . . [Kotler] offers . . . an entertaining, inspiring approach to life-hacking that begs to be implemented by the willing reader."   — Kirkus Reviews (starred review)
"The Art of Impossible is consistently fascinating. There aren't many writers I would follow on an intellectual journey as ambitious as this to examine peak performance; fortunately, Steven Kotler is one of them."  — David Epstein, New York Times bestselling author of Range and The Sports Gene
"This book is a tour de force of high performance. It's an essential resource for those looking to align their curiosity, passion, and purpose to have not just a little more flow and creativity in their lives but to have a lot more flow and creativity. Want to learn how to take your innovation to seemingly impossible heights? Steven Kotler will teach you how." — Scott Barry Kaufman, author of Transcend: The New Science of Self-Actualization
"This book is quite literally impossible. I've been tracking Steven's work for ten years now, and it's impossible to overstate how important it is. It's impossible that he cracked the code on breakthrough success, yet he has. It's impossible to have turned extreme innovation from an art to a science, yet he has. It's impossible that he put it all together in a book that's impossible to put down, yet he has. Read it and go accomplish the impossible yourself." — Salim Ismail, chairman of ExO Works, author of Exponential Organizations
"The Art of Impossible is a must-read! Steven Kotler is one of a handful of people on the planet with a deep understanding of the frontiers of human performance. His ability to bring applied neuroscience and psychology to life through storytelling is world-class. This book is a treasure." — Dr. Michael Gervais, high-performance psychologist
"In The Art of Impossible, Steven Kotler has managed to articulate what many peak performers intuitively know but can't explain: that there's a formula for impossible. Kotler demystifies the mythic, breaking down that formula and giving readers exactly the tools they need to accomplish their dreams, no matter how big." — Laird Hamilton, waterman, big-wave surfer
Harper Wave, 9780062977519, 336pp.
Publication Date: January 3, 2023
About the Author
Steven Kotler is a New York Times bestselling author, an award-winning journalist, and the Executive Director of the Flow Research Collective. He is one of the world's leading experts on human performance. He is the author of nine bestsellers (out of thirteen books total), including The Art of Impossible, The Future Is Faster Than You Think, Stealing Fire, The Rise of Superman, Bold and Abundance. His work has been nominated for two Pulitzer Prizes, translated into over 40 languages, and appeared in over 100 publications, including the New York Times Magazine, Wired, Atlantic Monthly, TIME and the Harvard Business Review. Steven is also the cohost of Flow Research Collective Radio, a top ten iTunes science podcast. Along with his wife, author Joy Nicholson, he is the cofounder of the Rancho de Chihuahua, a hospice and special needs dog sanctuary.