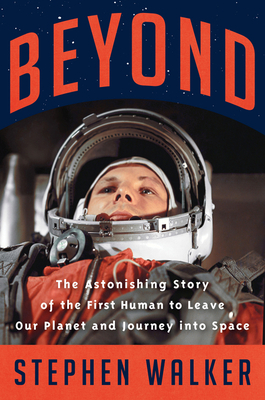 Beyond
The Astonishing Story of the First Human to Leave Our Planet and Journey into Space
Hardcover

* Individual store prices may vary.
Other Editions of This Title:
Digital Audiobook (4/12/2021)
Compact Disc (4/13/2021)
MP3 CD (4/13/2021)
Description
"This remarkable account of the 1961 race into space is a thrilling piece of storytelling. . . . It is high definition history: tight, thrilling and beautifully researched."—The Times, London, Front Page Lead Review
"Beyond has the exhilaration of a fine thriller, but it is vividly embedded in the historic tensions of the Cold War, and peopled by men and women brought sympathetically, and sometimes tragically, to life."—Colin Thubron, author of Shadow of the Silk Road
09.07 am. April 12, 1961. A top secret rocket site in the USSR. A young Russian sits inside a tiny capsule on top of the Soviet Union's most powerful intercontinental ballistic missile—originally designed to carry a nuclear warhead—and blasts into the skies. His name is Yuri Gagarin. And he is about to make history.
 Travelling at almost 18,000 miles per hour—ten times faster than a rifle bullet—Gagarin circles the globe in just 106 minutes. From his windows he sees the earth as nobody has before, crossing a sunset and a sunrise, crossing oceans and continents, witnessing its beauty and its fragility. While his launch begins in total secrecy, within hours of his landing he has become a world celebrity – the first human to leave the planet.
Beyond tells the thrilling story behind that epic flight on its 60th anniversary. It happened at the height of the Cold War as the US and USSR confronted each other across an Iron Curtain. Both superpowers took enormous risks to get a man into space first, the Americans in the full glare of the media, the Soviets under deep cover. Both trained their teams of astronauts to the edges of the endurable. In the end the race between them would come down to the wire.
Drawing on extensive original research and the vivid testimony of eyewitnesses, many of whom have never spoken before, Stephen Walker unpacks secrets that were hidden for decades and takes the reader into the drama of one of humanity's greatest adventures – to the scientists, engineers and political leaders on both sides, and above all to the American astronauts and their Soviet rivals battling for supremacy in the heavens.
Praise For Beyond: The Astonishing Story of the First Human to Leave Our Planet and Journey into Space…
"Dramatic and dynamic. Stephen Walker's passion for his subject along with his exceptional research and attention to detail have brought my father's extraordinary journey vividly to life."

— Elena Gagarina, daughter of Yuri Gagarin

"A spellbinding and completely authoritative account of Gagarin's unexpected journey to immortality, this masterful book had me enthralled from the outset. A guaranteed gem."
— Colin Burgess, author of Freedom 7: The Historic Flight of Alan B. Shepard

"Exciting, well researched, and fascinating. I loved every word."
— Laura Shepard Churchley, daughter of Alan Shepard, America's first astronaut 

 "Beyond brings to life the space race and the extraordinary story of Yuri Gagarin. Using first-hand testimony, Walker evokes the personalities, the science and the atmosphere of the time in a history that reads like a thriller."

— Anne Applebaum, author of Twilight of Democracy

"Vivid. . . .Dramatic. . . .This entertaining and carefully researched history achieves liftoff."
— Publishers Weekly

"This remarkable account of the 1961 race into space is a thrilling piece of storytelling….It is high definition history: tight, thrilling and beautifully researched."                                          
— Sunday Times (London)

"Energetic history of the first years of the space race, focusing on Soviet cosmonaut Yuri Gagarin (1934-1968)… A welcome addition to the literature of space exploration."                                        
— Kirkus Reviews

"A thrilling account of the first manned space flight…A great introduction to the gripping tale of Gagarin's flight and its impact on space exploration history."
— Library Journal

"A fine tale...told with verve and suspense...A cliffhanger."
— Wall Street Journal

"Scintillating...The thrilling ride to be the first man in space is vividly captured here."
— Financial Times
Harper, 9780062978158, 512pp.
Publication Date: April 13, 2021
About the Author
Stephen Walker was born in London. He has a BA in History from Oxford and an MA in the History of Science from Harvard. His previous book was Shockwave: Countdown to Hiroshima, a New York Times bestseller. As well as being a writer he is also an award-winning documentary director. His films have won an Emmy, a BAFTA and the Rose d'Or, Europe's most prestigious documentary award.
Book Videos