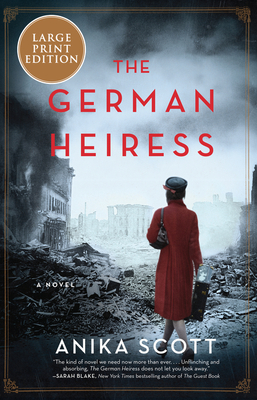 The German Heiress
A Novel
Paperback

* Individual store prices may vary.
Other Editions of This Title:
Digital Audiobook (4/6/2020)
Paperback (4/7/2020)
Description
"Meticulously researched and plotted like a noir thriller, The German Heiress tells a different story of WWII— of characters grappling with their own guilt and driven by the question of what they could have done to change the past." —Jessica Shattuck, New York Times bestselling author of The Women in the Castle
For readers of The Alice Network and The Lost Girls of Paris, an immersive, heart-pounding debut about a German heiress on the run in post-World War II Germany.

Clara Falkenberg, once Germany's most eligible and lauded heiress, earned the nickname "the Iron Fräulein" during World War II for her role operating her family's ironworks empire. It's been nearly two years since the war ended and she's left with nothing but a false identification card and a series of burning questions about her family's past. With nowhere else to run to, she decides to return home and take refuge with her dear friend, Elisa.
Narrowly escaping a near-disastrous interrogation by a British officer who's hell-bent on arresting her for war crimes, she arrives home to discover the city in ruins, and Elisa missing. As Clara begins tracking down Elisa, she encounters Jakob, a charismatic young man working on the black market, who, for his own reasons, is also searching for Elisa. Clara and Jakob soon discover how they might help each other—if only they can stay ahead of the officer determined to make Clara answer for her actions during the war.
Propulsive, meticulously researched, and action-fueled, The German Heiress is a mesmerizing page-turner that questions the meaning of justice and morality, deftly shining the spotlight on the often-overlooked perspective of Germans who were caught in the crossfire of the Nazi regime and had nowhere to turn.
Praise For The German Heiress: A Novel…
"The kind of novel we need now more than ever...The German Heiress achieves what the best historical fiction can, asking us to see the past, and then pushing us to see ourselves in that past, demanding: Who would you have been then? What would you have done? Unflinching and absorbing, The German Heiress does not let you look away." — Sarah Blake, New York Times bestselling author of The Postmistress and The Guest Book
"Anika Scott's riveting novel, The German Heiress, compellingly explores the nature of innocence and guilt, and the human desire for redemption. A terrific book with historical detail skillfully woven into the fabric of the story. An absolute must-read for all fans of World War II fiction!" — David Gillham, New York Times bestselling author of City of Women and Annelies
"Meticulously researched and plotted like a noir thriller, The German Heiress tells a different story of WWII— of characters grappling with their own guilt and driven by the question of what they could have done to change the past." — Jessica Shattuck, New York Times bestselling author of The Women in the Castle
"Anika Scott's epic novel offers a captivating tour through the reckoning years that followed WWII when clarifying identities, unearthing truths, and facing judgements was the only way to rebuild a life. The novel's heroine, Clara, marches along the razor's edge between the leviathan of the past and a future full of mine shafts. I will never forget her unending struggle to rise above the dark lineage thrust upon her and her battle to stay connected to the deep binds of love, responsibility, and compassion." — Devin Murphy, nationally bestselling author of The Boat Runner
"What a great debut! I loved this book, especially since it looks at the aftermath of war from a rare perspective: the appalling suffering that Germans faced in their devastated cities after 1945, and the guilt of those who'd followed the Nazi rules. It still haunts me, days after finishing it." — Liz Trenow, New York Times bestselling author of The Poppy Factory and The Silk Weaver
"Anika Scott's finely drawn characters in The German Heiress bring to life not only the struggle to rise from the ashes of war, but also the depth of resolve often required to gain redemption. Illuminating and beautifully rendered."
— Susan Meissner, bestselling author of The Last Year of the War
"While reading, I felt as though I was walking through the rubble of Essen and shivering in the bitter cold right alongside Clara Falkenberg. In this haunting and atmospheric novel, Anika Scott delivers a nuanced and emotional look at the often un-talked about side of WWII––the devastation of German towns and cities and the weight of conscience on those who remain. The German Heiress is a powerful reminder that no one gets out unscathed." — Sara Ackerman, USA Today bestselling author of The Lieutenant's Nurse 

"I loved [The German Heiress]. It's a special novel that opens one's mind to aspects of history we on the "winning" side have given little thought to, and a moving story of courage and everyday heroism rising to meet unbearable challenges." — Alex Marwood , international bestseller and Edgar and Macavity Award winning author of The Wicked Girls

"Scott transports readers back to Germany in the aftermath of this war, showing both the heartbreak and heroism of a once powerful businesswoman known as the Iron Fraulein. Clara Falkenberg's confusion and compassion, the courage and corruption of those she loved—all of it resonated deeply and led me to ask, what would I have done if I were forced into her tragic position? It's impossible to know, of course, but this remarkable novel made me dig even deeper, longing to be resilient like Clara in the face of evil...a story that will stick with you for a lifetime!"
— Melanie Dobson, award-winning author of Catching the Wind and Memories of Glass
"Scott's magnetic debut follows one woman's quest for survival amid the devastation of post-WWII Germany… Scott's narrative is embellished with realistic depictions of rubble-filled German cities, scavenging residents, and moral questions about Clara's family ties to the Nazi regime. Fans of WWII fiction will be intrigued by Scott's exploration of how war changes the moral compass of its victims." — Publishers Weekly
"The novel delivers interesting discussions on guilt, redemption, and the actions of ordinary people in extraordinary times." — Booklist
"Fans of The Tattooist of Auschwitz will be fascinated by Scott's portrayal of post-war Germany." — Woman's Magazine (UK)
"A powerful, profound debut by a journalist with a gift for storytelling." — Saga Magazine (UK)
"Scott manages to keep up the suspense while delivering thoughtful inner dialogue of the conflicted choices the main characters had to make…. Scott is a fine writer and one who promises a great future." — Historical Novel Society
HarperLuxe, 9780062978974, 496pp.
Publication Date: April 7, 2020
About the Author
Anika Scott was a journalist at the Philadelphia Inquirer and the Chicago Tribune before moving to Germany, where she currently lives in Essen with her husband and two daughters. She has worked in radio, taught journalism seminars at an eastern German university, and written articles for European and American publications. Originally from Michigan, she grew up in a car industry family. Scott is the author of the internationally bestselling novel The German Heiress.