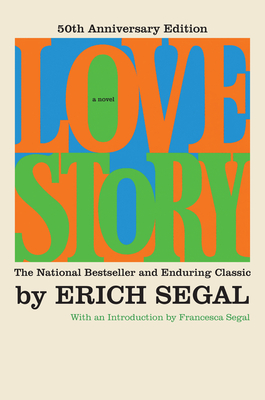 Love Story [50th Anniversary Edition]
Paperback

* Individual store prices may vary.
Description
"Funny, touching and infused with wonder, as all love stories should be." —San Francisco Examiner
The iconic tale of love and loss that has touched the hearts of millions, Love Story has become one of the most adored novels of our time. It has sold more than twenty-one million copies worldwide and became a blockbuster film starring Ryan O'Neal and Ali McGraw. It is the story that told the world, "Love means never having to say you're sorry." This special anniversary edition includes an introduction by the author's daughter, Francesca Segal.
This is the story of Oliver Barrett IV, a rich jock from a stuffy WASP family on his way to a Harvard degree and a career in law, and Jenny Cavilleri, a wisecracking working-class beauty studying music at Radcliffe.
Opposites in nearly every way, Oliver and Jenny are kindred spirits from vastly different worlds. Their attraction to each other is immediate and powerful, and together they share a love that defies everything.
This is their story—a story of two young people and a love so uncompromising it will bring joy to your heart and tears to your eyes. 
Praise For Love Story [50th Anniversary Edition]…
"Not just a story—Love Story is an experience. The reader who responds to this little book will feel less like a reader than an unwritten Segal character, living it all out from the inside … In this 'love story' you are not just an observer." — Christian Science Monitor
"For someone who is in love, or was in love, or hopes to be in love." — St. Louis Post-Dispatch
"Funny, touching and infused with wonder, as all love stories should be." — San Francisco Examiner
"It's incredible...A poignant of novel of nostalgia and romance." — Washington Post
"This is a tender and revealing and moving book with open language and the irreverence, the humor, the commitment." — Cleveland Plain Dealer
"It is entertaining, fast paced, witty...but in the end, touching and sincere." — St. Louis Globe Democrat
"If your emotions still are available to vibrate, here is a story that will shake you up...It is full of humor that sometimes tickles and sometimes stings." — Associated Press
"The most poignant romance that Journal editors have read in a year's time." — Ladies' Home Journal
"A very simple, immensely appealing love story." — Publishers Weekly
Harper Perennial Modern Classics, 9780062979476, 160pp.
Publication Date: February 4, 2020
About the Author
Erich Segal was an American author, screenwriter, and classics professor. His first three books, Love Story, Oliver's Story, and Man, Woman and Child, were all international bestsellers that became blockbuster films. Segal received numerous awards and honors including a Golden Globe for his screenplay to Love Story as well as the Legion d'Honneur from the French government. He died in London in 2010.
FRANCESCA SEGAL was born in London in 1980 and studied at Oxford before becoming a journalist and writer. Her work has appeared in Granta, Newsweek, The Guardian (U.K.), Financial Times and Vogue (U.K. and U.S.), amongst many other publications. She has been a features writer at Tatler, and for three years she wrote the Debut Fiction column in The Observer (U.K.).
WEB: FRANCESCASEGAL.COM
TWITTER: @FRANCESCASEGAL
FACEBOOK: FRANCESCA-SEGAL