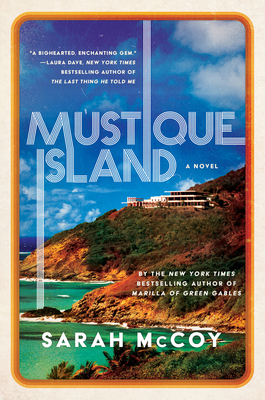 Mustique Island
A Novel
Hardcover

* Individual store prices may vary.
Description
From bestselling author Sarah McCoy, a sun-splashed romp with a rich divorcee and her two wayward daughters in 1970s Mustique, the world's most exclusive private island, where Princess Margaret and Mick Jagger were regulars and scandals stayed hidden from the press…
It's January 1972 but the sun is white hot when Willy May Michael's boat first kisses the dock of Mustique Island. Tucked into the southernmost curve of the Caribbean, Mustique is a private island that has become a haven for the wealthy and privileged. Its owner is the eccentric British playboy Colin Tennant, who is determined to turn this speck of white sand into a luxurious neo-colonial retreat for his rich friends and into a royal court in exile for the Queen's rebellious sister, Princess Margaret—one where Her Royal Highness can skinny dip, party, and entertain lovers away from the public eye.
Willy May, a former beauty queen from Texas—who is also no stranger to marital scandals—seeks out Mustique for its peaceful isolation. Determined to rebuild her life and her relationships with her two daughters, Hilly, a model, and Joanne, a musician, she constructs a fanciful white beach house across the island from Princess Margaret—and finds herself pulled into the island's inner circle of aristocrats, rock stars, and hangers-on.
When Willy May's daughters arrive, they discover that beneath its veneer of decadence, Mustique has a dark side, and like sand caught in the undertow, their mother-daughter story will shift and resettle in ways they never could have imagined. 
Praise For Mustique Island: A Novel…
"Historical fiction lovers will luxuriate in a trip to Mustique Island, Sarah McCoy's latest novel about a 1970s enclave, and a mother and her daughters who find their new beginnings there. McCoy's created a big-hearted, enchanting gem."
— Laura Dave, author of The Last Thing He Told Me

"As soon as I opened this gorgeous novel and sailed with Willie May to the picture-perfect island of Mustique, I was entranced. A moving exploration of the bonds of love and motherhood, Mustique Island is my new favorite Sarah McCoy novel...and the best book I've read this year. Pair this novel with a Pink Lady cocktail--made with roselle hibiscus, ginger, and cloves--for a blissful, literary escape."
— Amanda Ward, New York Times bestselling author of The Jetsetters

"Glamorous, scandalous, and wholly immersive in a way that will keep you turning pages long after the sun has set, Mustique Island is a captivating story of mothers and daughters told with adventurous spirit and heart. Toss this in your beach bag and your summer reading is set."

— Steven Rowley, bestselling author of The Guncle

"Readers will embrace Sarah McCoy's heartfelt, thoughtful story of mothers and daughters, desire and identity amid the circus life of Mustique Island that asks the questions: what do we owe one another, and what do we owe ourselves?"
— Therese Anne Fowler, bestselling author of A Good Neighborhood

"I am utterly charmed by the characters, the writing, the sunshine, and the way Sarah McCoy seamlessly blends fact and fiction. Mustique Island is an immersive delight and a welcome ray of light."
— Jane Green, author of Sister Stardust

"Another girl once came of age at Green Gables. Spunky, smart, buffeted by tides of duty and ambition, loss and love, young Marilla finds her voice in Sarah McCoy's beautiful rendering of a beloved place, a complex woman, and a long-ago time. Deftly and tenderly told, Marilla of Green Gables is a must read for anyone who adored Avonlea and Anne and ever wondered, what came before?"
— Lisa Wingate, New York Times bestselling author of Before We Were Yours

"L.M. Montgomery's Marilla Cuthbert flares to life in Sarah McCoy's enchanting novel of Avonlea. Her story of wrenching family sacrifice and the enduring pleasures of home, is as much a love letter to the world of Green Gables as it is a breath of fresh air. Hats off to McCoy for enlivening this classic with such heart and grace."
— Paula McLain, author of The Paris Wife and Love and Ruin 

"Prepare to meet Marilla, a captivating heroine who will transport you back to the treasured world of Anne of Green Gables. Rich in historical detail, this charming novel vividly explores love, loss, friendship, and the coming-to-self of a girl on the cusp of womanhood."
— Sue Monk Kidd

"Sarah McCoy has given readers a precious gift: the opportunity to step back into the world of Avonlea, and the chance to get to know Marilla Cuthbert as a leading lady in her own right. In McCoy's skillful and sensitive hands, Marilla emerges as a heroine of depth, complexity, and heart. I savored my time with this cast of old friends, enjoying the dilemma of whether to speed through these compelling pages or to pause and relish everything about the lovely world imagined within them."
— Allison Pataki, New York Times Bestselling Author

"Fans of the Anne of Green Gables series will rejoice at this warm and heartfelt addition to their world. McCoy's love for the characters is palpable, and with an insightful eye she illuminates the original Avonlea, while also offering glimpses into the turbulent history of the time."
— Madeline Miller, Author of Circe
William Morrow, 9780062984371, 336pp.
Publication Date: May 10, 2022
About the Author
Sarah McCoy is the New York Times, USA Today, and internationally bestselling author of the novels The Mapmaker's Children; The Baker's Daughter, a 2012 Goodreads Choice Award nominee; and The Time It Snowed in Puerto Rico. She has taught English and writing at Old Dominion University and at the University of Texas at El Paso. She lives with her husband, an orthopedic sports surgeon, and their dog, Gilbert, in North Carolina.