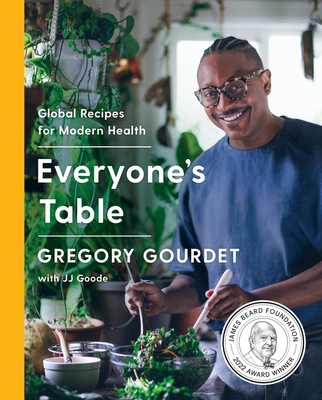 Everyone's Table
Global Recipes for Modern Health
Hardcover

* Individual store prices may vary.
Description
Winner
James Beard Book Award
General category
2022
One of Esquire's Most Anticipated Cookbooks 2021
The beloved Top Chef star revolutionizes healthy eating in this groundbreaking cookbook—the ultimate guide to cooking globally inspired dishes free of gluten, dairy, soy, legumes, and grains that are so delicious you won't notice the difference.
When award-winning, trendsetting chef Gregory Gourdet got sober, he took stock of his life and his pantry, concentrating his energy on getting himself healthy by cooking food that was both full of nutrients and full of flavor. Now, he shares these extraordinary dishes with everyone.
Everyone's Table features 200 mouth-watering, decadently flavorful recipes carefully designed to focus on superfoods—ingredients with the highest nutrient-density, the best fats, and the most minerals, vitamins, and antioxidants—that will delight and inspire home cooks. Gourdet's dishes are inspired by his deep affection for global ingredients and techniques--from his Haitian upbringing to his French culinary education, from his deep affection for the cuisines of Asia as well as those of North and West Africa. His unique culinary odyssey informs this one-of-a-kind cookbook, which features dynamic vegetable-forward dishes and savory meaty stews, umami-packed sauces and easy ferments, and endless clever ways to make both year-round and seasonal ingredients shine.
Destined to be an everyday kitchen essential, featuring 180 sumptuous color photographs, Everyone's Table will change forever the way we think about, approach, and enjoy healthy eating.
Praise For Everyone's Table: Global Recipes for Modern Health…
"Easy, colorful, full of flavor and vegetable forward, Everyone's Table will surely be everyone's favorite cookbook. Having immensely enjoyed Gregory's fantastic food over the years, I'm so excited for the world to taste exactly what makes him such a favorite on Top Chef."  — Padma Lakshmi, author and host/executive producer of Bravo's Top Chef and Hulu's Taste the Nation
"Everyone's Table offers an explosion of flavors from whole food ingredients, infusing spice, texture, and bursts of color into simple, everyday recipes."  — Melissa Urban, CEO of Whole30 and New York Times bestselling author
"Chef Gregory's show-stopping, umami-packed, globally inspired, technicolor dishes are the stuff dreams are made of. I'm over the moon that I can finally cook his genius recipes at home!" — Michelle Tam, New York Times bestselling cookbook author and creator of the Nom Nom Paleo blog
"In Everyone's Table, Chef Gregory shares not only his delicious thoughts on food but also provides a blueprint on how to live a healthier life. He intimately shares how he evolved not only as a chef but as a person. There are so many insights that we all can learn from and exciting recipes to replicate at home. Thankful for Chef Gregory for sharing this with us."  — Marcus Samuelsson award-winning chef, restaurateur & author
"Everyone's Table celebrates the rich culture of Gregory Gourdet's heritage with seriously good cooking and a global pantry of healthy ingredients.  His food is fresh, inventive and bursting with flavor and every dish is free of gluten, dairy, soy and refined sugar. Gregory's life experiences have transformed his approach to eating and living, and now his delicious journey is documented in these exciting recipes." — Steven Satterfield, author Root to Leaf, Chef Miller Union
"Gregory Gourdet takes us on an emotional journey from wrapping us in a warm blanket as he talks about his Haitian family and roots to his not-so-pretty bout with drugs to his obsession with running and health. A journey that eventually places us all around Everyone's Table. Gregory brings us modern healthy food that's 100% unprocessed, dairy-free, bright, and beautiful with just as much ingredient diversity and elegance. This just may become my #1 go to cookbook." — Carla Hall, Chef/TV Host
"In his book you will find a wealth of information on global flavors, the freshness of the seasons with local and sustainable products. The recipes are bright, full of spice, acidity as well as easy to follow. The influences from his childhood in Haiti, his love of southeast Asian food and his French training are all incorporated into his personal style of cooking. I am so proud of the chef he has become and the lifestyle he has embraced."  — Jean-Georges Vongerichten, Chef, Restaurateur, Cookbook Author and Bon Vivant 
Harper Wave, 9780062984517, 400pp.
Publication Date: May 11, 2021
About the Author
Born in Brooklyn and raised in Queens, New York, Gregory Gourdet is the child of Haitian immigrants. A self-proclaimed health freak and avid runner, Gourdet views food as a source of nourishment as much as one of pleasure. After graduating from the prestigious Culinary Institute of America, he became chef de cuisine for Jean-Georges Vongerichten, under whom he trained for almost seven years. In 2008, Gourdet arrived in Portland, OR. He led the pan-Asian kitchen at Departure for a decade, running one of the busiest restaurants in the state. His annual trips around the world connected him with the flavors and ingredients he loves so much. He is a James Beard Award nominee and a two-time Top Chef finalist as well as an All Star and Guest Judge. He has been named Chef of the Year by Eater and one of the Fittest Chefs in America by Men's Health. His wood-fired Haitian restaurant Kann will open in Portland, OR,  in 2022.
JJ Goode, co-writer, has co-authored several New York Times bestselling cookbooks and has won a James Beard Award. The editors of The Norton Reader selected his Gourmet magazine essay on cooking with one arm for their anthology of nonfiction, which includes writing from Nora Ephron, Barack Obama, and Jesus.