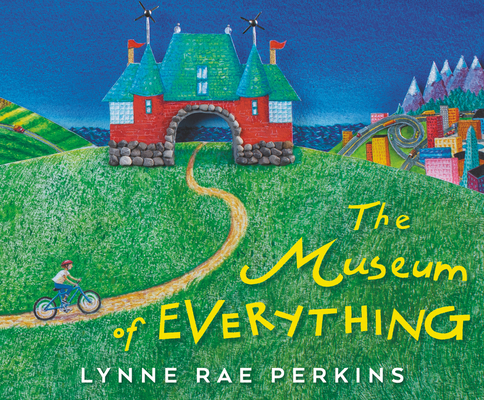 The Museum of Everything
Hardcover

* Individual store prices may vary.
Description
Newbery Medalist Lynne Rae Perkins invites readers on an imagination-fueled journey through the living museum that surrounds us all. Luminous, in-the-moment, and full of wonder, The Museum of Everything inspires readers to slow down and appreciate the world. For fans of What Do You Do with an Idea?, The Most Magnificent Thing, and classics such as Time of Wonder and A Hole Is to Dig. Illustrated with extraordinary dioramas and collages.
When you feel that the world is too big and loud and busy and distracting, you can pretend that you're in a museum. It's quiet there, and you can wonder about everything: Is a rock in a puddle an island? Is a dry spot on the ground on a rainy day the shadow of a car that's just driven off? There's a museum for everything—for islands and shadows and clouds and trees, and so much more.
Newbery Medalist and acclaimed picture book creator Lynne Rae Perkins balances imagination and creativity with curiosity and facts. She has created the extraordinary artwork in three dimensions—as if each page is an exhibit or installation in a museum. A transcendent and timely picture book, The Museum of Everything encourages young readers to wonder, dream, and explore—and to learn more about the world around them.
Praise For The Museum of Everything…
"Perkins's great gifts for observation and connections are on display here as her narrator . . . serves as curator and tour guide for several 'museum exhibits' of concrete objects and abstract phenomena. . . . A small, idiosyncratic catalog of possibilities and a lens for seeing parts of the world in relation to one another. . . . There is plenty of room for readers to think about and celebrate their own ways of seeing, collecting, and cataloging the world—and to celebrate an endless variety of possible museum exhibits around them. Poetic, intriguing, and charming." — Kirkus Reviews (starred review)
"There are many fascinating museums in the world, but expand your definition of what you might hope to see in a single building and enter the Museum of Everything. . . . Gloriously inventive illustrations reflect the child's rich inner thoughts. . . . A marvel of creativity . . . Whatever causes you to pause, appreciate, contemplate, and enjoy—that's what belongs in your own Museum of Everything." — Booklist (starred review)
"An enticing spur to scientific philosophy and creative contemplation that echoes children's openness of thought, using accessible and specific detail that likely overlaps with youngsters' own metaphysical inquiries. . . . Perkins's familiar easygoing, grainy figures and landscapes set off the prominent museum items with a contrast that suits the textual concepts but never loses visual cohesion. . . . This will be a next step for youngsters whose imaginations have been tickled by Portis's Now, Underwood's Outside In, or just their own musings."   — Bulletin of the Center for Children's Books (starred review)
"[Perkins] elevates the ordinary—again—in this story about objects we simply do not really see: a fallen leaf, a cloud, a flower. . . Gives readers a sense that the microscopic and the telescoped can live side by side, or within one another. . . . Perkins connects with readers who daydream, validating that act as a way to see the world and learn of its many interlocking pieces, and makes imaginative mental musings into a story, and an artform. Pure fun." — School Library Journal (starred review)
"In this big, noisy world, a museum, even if it's only in one's imagination, is a place of quiet contemplation. With this absorbing and original picture book, Perkins offers a special sanctuary for curious and creative dreamers, a space to think about, explore, and possibly curate a few collections of their own. . . . A perfect lead-in to a museum visit or a STEAM-based contemplation titled the 'Museum of Things I Wonder About.'" — Horn Book (starred review)
"Considering objects one by one and putting them 'in a quiet place' is also what museums do, a resemblance that the child notices . . . Ideas are developed with particular richness . . . Distinctive and heartfelt, the museum is observed with a poet's eye and an inventor's spirit." — Publishers Weekly
Greenwillow Books, 9780062986306, 40pp.
Publication Date: May 11, 2021
About the Author
Lynne Rae Perkins was awarded the Newbery Medal for Criss Cross. She is the author of four other novels—All Alone in the Universe, As Easy as Falling Off the Face of the Earth, Nuts to You, and Secret Sisters of the Salty Sea. Lynne Rae Perkins has also written and illustrated several acclaimed picture books, including Frank and Lucky Get Schooled; The Broken Cat; Snow Music: Pictures from Our Vacation; and The Cardboard Piano. The author lives with her family in northern Michigan. www.lynnerae.com
Lynne Rae Perkins was awarded the Newbery Medal for Criss Cross. She is the author of four other novels—All Alone in the Universe, As Easy as Falling Off the Face of the Earth, Nuts to You, and Secret Sisters of the Salty Sea. Lynne Rae Perkins has also written and illustrated several acclaimed picture books, including Frank and Lucky Get Schooled; The Broken Cat; Snow Music: Pictures from Our Vacation; and The Cardboard Piano. The author lives with her family in northern Michigan. www.lynnerae.com