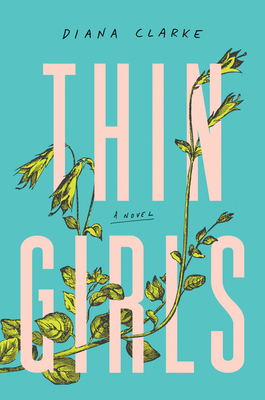 Thin Girls
A Novel
Hardcover

* Individual store prices may vary.
Other Editions of This Title:
Digital Audiobook (6/29/2020)
Paperback (6/8/2021)
Paperback, Korean (7/30/2021)
MP3 CD (6/30/2020)
Compact Disc (6/30/2020)
Description
A dark, edgy, voice-driven literary debut novel about twin sisters that explores body image and queerness as well as toxic diet culture and the power of sisterhood, love, and lifelong friendships, written by a talented protégé of Roxane Gay.
Rose and Lily Winters are twins, as close as the bond implies; they feel each other's emotions, taste what the other is feeling. Like most young women, they've struggled with their bodies and food since childhood, and high school finds them turning to food—or not—to battle the waves of insecurity and the yearning for popularity. But their connection can be as destructive as it is supportive, a yin to yang. when Rose stops eating, Lily starts—consuming everything Rose won't or can't.
Within a few years, Rose is about to mark her one-year anniversary in a rehabilitation facility for anorexics. Lily, her sole visitor, is the only thing tethering her to a normal life.
But Lily is struggling, too. A kindergarten teacher, she dates abusive men, including a student's married father, in search of the close yet complicated companionship she lost when she became separated from Rose. 
When Lily joins a cult diet group led by a social media faux feminist, whose eating plan consists of consuming questionable non-caloric foods, Rose senses that Lily needs her help. With her sister's life in jeopardy, Rose must find a way to rescue her—and perhaps, save herself.
Illuminating some of the most fraught and common issues confronting women, Thin Girls is a powerful, emotionally resonant story, beautifully told, that will keep you turning the pages to the gratifying, hopeful end.
Praise For Thin Girls: A Novel…
"Dark, poignant and gripping, Diana Clarke's Thin Girls is sure to be unlike anything else you've read. . . . Thin Girls is a captivating story of the Winters twins' road to recovery as they work to help each other through issues of body image, love, identity and sexuality. . . . Clarke has fashioned a world that feels almost dystopian, yet its power lies in the fact that Rose and Lily's experiences are all too common and all too real."
— Associated Press
"Thin Girls is a sharp, cutting debut, ostensibly about the traps of anorexia and body dysmorphia. But its true concern is with the trappings of being a woman. Full of dry dark wit, the world Clarke has created would almost feel absurdist if it weren't so dangerously real. This book made me feel so much: fear, dread, the flush of young love, the joy in small things, hope. Thin Girls holds it all between its covers."
— Diane Cook, author of Man V. Nature and The New Wilderness 
"The story [protagonist Rose] tells is as gripping as a thriller, but it's Clarke's language that truly makes this novel special. She writes with a lyricism that not only encompasses the grotesque and the transcendent, but also sometimes co-mingles the two. When Rose finds a collection of short fiction Lily has written, these harrowing little fables bring the latent otherworldliness of the novel as a whole to the surface. . . . Incisive social commentary rendered in artful, original, and powerfully affecting prose." — Kirkus Reviews (starred review)
"Diana Clark has written a lightning bolt of a book, one that electrifies with its powerful insights into women, their relationship with their bodies and with each other. I was instantly drawn into Clark's dark vision of sisterhood, and emerged changed." — Danielle Trussoni, bestselling author of Angelology and The Ancestor
"In Clarke's raw debut . . . the sisters' bond is strongly palpable. . . . This page-turner makes for an illuminating, ultimately hopeful look at the constant struggle women face regarding their body image." — Publishers Weekly
"Diana Clarke has written an edgy, deeply moving and original book. Her writing is beautifully poetic and tinged with dark wit, and she moves us elegantly between the past and present lives of two complex and fascinating sisters. This is a queer story, a female story and a story about identity shaped around pain, and yet it has the fearless depth of a story about all of us." — Lexi Freiman, author of Inappropriation
"This debut novel is a breathtaking and sobering account of eating disorder treatment and mortality." — Booklist
"A stunning debut novel…gorgeously crafted…From one sentence to the next, Clarke leaves her readers splayed open, throbbing with the most beautiful, necessary ache. She writes with unyielding honesty and breathtaking tenderness. Thin Girls is a brutal, and unrelenting examination of what it means to be a woman in a body, wanting, needing, wanting, needing so much. With her assured, elegant prose Clarke makes you hope against all hopes that both Rose and Lily can find a way to satiate and save themselves and each other." — Roxane Gay
Harper, 9780062986689, 368pp.
Publication Date: June 30, 2020
About the Author
Diana Clarke, a New Zealander, holds an MFA from Purdue University, where Roxane Gay was her thesis adviser, and is currently studying in the doctoral program at the University of Utah. She made her literary debut with the novel Thin Girls, and her work has been published in prestigious literary publications, including Glimmer Train, The Rumpus, Black Warrior Review, The Master's Review, and Hobart. The Hop is her second novel. She is currently the Writer in Residence at the University of Waikato in New Zealand.
or
Not Currently Available for Direct Purchase