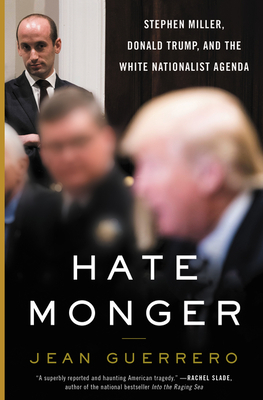 Hatemonger
Stephen Miller, Donald Trump, and the White Nationalist Agenda
Hardcover

* Individual store prices may vary.
Other Editions of This Title:
Paperback (8/31/2021)
Description
"A vital book for understanding the still-unfolding nightmare of nationalism and racism in the 21st century." –Francisco Cantu, author of The Line Becomes a River
Stephen Miller is one of the most influential advisors in the White House. He has crafted Donald Trump's speeches, designed immigration policies that ban Muslims and separate families, and outlasted such Trump stalwarts as Steve Bannon and Jeff Sessions. But he's remained an enigma.
Until now. Emmy- and PEN-winning investigative journalist and author Jean Guerrero charts the thirty-four-year-old's astonishing rise to power, drawing from more than one hundred interviews with his family, friends, adversaries and government officials.
Radicalized as a teenager, Miller relished provocation at his high school in liberal Santa Monica, California. He clashed with administrators and antagonized dark-skinned classmates with invectives against bilingualism and multiculturalism. At Duke University, he cloaked racist and classist ideas in the language of patriotism and heritage to get them airtime amid controversies. On Capitol Hill, he served Tea Party congresswoman Michele Bachmann and nativist Alabama Senator Jeff Sessions.
Recruited to Trump's campaign, Miller met his idol. Having dreamed of Trump's presidency before he even announced his decision to run, Miller became his senior policy advisor and speechwriter. Together, they stoked dystopian fears about the Democrats, "Deep State" and "American Carnage," painting migrants and their supporters as an existential threat to America. Through backroom machinations and sheer force of will, Miller survived dozens of resignations and encouraged Trump's harshest impulses, in conflict with the president's own family. While Trump railed against illegal immigration, Miller crusaded against legal immigration. He targeted refugees, asylum seekers and their children, engineering an ethical crisis for a nation that once saw itself as the conscience of the world. Miller rallied support for this agenda, even as federal judges tried to stop it, by courting the white rage that found violent expression in tragedies from El Paso to Charlottesville.
Hatemonger unveils the man driving some of the most divisive confrontations over what it means to be American––and what America will become.
Praise For Hatemonger: Stephen Miller, Donald Trump, and the White Nationalist Agenda…
"Investigative reporter Jean Guerrero deftly uncovers how Stephen Miller—as a privileged California teenager desperate for attention and power—immersed himself in right-wing dark arts, attracting a motley crew of white supremacists and extremists eager to cultivate the precocious boy's interests. Under their tutelage, Miller developed a talent for twisting progressive rhetoric to his will—a skill the Trump administration has used to shape its most sadistic policies. Hatemonger is a must-read for those who want to understand how small minds steeped in extremist methods have amassed great power in the 21st century. A superbly reported and haunting American tragedy."
— Rachel Slade, author of the national bestseller Into the Raging Sea

"In Hatemonger, Jean Guerrero doesn't just catalogue Stephen Miller's scorched-earth campaign to relentlessly vilify and abuse migrants from the nucleus of American politics—she also shines a light on the casual radicalization of a life-long troll and his gleeful ascendance to the halls of power, revealing the insidious inner workings of modern-day white supremacy. A vital book for understanding the still-unfolding nightmare of nationalism and racism in the 21st century."
— Francisco Cantu, author of The Line Becomes a River

"An urgent story. Jean Guerrero writes with piercing clarity about one of the most powerful and elusive figures in America today."
— Wil S. Hylton, author of Vanished

"An unsparing portrait of the young architect of Trumpian nationalism…carefully documented and persuasive. A readable study in the banality of evil, even if it comes clothed in bespoke suits."
— Kirkus Reviews

"A fascinating analysis of Miller and his frightening effects on immigration policy, which is enriched by the author's vast experience reporting on the U.S.-Mexico border."
— Library Journal

"A brilliant and necessary look into the making of the mastermind behind the worst of America's policies. Guerrero's deep dive into Stephen Miller was enlightening and terrifying all at once. Hatemonger is required reading to understand what we are truly up against in America."
— Julissa Arce, bestselling author of My (Underground) American Dream and Someone Like Me

"Superb, deeply revelatory."
— Vanity Fair

"Incisive and terrifying."
— Jezebel

"Jean Guerrero's meticulously-researched biography of Stephen Miller, is a horrifying page-turner. Understanding who Miller is, and what motivates him, is key to understanding the racial politics that threaten the lives and safety of racially minoritized people living in the United States today."
— Myriam Gurba, Remezcla

"In her new book, Hatemonger, journalist Jean Guerrero provides a full portrait of this Nosferatu of the West Wing....The title 'Hatemonger' might seem sensational or overdramatic, but it is clinically precise. Miller acquires, packages, commercializes, and touts hatred as surely as a fishmonger peddles haddock and cod. Jean Guerrero has the emails."
— The Bulwark

"[Hatemonger] is the secret history of how White Nationalism got into the White House."
— The Majority Report

"Smartly reported and urgent."
— Jeff Sharlet, Bookforum
William Morrow, 9780062986719, 336pp.
Publication Date: August 11, 2020
About the Author
Jean Guerrero is an Emmy-winning investigative border reporter for KPBS in San Diego and the author of Crux: A Cross-Border Memoir, which won the PEN/FUSION Emerging Writers prize. She began her career at the Wall Street Journal and Dow Jones Newswires as a correspondent in Mexico City. She is a contributor to the New York Times as well as NPR, PBS, and other public media, and her writing is featured in Best American Essays 2019, edited by Rebecca Solnit. Guerrero lives in La Mesa, California.