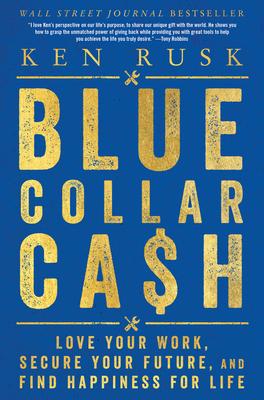 Blue-Collar Cash
Love Your Work, Secure Your Future, and Find Happiness for Life
Hardcover

* Individual store prices may vary.
Other Editions of This Title:
Digital Audiobook (7/27/2020)
Description
A Wall Street Journal Bestseller
A prescriptive and timely guide to finding success and happiness without a college degree by Ken Rusk, the Ohio-based entrepreneur and "million-dollar ditch digger" who believes it is time to celebrate the possibilities and financial opportunities that a Blue-Collar life can bring.
A BLUE-COLLAR APPROACH TO CREATING A LIFE YOU LOVE
In a period of skyrocketing student loan debt without the promise of high-paying employment, and in an economy in desperate need of skilled tradespeople, many are seeking new paths. Ken Rusk, the "million-dollar ditch digger," is here to show you that blue-collar trades are a source of pride and that you can—and will—find your version of happiness by pursuing a good old-fashioned craft. 
In Blue Collar Cash, Ken shares his insights from over 30 years working in blue collar trades as an entrepreneur, mentor, and life coach. Ken knows from his own experience—first as a young kid digging ditches, and then as the owner of a successful concrete construction business—that working with your hands at a job that takes skill and practice can be monumentally rewarding and life-affirming. Since then, he has built a multi-million-dollar business and gone on to mentor hundreds of employees in how to manage their money and set achievable goals. 
Using the stories of those who have discovered lives of comfort, peace, and freedom, Ken creates a step-by-step, interactive guide—including financial planning and savings advice—to creating alternative and realistic routes to success and fulfillment. 
Praise For Blue-Collar Cash: Love Your Work, Secure Your Future, and Find Happiness for Life…
"I love Ken's perspective on our life's purpose; to share our unique gift with the world. He shows you how to grasp the unmatched power of giving back while providing you with great tools to help you achieve the life you truly desire." — Tony Robbins
In Blue-Collar Cash, Ken Rusk shows how working with your hands is not only an honorable endeavor but can be a rewarding and lucrative one as well. In our world of oversold college degrees, it has never been more important to keep this great American tradition alive. — Tom Golisano, founder of Paychex and author of Built Not Born: A Self-Made Billionaire's No-Nonsense Guide for Entrepreneurs
Blue-Collar Cash describes the hard work required to achieve goals and the rewards that come when hard work is combined with integrity. — Arthur Hills, world-renowned golf course designer
Chapter after chapter is filled with stories of his own personal challenges along with side stories of other people who have built and created their dreams without millions of dollars, but with a zest for life you'll rarely find in other entrepreneurial books. — Small Business Trends
He reminds us that the conventional college path is not for everyone, and that taking a different one is not giving up on a good life. But that doesn't mean you shouldn't have a plan. Ken Rusk provides a different one in his new book, Blue-Collar Cash, showing how taking up a vocation, and having a blue-collar career, can be both personally rewarding and financially lucrative. — Porchlight Books
"As the owner of a construction business himself, Rusk is well-positioned to explain the rewards of both trades work and entrepreneurship and he does so with stimulating challenges to the reader's mindset, as well as an inspiring array of success stories. This is one of the most readable books I've encountered this year, and one that would work well for most ages."  — St. Paul Pioneer Press
Dey Street Books, 9780062989604, 272pp.
Publication Date: July 28, 2020
About the Author
Ken Rusk is a blue-collar construction business entrepreneur who has launched multiple successful endeavors over the last thirty years. For the first many years of his young working life, he dug ditches for a basement repair company in northern Ohio. Over the years, he dug his way to a good life, one shovel of dirt at a time, and is now teaching others to do the same. Rusk has extensive experience in hiring, training, and developing first-time job seekers, particularly those without college degrees. He lives in Toledo, Ohio, where he runs Rusk Industries, Inc., which specializes in various forms of construction.  

or
Not Currently Available for Direct Purchase