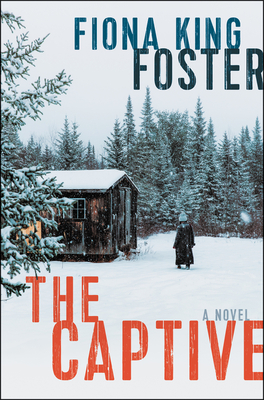 The Captive
A Novel
Hardcover

* Individual store prices may vary.
Other Editions of This Title:
MP3 CD (1/12/2021)
Compact Disc (1/12/2021)
Paperback (12/7/2021)
Description
A rural noir about a woman on a pulse-pounding expedition to deliver a fugitive—and forced to confront her own past on the journey

In a secessionist rural state that has cut itself off completely from urban centers, where living is hardscrabble and poor but "free," Brooke Holland runs a farm with her husband, Milo, and two daughters. Their life at the fringes of modern society is tenuous—they make barely enough from each harvest to keep going—yet Brooke cherishes the loving, peaceful life they have carved out for themselves. She has even begun to believe she is free from the violent history she has kept a secret from her family.
When escaped criminal Stephen Cawley attacks at the farm, Brooke's buried talents surface, and she manages to quickly and harshly subdue him. She is convinced that he has come in retribution for the blood feud she thought she escaped years ago. Brooke sets out to bring Cawley to justice, planning to use the bounty on his head to hide her family far from danger. Fearing that other members of Cawley's infamous family will soon descend, Brooke insists Milo and the girls flee with her, travelling miles on foot across an unforgiving landscape to reach the nearest marshal. Their journey, started at the onset of winter with little preparation, brings already strained family dynamics to the breaking point. As Brooke's ghosts—both real and imagined—close in, the ruthlessness that let her survive her past may become the biggest threat to her hopes for a different future. What follows is a harrowing exploration of family loyalty, trauma, and resilience.
As haunting and propulsive as it is powerfully written, The Captive is a thrilling debut novel about the impossible choices we make to survive and protect the ones we love.
Praise For The Captive: A Novel…
"A fugitive story layered in frigid atmosphere, Foster's modern-day-set corker carries an Old Western appeal."
— Entertainment Weekly

"Dark as an ice cold winter's night, Fiona King Foster's debut novel is a pitch-perfect noir thriller, set in a rural tundra in a world populated by loners, homesteaders, and the kind of people who most typically lurk in the shadows.… Foster keeps the tension high, running at a constant throbbing pulse, and showing all the things we'll do to protect our family and our future."
— Refinery 29

"In this intense literary thriller, a family ekes out a precarious but peaceful living on a remote farm in a dystopian future. As is often the case in thrillers, an interloper arrives to disturb the careful balance in the household—in this case, it is an escaped prisoner whose chaotic presence will most likely cause all sorts of revelations to come to the fore."
— CrimeReads

"Remarkable….  With this part–feminist Western, part–dystopian odyssey, part just plain-old nerve-jangling thriller, Foster does a terrific job of maintaining the page-turning pace of her narrative…. Packed with heart-stopping misadventures."
— Kirkus Reviews (starred review)

"[A] suspenseful, tightly written country noir…. Foster reinvigorates the familiar perilous journey trope as she portrays Brooke's steely determination to save her loved ones. Exuding that irresistible blend of courage and vulnerability that defined Daniel Woodrell's Ree Dolly in Winter's Bone (2006), Brooke drives this propulsive wilderness adventure, made all the more chilling by its shockingly realistic vision of a country ravaged by culture wars."
— Booklist (starred review)

"Beguiling. . . . Part adventure novel and part crime novel. . . . Foster keeps the tension high. . . . [Foster] effectively keeps readers in suspense all the way through."
— BookPage

"Fiona Foster has written a tension-wire novel, suspenseful from the first line to the last. A story about a fractured country quickly transforms into a study of the ways in which the darkest parts of our history follow us around like shadows. There is something gripping here, a nuanced dissection of how violence begets violence, damage begets damage." 
— Omar El Akkad, author of American War

"The Captive is a wonder, a wild horse in the sure and steady hands of the brilliant Fiona King Foster. Electrifying and otherworldly, The Captive gives us a new feminist heroine, an Offred traversing Cormac McCarthy's hazardous dreamscapes. Through the ingenious and fierce-hearted Brooke Holland, King takes us to the very sheer edge of survival, love and loyalty. This debut novel reads like a lightning storm, and then it stays with you, leaving a profound impression—ghostly, gorgeous and moving."
— Claudia Dey, author of Heartbreaker

"In this riveting debut, King Foster vividly brings to life a gritty, hardscrabble and all too plausible near-future and a resolute heroine who defends those she loves throughout a harrowing ordeal. The Captive is a propulsive, word-perfect thriller about the ghosts that haunt us and the strengths that lie within."
— Saleema Nawaz, author of Songs for the End of the World
Ecco, 9780062990976, 272pp.
Publication Date: January 12, 2021
About the Author
FIONA KING FOSTER was raised in Brudenell, Ontario, a rural community now misleadingly referred to as a "ghost town." Her writing has appeared in the Globe and Mail, Hobart, Maisonneuve, Midway Journal, the New Quarterly, New World Writing, NOON, New York Tyrant, le Panoptique and Room. She lives in Toronto and works with the national literacy organization Frontier College. The Captive is her first novel.