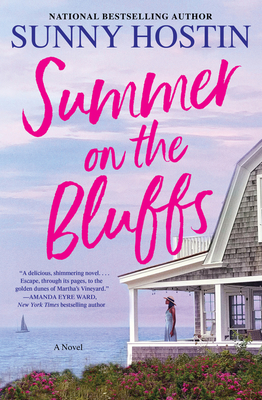 Summer on the Bluffs
A Novel (Oak Bluffs #1)
Hardcover

* Individual store prices may vary.
Other Editions of This Title:
Paperback, Large Print (5/4/2021)
Description
Emmy Award winner, renowned lawyer and journalist, and The View cohost Sunny Hostin makes her literary debut with this dazzling novel about a life-changing summer along the beaches of Martha's Vineyard.
Welcome to Oak Bluffs, the most exclusive black beach community in the country. Known for its gingerbread Victorian-style houses and modern architectural marvels, this picturesque town hugging the sea is a mecca for the crème de la crème of black society—where Michelle and Barack Obama vacation and Meghan Markle has shopped for a house for her mom. Black people have lived in this pretty slip of the Vineyard since the 1600s and began buying property in the 1800s, making this posh town the embodiment of "old money."
Thirty years ago, Amelia Vaux Tanner and her husband built a house high on the bluffs, a cottage they named Chateau Laveau. For decades, "Ama" played host to American presidents, Wall Street titans, and cultural icons. But her favorite guests have always been her three "goddaughters:" Esperanza "Perry" Soto, a beautiful, talented Afro-Latina lawyer with Ama's strong, yet guarded personality; Olivia Jones, a gifted Wall Street analyst with Ama's brilliant, logical mind; and Billie Hayden, a gifted marine biologist and rule-breaker with Ama's courageous free spirit.
Growing up, these three goddaughters from different backgrounds came together each summer at Chateau Laveau. As adults, the cottage is a place this trio of successful yet very different women go to escape, to slow down from their hectic lives, share private time with Ama, and enjoy the gorgeous weather, cool water, and stunning views Oak Bluffs offers. 
This summer on the Bluffs, however, will be different. An era is ending: Ama, now nearing seventy-one, is moving to the south of France to reunite with her college sweetheart. She has invited Perry, Olivia, and Billy to spend one last golden summer together with her the way they did when they were kids. And when fall comes, she is going to give the house to one of them.
Each of the women wants the house desperately. Each is grappling with a secret she fears will hurt her and her chances. By the end of summer, old ties will fray, new bonds will be created, and these three found sisters will discover they aren't the only ones with something to hide. Ama has a few secrets of her own. What she has to give them is far more than property. Between Memorial Day and Labor Day, she will tell these surrogate daughters she fiercely loves and protects everything they never knew they needed to know.

Praise For Summer on the Bluffs: A Novel (Oak Bluffs #1)…
"Summer on the Bluffs by the Emmy-award winning Sunny Hostin is a delicious, shimmering novel about the lives of Amelia Vaux Tanner and her three, grown-up godchildren. I was riveted by these fascinating, complicated women, and looked forward every day to opening Hostin's luminous novel and escaping, through its pages, to the golden dunes of Martha's Vineyard." 
— Amanda Eyre Ward, New York Times bestselling author of The Jetsetters

"Everybody needs a fairy godmother and a glorious summer read. Treat yourself to both with the magnificent Sunny Hostin's Summer on the Bluffs... This beautiful novel will have you turning the pages long into a summer night."
— Adriana Trigiani, New York Times bestselling author

"Summer on the Bluffs is a thoroughly enjoyable escape… A revealing glimpse into the lives of the black bourgeoisie and the Vineyard as told by someone who understands the complex nuances of our sisters. Sunny Hostin is an elegant yet contemporary voice that daughters, mothers and matriarchs alike will enjoy!"
— Rita Ewing, author of Homecourt Advantage and Brickhouse
William Morrow, 9780062994172, 400pp.
Publication Date: May 4, 2021
About the Author
Sunny Hostin is the 3-time Emmy-winning legal journalist, co-host of The View, and national bestselling author of I Am These Truths: A Memoir of Identity, Justice, and Living Between Worlds (HarperOne). She is also the author of Summer on the Bluffs, the first in her upcoming three-book fiction series, which will be published on May 4, 2021. 
Hostin has been featured in The New York Times, The Wall Street Journal, Forbes Woman, Essence, Newsweek, The New York Post, Latina, and Ebony. A sought-after public speaker, she has delivered a TEDxTalk called "A Possibility Model" and spoken at and moderated panels for the U.C. Berkeley Graduate School of Journalism, Corporate Counsel Women of Color, and the National Bar Association, and served as a witness at the Federal Judiciary's Congressional Hearing for the Public's Right of Access to the Courts. 
Hostin lives with her husband and two children in New York.