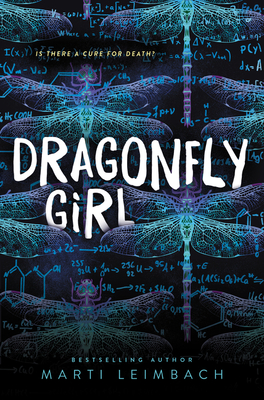 Dragonfly Girl
Hardcover

* Individual store prices may vary.
Other Editions of This Title:
Digital Audiobook (2/22/2021)
Paperback (2/22/2022)
Compact Disc (2/23/2021)
MP3 CD (2/23/2021)
Description
In this spellbinding thriller and YA debut from bestselling author Marti Leimbach, Kira Adams has discovered a cure for death—and it may just cost her life.
Things aren't going well for Kira. At home, she cares for her mother and fends off debt collectors. At school, she's awkward and shy. Plus, she may flunk out if she doesn't stop obsessing about science, her passion and the one thing she's good at . . . very good at.
When she wins a prestigious science contest she draws the attention of the celebrated professor Dr. Gregory Munn (as well as his handsome assistant), leading to a part-time job in a top-secret laboratory. 
The job is mostly cleaning floors and equipment, but one night, while running her own experiment, she revives a lab rat that has died in her care. 
One minute it is dead, the next it is not.
Suddenly she's the remarkable wunderkind, the girl who can bring back the dead. Everything is going her way. But it turns out that science can be a dangerous business, and Kira is swept up into a world of international rivalry with dark forces that threaten her life. 
Praise For Dragonfly Girl…
"This is a compelling YA debut from the internationally bestselling Leimbach. All the characters have depth, especially Kira, whose growth will entice readers to invest in her struggles and cheer for her successes. Leimbach also handles the science well, explaining what is happening without letting it slow down the action, focusing more on the characters' emotions than the scientific procedures. VERDICT A thrilling debut with a heroine to root for and an excellent story that will keep surprising readers." — School Library Journal
"Leimbach imbues her story with a love of science, as Kira latches on to real scientific principles, discoveries, and fun facts in her quest to make an impact in the scientific world. Kira is easy to root for as she tackles life's hurdles. Readers . . . will appreciate the unpredictability of the story that allows for satisfying plot twists that keep the pages turning, and the planned second book . . . is sure to be thrilling." — Bulletin of the Center for Children's Books
"Dragonfly Girl is unlike any other book I have read. The plot is taut and devilishly cunning, the science behind the story is brilliantly researched, and the writing pulls you in and doesn't let go until the very last page. You'll find yourself aching for the heroine's hardships at first, before suddenly being whisked off into a heart-thumping adventure that will leave you breathless. THIS BOOK SLAPS." — Jesse Q Sutanto, the author of Dial A for Aunties
"Dragonfly Girl is a uniquely smart book, with a story you will not see coming, and characters that ring true. Readers will be challenged and delighted. Invest some time in Dragonfly Girl and let author Marti Leimbach take you on a surprising, utterly original ride. I loved it!" — Michael Grant, bestselling author of the GONE series
"Marti Leimbach has written an intriguing and thrilling novel that could very well entice readers to take a closer look at careers in science, while entertaining them along the way with astonishing facts." — Todd Strasser, author of The Wave, Fallout and many other novels for young adults
". . . The fast pace and high stakes are engaging . . . An exciting adventure about a girl in STEM . . . " — Kirkus Reviews
Katherine Tegen Books, 9780062995865, 384pp.
Publication Date: February 23, 2021
About the Author
Marti Leimbach is a fiction writer and a core tutor at Oxford University's creative writing program; she is best known for her international bestseller, Dying Young, which was made into a major motion picture. She is also the author of The Man from Saigon and Daniel Isn't Talking, among other novels. Dragonfly Girl is her first YA novel. www.martileimbach.com