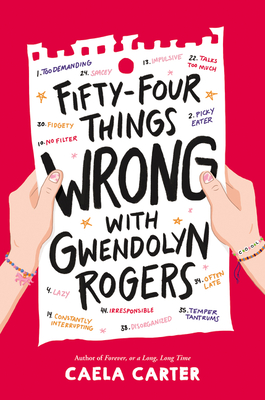 Fifty-Four Things Wrong with Gwendolyn Rogers
Hardcover

* Individual store prices may vary.
Other Editions of This Title:
Digital Audiobook (10/18/2021)
Paperback (11/8/2022)
MP3 CD (10/19/2021)
Compact Disc (10/19/2021)
Compact Disc (10/19/2021)
November/December 2021 Kids Indie Next List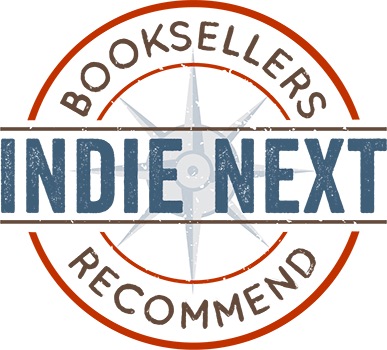 "A charming story. It's heart wrenching to think of all the neurodiverse kiddos without a mom like Gwendolyn's. Diverse characters, big topics, but funny and heartfelt along the way."
— Christina Batten, Schuler Books (Grand Rapids), Grand Rapids, MI
View the List
Description
From the critically acclaimed author of the ALA Notable and Charlotte Huck Honor Book Forever, or a Long, Long Time comes a moving own-voices story that shines a light on how one girl's learning differences are neither right nor wrong…just perfectly individual. For fans of Alyson Gerber, Cammie McGovern, and Kathryn Erskine.
No one can figure out what Gwendolyn Rogers's problem is—not her mom, or her teachers, or any of the many therapists she's seen. But Gwendolyn knows she doesn't have just one thing wrong with her: she has fifty-four.
At least, according to a confidential school report (that she read because she is #16. Sneaky, not to mention #13. Impulsive). So Gwendolyn needs a plan, because if she doesn't get these fifty-four things under control, she's not going to be able to go to horse camp this summer with her half-brother, Tyler.
But Tyler can't help her because there's only one thing "wrong" with him: ADHD.
And her best friend Hettie can't help her because there's nothing wrong with Hettie. She's perfect.
So Gwendolyn is hopeless until she remembers the one thing that helped her mother when her own life was out of control. Or actually, the twelve things. Can these Twelve Steps that cured her mother somehow cure Gwendolyn too?
Praise For Fifty-Four Things Wrong with Gwendolyn Rogers…
"This sensitive #OwnVoices novel balances the frustration and challenges being dealt with by all the characters. Particularly effective is the cadence of Gwendolyn's thoughts and voice, creating a likable, realistic character that readers will gravitate to. Recommended to everyone, but particularly for those drawn to Kathryn Erskine's Mockingbird and Ann M. Martin's Rain Reign." — Booklist (starred review)
"Carter draws from her own experience of undiagnosed ADHD and dyslexia in this moving, authentically told story. Carter provides searing descriptions of the school's differing class- and gender-related expectations for more privileged, already-diagnosed Tyler and still-searching Gwendolyn. A compassionate portrait of what a diagnosis can offer." — Publishers Weekly (starred review)
"An important heart-level look inside a girl that so many other kids will surely relate to. Gwendolyn's quest to understand 'What's wrong with me?' reveals there is so much right with her. Kids, teachers, parents, please read!"  — Sally J. Pla, award-winning author of The Someday Birds
"This beautiful and important book reminds us that kids are not problems to be solved, sorted, and labeled. It urges us to make space in our hearts—and in our world—for all the forms of neurodiversity we don't yet understand."  — Alyson Gerber, author of Taking Up Space, Focused, and Braced
"Carter doesn't flinch from presenting the complicated reality that goes hand-in-hand with the issues Gwendolyn is facing. Thankfully, along with her 54 challenges, she has a ton of guts, love, and empathy. Carter knows this story well, and readers will get much out of reading this wise book about confronting and accepting neurological differences." 
— Cammie McGovern, author of Just My Luck and Chester and Gus
"Heartbreakingly real, Fifty-Four Things Wrong with Gwendolyn Rogers captures the impossible experience of going through school feeling like you're a squirrel being told you should be a tree. This is an important book to add to classrooms, to understand that everyone has more than meets the eye." — Margaret Dilloway, author of Summer of a Thousand Pies
"An up-close, inside look at one girl's extraordinary brain, and the patience and perseverance she has to understand exactly how she fits. I am more compassionate for having read Gwendolyn's story."  — Lindsey Stoddard, author of Right as Rain and Brave Like That
"Caela Carter's middle grade debut about how we see ourselves is in turns heartbreaking and hopeful. I cheered on Gwendolyn Rogers during her honest and brave struggle with all that's "wrong" with her. If only I had the space to write the 54 things that made this character and book perfect just as they are."  — Elizabeth Eulberg, author of The Best Worst Summer
"Gut-wrenchingly genuine. Incredibly reassuring and helpful for readers struggling in an ableist world." — Kirkus Reviews
"Gwendolyn's narration vividly conveys the experience of a smart kid who desperately wants to meet expectations. The information about neurodiversity and about the ways gender can affect responses to kids is important. It's good to see a fresh new take on a kid with processing issues and a much-deserved reason for hope."  — Bulletin of the Center for Children's Books
"A novel worth adding to middle grade collections. This book will resonate with neurodivergent and neurotypical kids alike." — School Library Journal
Quill Tree Books, 9780062996633, 336pp.
Publication Date: October 19, 2021
About the Author
Caela Carter is a writer and an educator. She is a graduate of the New School's MFA program in writing for children. She has written three books for middle grade readers: One Speck of Truth, My Life with the Liars, and Forever, or a Long, Long Time, which received three starred reviews, among other accolades. Caela lives in Brooklyn with her family. You can visit her online at www.caelacarter.com.