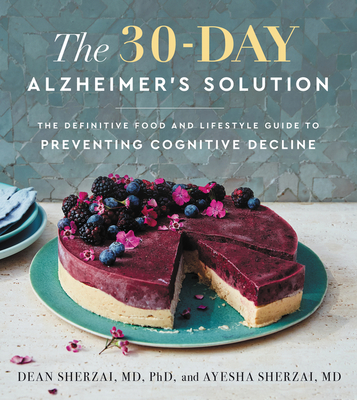 The 30-Day Alzheimer's Solution
The Definitive Food and Lifestyle Guide to Preventing Cognitive Decline
Hardcover

* Individual store prices may vary.
Other Editions of This Title:
Digital Audiobook (3/22/2021)
Description
WALL STREET JOURNAL BESTSELLER • USA TODAY BESTSELLER
The most scientifically rigorous, results-driven cookbook and nutrition program on the planet, featuring over 75 recipes designed specifically to prevent Alzheimer's disease, and protect and enhance your amazing brain.

Awarding-winning neurologists Dean Sherzai, MD and Ayesha Sherzai, MD have spent decades studying neuro-degenerative disease as Co-Directors of the Alzheimer's Prevention Program at Loma Linda University Hospital. Together, they created a targeted nutrition program with one goal in mind: to prevent Alzheimer's disease, dementia, and cognitive decline in their patients. The results have been astounding. It starts by implementing their "Neuro Nine" foods into your diet every single day. In just thirty days, and with the help of clear guidelines and 75+ easy and delicious meals you'll find in this book, The 30-Day Alzheimer's Solution, you can boost the power of your brain, protect it from illness, and jumpstart total body health, including weight loss and improved sensory ability and mobility. 
The 30-Day Alzheimer's Solution is the first action-oriented cookbook for preventing Alzheimer's disease and delivering results like improved mental agility, short- and long-term memory, sharpness, and attention. Let this be the first 30 days of the rest of your life. 
Praise For The 30-Day Alzheimer's Solution: The Definitive Food and Lifestyle Guide to Preventing Cognitive Decline…
"This book will change your relationship with your brain. I highly recommend." — —MICHAEL GREGER, MD, author of How Not to Die
"The action plan that you need—developed by the world's leading Alzheimer's experts" — —WILL BULSIEWICZ, MD MSCI, author of Fiber Fueled
"A clear, hope-filled and sensory-rich journey of prevention." — —ANNE BASTING, PhD, MacArthur "Genius" Grant Recipient and author of Creative Care
"This simple, step-by-step guide is your road map to a life of clear mind, strong memory, and lasting wellness. You won't believe how easy (and how delicious!) it can be to transform your life." — —OCEAN ROBBINS, CEO, Food Revolution Network
"A gift from two of the most experienced, informed doctors in the area of Alzheimer's research and prevention." — —DAN BUETTNER, author of Blue Zones
The 30-Day Alzheimer's Solution is more than an impressive guide to fighting a disease that has devastated families and communities—it's also a fantastic cookbook with something delicious for everyone at the table. The Berry Nice Cream Cake is hands-down one of my favorite desserts of all time, and a new mainstay in my house. I also love the Herbed Cauliflower Rice, Hearty Bean Soup, and Cornbread Muffins!" — —ERIC ADAMS, former State Senator and author of Healthy at Last 
"Stupendously smart, poignantly practical, glaringly gorgeous, and to boot, the recipes are drop dead delicious" — —RIP ESSELTYN, New York Times bestselling author of The Engine 2 Diet
"A masterpiece that will transform your understanding of brain health." — —BRENDA DAVIS, RD, world-renowned nutrition and health writer, bestselling author and internationally-acclaimed speaker
HarperOne, 9780062996954, 256pp.
Publication Date: March 23, 2021
About the Author
Dean Sherzai, MD, PhD, trained in neurology at Georgetown University School of Medicine, and completed fellowships in neurodegenerative diseases and dementia at the National Institutes of Health and UC San Diego. Dean and Ayesha are bestselling authors of The Alzheimer's Solution.
Ayesha Sherzai, MD, MAS, completed a dual training in preventative medicine and neurology at Loma Linda University, and a fellowship in vascular neurology and epidemiology at Columbia University. She is a trained plant-based culinary artist, and created the recipes in The 30-Day Alzheimer's Solution.