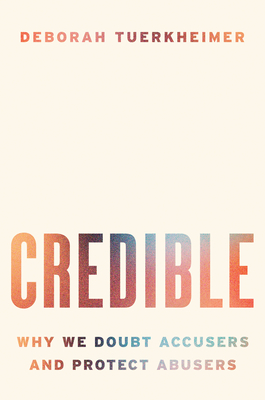 Credible
Why We Doubt Accusers and Protect Abusers
Hardcover

* Individual store prices may vary.
Other Editions of This Title:
Digital Audiobook (10/4/2021)
Compact Disc (10/5/2021)
MP3 CD (10/5/2021)
Description
In this landmark book, a former prosecutor, legal expert, and leading authority on sexual violence examines why we are primed to disbelieve allegations of sexual abuse—and how we can transform a culture and a legal system structured to dismiss accusers
Sexual misconduct accusations spark competing claims: her word against his. How do we decide who is telling the truth? The answer comes down to credibility. But as this eye-opening book reveals, invisible forces warp the credibility judgments of even the well- intentioned among us. We are all shaped by a set of false assumptions and hidden biases embedded in our culture, our legal system, and our psyches.  
In Credible, Deborah Tuerkheimer provides a much-needed framework to explain how we perceive credibility, why our perceptions are distorted, and why these distortions harm survivors. Social hierarchies and inequalities foster doubt that is commonplace and predictable, resulting in what Tuerkheimer calls the "credibility discount"—our dismissal of claims by certain kinds of speakers—primarily women, and especially those who are more marginalized.  
The #MeToo movement has exposed how victims have been badly served by a system that is designed not to protect them, but instead to protect the status quo. Credibility lies at the heart of this system. Drawing on case studies, moving first-hand accounts, science, and the law, Tuerkheimer identifies widespread patterns and their causes, analyzes the role of power, and examines the close, reciprocal relationship between culture and law—guiding us toward accurate credibility judgments and equitable treatment of those whose suffering has long been disregarded.
#MeToo has touched off a massive reckoning. To achieve lasting progress, we must shift our approach to belief. Credible helps us forge a path forward to ensuring justice for the countless individuals affected by sexual misconduct.

Praise For Credible: Why We Doubt Accusers and Protect Abusers…
"This is not just an important book. It's way more than that—it's a new algorithm, an upending of long-held beliefs kept in place by law and culture. As I read the case studies about victims of sexual assault and harassment, I felt my own baked-in assumptions being rewired. Credible changed me from the inside out. As Deborah Tuerkheimer says, 'Each of us is part of the solution, as we are all part of the problem. If we rewire ourselves to respond more fairly to the accusations that come our way, law reform and culture change will follow. Over time we can dismantle the credibility complex.'"  — Elizabeth Lesser, bestselling author of Cassandra Speaks and Broken Open, cofounder of Omega Institute, and member of Oprah Winfrey's Super Soul 100
"Deborah Tuerkheimer makes a brilliant, clear, and convincing legal case in Credible that justice for survivors requires basic changes in the law. But she makes an equally compelling plea for something with even more world-historical ambition: a transformation that is needed in the court of public opinion so that women's dignity—and credibility—is finally seen as equal to men's."  — Jackson Katz, PhD, educator and author of The Macho Paradox: Why Some Men Hurt Women and How All Men Can Help
"In Credible, Tuerkheimer tells a range of stories of victim-survivors of sexual assault and harassment. What's different is that she traverses these stories through the lens of credibility—the ways in which its absence (or in rare cases, its presence) will make all the difference in someone's recovery and healing. This is essential reading not only for those deeply invested in #MeToo activism and scholarship and for victim-survivors who will finally feel seen but also for anyone who has ever known a victim. Which is to say, Tuerkheimer's book is essential reading for everyone." — Donna Freitas, author of Consent: A Memoir of Unwanted Attention 
"A persuasive analysis of the cultural and legal forces that 'downgrade the credibility of sexual-abuse survivors. Tuerkheimer explains how doubt is 'baked into law,' which creates a 'care gap' that places more weight on the abuser's suffering than the accuser's. Packed with insight and empathy, this is an open-and-shut case for a more compassionate form of justice." — Publishers Weekly
"The book's analysis is both layered and nuanced, and the language is precise, passionate, and clear… an important addition to an ongoing conversation…[and] a trenchant analysis of how flawed notions about credibility fuel a wide variety of societal inequalities." — Kirkus
"Powerful [and] essential. A necessary read urging individuals to start changing the way they think about allegations of abuse and the women who make them." — Booklist, starred review
Harper Wave, 9780063002746, 320pp.
Publication Date: October 5, 2021
About the Author
Deborah Tuerkheimer is a professor at the Northwestern Pritzker School of Law. She earned her undergraduate degree from Harvard College and her law degree from Yale Law School. She served for five years as an assistant district attorney in the New York County District Attorney's Office, where she specialized in domestic violence and child abuse prosecution.