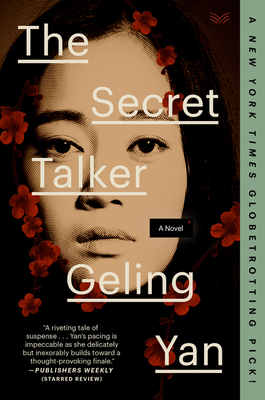 The Secret Talker
A Novel
Paperback

* Individual store prices may vary.
Other Editions of This Title:
Digital Audiobook (5/3/2021)
Hardcover (5/4/2021)
Description
A NEW YORK TIMES BEST THRILLER OF 2021 AND "GLOBETROTTING" PICK!
A woman reclaims her own story in this taut and wholly original literary tale from one of China's literary superstars.
Hongmei is the perfect Chinese wife: beautiful, diligent, passive. Glen is the perfect American husband: intelligent, caring, well-off. From the outside, Hongmei and Glen's life in the San Francisco Bay Area seems perfect. But at home, their marriage is falling apart. Post-its left on the fridge are their primary form of communication.  
When Hongmei receives a beguiling email from a secret admirer, naturally she's intrigued. But what starts out as harmless flirting with an internet stranger quickly turns into an all-consuming emotional affair. As Hongmei spills more and more about her dark past as a military intelligence officer-in-training in China, she falls deeper and deeper into a tense cat-and-mouse game. Desperate and self-destructive, she embarks on an investigation into her emailer's secret history…one that may tear her life and marriage apart forever.
A psychological story at its core, The Secret Talker elegantly examines how repressed desire and simmering silence can upend even the most idyllic marriage. As Hongmei pursues her stalker, her identity and agency come into question, and the chase curveballs into a captivating journey of self-actualization. Yan Geling pierces the human psyche to reveal devastating and emotional truths – and an ending that will leave readers speechless.
Translated from the Chinese by Jeremy Tiang
Praise For The Secret Talker: A Novel…
"The Secret Talker is a profound meditation on love, the difficulties of communication and the agonizing joy and brutality of commitment."  — New York Times
"A riveting tale of suspense. . . . Yan's pacing is impeccable as she delicately but inexorably builds toward a thought-provoking finale. Readers of tense literary fiction will find much to like." — Publishers Weekly (starred review)
"[A] masterful tale driven by Yan's brisk pacing and evocative writing and details that pulse with truth. . . . An adventurous and emotionally engaging story, which ultimately unlocks the transformative power of listening and honesty for recovery and redemption from tribulations of the past." — New York Journal of Books
"A suspenseful, intriguing tale of a woman in her psychological crisis." — The Millions
"Geling Yan has crafted a slow-burn psychological thriller in The Secret Talker . . . a cat and mouse game that will keep you guessing to the last page." — CrimeReads
"With simple but powerful prose, Geling Yan evokes electrifying scenes of great cruelty and sensuality."  — San Francisco Chronicle
"Searing and delicately brutal, [The Secret Talker] strikes at the heart of what makes a relationship implode."
— Popsugar
"The combination of emotional intimacy with long-hidden secrets often makes for a compelling thriller, and The Secret Talker delivers ...For readers looking for a brisk and neatly plotted mystery, this novel has plenty to offer."
— Words Without Borders

"The Secret Talker bring[s] the mood of an existential novel to a hair-raising thriller. Yan is a fan of stories where interlopers disrupt stable relationships — among her screenplay credits is an adaptation of 'Les Liaisons Dangereuses.' But she also sees a third party as a way to patch a fractured relationship. 'Whatever roles human beings played by day, if they didn't have a moment like this when they could reveal themselves, they'd surely be driven mad,' Yan writes. And her hero is intriguingly close to that edge." — Washington Post
HarperVia, 9780063004047, 160pp.
Publication Date: January 11, 2022
About the Author
Yan Geling is one of the most acclaimed contemporary novelists and screenwriters writing in the Chinese language today. Born in Shanghai, she served with the People's Liberation Army (PLA), starting at age twelve as a dancer in an entertainment troupe. She is the author of numerous novels, short stories, novellas, essays, and scripts. Yan is fluent in English and her best-known novels in the West are The Banquet Bug (published in the UK as The Uninvited) and The Lost Daughter of Happiness (translated by Cathy Silber), as well as the novella and short story collection White Snake and Other Stories (translated by Lawrence A. Walker). She lives in Berlin, Germany.