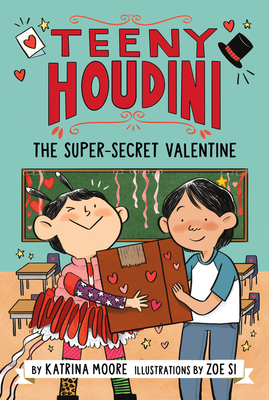 Teeny Houdini #2
The Super-Secret Valentine
Paperback

* Individual store prices may vary.
Other Editions of This Title:
Hardcover (1/4/2022)
Description
Bessie Lee goes all out for Valentine's Day in the second book of the Teeny Houdini chapter book series from author Katrina Moore and illustrator Zoe Si. The adventures of Teeny Houdini come in short, easy-to-read chapters full of hilarious illustrations—a favorite series for building confident readers!
Bessie is in charge of making an extra-special valentine for the new kid in school. Something big and wonderful to make him feel welcome!
Bessie's plan includes glitter, tape, plus a little extra magic to make this a Valentine's Day no one will forget.
Teeny Houdini, also known as Bessie Lee, is an overly excited, mischievous first grader who bounces off the walls—and off the page—with her volume, enthusiasm, and grand ideas, which are just too big for her tiny frame. Bessie's multigenerational Chinese American family is the warm center of the stories, from exasperated but loving big sister Bailey to the always encouraging and understanding Gramma.
Kid-friendly and engaging, the Teeny Houdini series is a good fit for early chapter book readers. And as a bonus, kids learn the real and simple steps to a different magic trick in each book!
Praise For Teeny Houdini #2: The Super-Secret Valentine…
Praise for One Hug "The excitement is catching, and readers would need hearts of stone not to moved by the family togetherness on display. By the end, readers will be searching out hugs of their own. The book amply demonstrates that 'hugging makes us family.'"  — Kirkus Reviews
"The simple rhyming text describes the many ways loved ones may hug. Although the text focuses on different kinds of hugs, the overall story manages to dig deeper into the many facets of love, affection, and what makes a family. An enjoyable read-aloud to be shared one-on-one or in a small group setting. Recommended."  — School Library Journal
"In a story that celebrates family, one unique hug at a time, One Hug shares the joy of a family being united... With vivid and energetic illustrations by Julia Woolf, and the rhythmic, rhyming of Katrina Moore's words, readers will be caught up in the joy of a special celebration." — Manhattan Book Review
Katherine Tegen Books, 9780063004658, 128pp.
Publication Date: January 4, 2022
About the Author
Katrina Moore is the author of the picture books One Hug, Grandpa Grumps, Sometimes Love, and more. She grew up in the suburbs of Maryland with her big Chinese American family. She now lives in New Jersey with her husband, huge pup, teeny dog, and two young children, where she writes, teaches, and goes on all sorts of magical adventures. Connect with her at www.katrinamoorebooks.com.
Zoe Si is a cartoonist and illustrator who has illustrated a number of children's books and is a regular contributor of cartoons and humor pieces to the New Yorker. She has a lifelong passion for laughing at her own jokes and is always looking for new ways to tell stories with her art. Zoe lives with her husband in beautiful Vancouver, British Columbia, where she also practiced law for several years. Visit her at www.zoe-si.com.