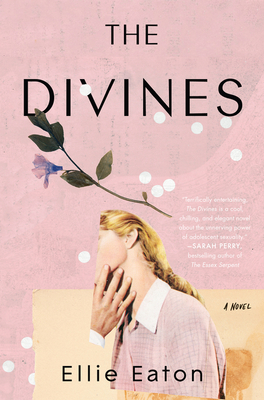 The Divines
A Novel
Hardcover

* Individual store prices may vary.
Other Editions of This Title:
Digital Audiobook (1/18/2021)
Paperback (1/4/2022)
Description
Named a Most Anticipated Book by Entertainment Weekly * CNN * Harper's BAZAAR * E! Online * Refinery 29 * Bustle * Shondaland * Vulture * The Millions * Lit Hub * Electric Literature * Parade * MSN * and more!
"For when you want a coming-of-age novel with a dark twist. In this provocative novel, the past isn't always as far away as you think." —The Skimm
"[S]o beautifully written that I marked lines—for their perceptive genius—on nearly every page... This perfectly paced novel examines class structures and sexual identity and betrayals and tragedy in a way that had be both wanting to rip through the pages and wanting to savor each sentence until the extremely satisfying end." —Elin Hilderbrand for Literati
Can we ever really escape our pasts?
The girls of St John the Divine, an elite English boarding school, were notorious for flipping their hair, harassing teachers, chasing boys, and chain-smoking cigarettes. They were fiercely loyal, sharp-tongued, and cuttingly humorous in the way that only teenage girls can be. For Josephine, now in her thirties, the years at St John were a lifetime ago. She hasn't spoken to another Divine in fifteen years, not since the day the school shuttered its doors in disgrace.
Yet now Josephine inexplicably finds herself returning to her old stomping grounds. The visit provokes blurry recollections of those doomed final weeks that rocked the community. Ruminating on the past, Josephine becomes obsessed with her teenage identity and the forgotten girls of her one-time orbit. With each memory that resurfaces, she circles closer to the violent secret at the heart of the school's scandal. But the more Josephine recalls, the further her life unravels, derailing not just her marriage and career, but her entire sense of self. 
Suspenseful, provocative, and compulsively readable, The Divines explores the tension between the lives we lead as adults and the experiences that form us, probing us to consider how our memories as adults compel us to reexamine our pasts.
Praise For The Divines: A Novel…
"Shifting in time, this crisply written novel explores the universal human yearning to belong—and the terrible toll it can sometimes exact."
— People

"For when you want a coming-of-age novel with a dark twist. In this provocative novel, the past isn't always as far away as you think."
— The Skimm

"In this captivating debut novel, Ellie Eaton traces adolescent female sexuality, class divides, and the weight of formative memories on adults."
— Vulture, New York Magazine

"[G]ripping...Jumping between modern-day Los Angeles and 1990s Britain, The Divines examines destructive bonds and lingering traumas."
— E! Online

"An exploration of the destructive relationships between teenage girls at an entirely toxic and secluded boarding school. What more could you want?"
— Parade

"A provocative meditation on our obsession with youth—including our own—and an exploration into the power and perversity of teenage girls, The Divines is perfectly twisted in its reflection of an utterly toxic environment, making it impossible to put down till you get to its end."
— Refinery 29

"The Divines is a cool, chilling and elegant novel that intrigues and compels the reader, while filleting the absurdities of British class hierarchy with a very, very sharp knife. In Eaton's stylish and controlled prose, the oppressive atmosphere of a girls' boarding school becomes the site of a violent and mysterious act, but also a lens through which to examine the intoxicating and unnerving power of adolescent sexuality, the dangers and consolations of friendship, and the toxic nature of the class divide. It's a terrific, entertaining and astute work and one of considerable relevance to the way we live now." 
— Sarah Perry, Internationally bestselling author of The Essex Serpent and Melmoth

"The Divines is a scintillating coming-of-age story about the brutal bonds of female boarding school friendships, class prejudices, and the ways in which false memories can take the place of truth. Sephine is an unflinching and utterly convincing narrator. I lapped up every delicious detail."
— Susie Yang, New York Times bestselling author of White Ivy

"[An] intelligent debut… Eaton does a good job describing class tension and the misery of trying to fit into a social clique as a teenager. Josephine's steady unraveling of her teenage dramas will keep readers riveted."
— Publishers Weekly

"At times both sharp and haunting, this novel embodies the awkwardness and regret of adolescence.... A layered and complex debut."
— Booklist
William Morrow, 9780063012196, 320pp.
Publication Date: January 19, 2021
About the Author
Born and raised in England, Ellie Eaton lives in Los Angeles with her family. Former writer-in-residence at a men's prison in the United Kingdom, she holds an M.A. in creative writing from Royal Holloway, University of London. The Divines is her first novel.