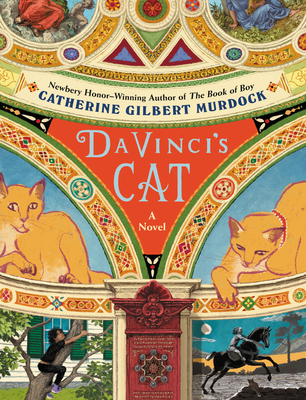 Da Vinci's Cat
Hardcover

* Individual store prices may vary.
Other Editions of This Title:
Compact Disc (5/25/2021)
MP3 CD (5/25/2021)
Description
Two unlikely friends—Federico, in sixteenth-century Rome, and Bee, in present-day New Jersey—are linked through an amiable cat, Leonardo Da Vinci's mysterious wardrobe, and an eerily perfect sketch of Bee. Newbery Honor author Catherine Gilbert Murdock's Da Vinci's Cat is a thrilling, time-slip fantasy about rewriting history to save the present. This inventive novel will engross anyone who loved When You Reach Me and A Wrinkle in Time.
Federico doesn't mind being a political hostage in the Pope's palace, especially now that he has a cat as a friend. But he must admit that a kitten walking into a wardrobe and returning full-grown a moment later is quite odd. Even stranger is Herbert, apparently an art collector from the future, who emerges from the wardrobe the next night. Herbert barters with Federico to get a sketch signed by the famous painter Raphael, but his plans take a dangerous turn when he hurries back to his era, desperate to save a dying girl.
Bee never wanted to move to New Jersey. When a neighbor shows Bee a sketch that perfectly resembles her, Bee, freaked out, solidifies her resolve to keep to herself. But then she meets a friendly cat and discovers a mysterious cabinet in her neighbor's attic—a cabinet that leads her to Renaissance Rome. Bee, who has learned about Raphael and Michelangelo in school, never expected she'd get to meet them and see them paint their masterpieces.
This compelling time-slip adventure by Newbery Honor author Catherine Gilbert Murdock is full of action, mystery, history, art, and friendship—and features one unforgettable cat.
Includes black-and-white spot art throughout of Da Vinci's cat by Caldecott Medalist Paul O. Zelinsky, as well as an author's note about the art, artists, and history that inspired the novel .
Praise For Da Vinci's Cat…
"The course of time travel never does run smooth. . . . Bee and Federico manage to colossally mess with history, leading to adventures as they try to get things back on track. . . . Detailed writing brings the past to life in this delightful time-slip story populated by an array of outsized figures from history. . . . Thoroughly charming."
— Kirkus Reviews (starred review)

"After receiving a Newbery Honor for The Book of Boy, Murdock returns to the historical fiction genre, this time mixing things up with time travel (thanks to a clever wardrobe built by Leonardo da Vinci) and an art mystery. Murdock keeps her story fresh with tight, fast-paced writing that incorporates history by bringing it engagingly to life and tying it meaningfully to the present. . . . Spot art from Zelinsky will appear in the final edition of this inspired foray into the Renaissance and beyond."
— Booklist (starred review)

"Federico's pampered life is opulent but lonely, until he discovers a cat in an enigmatic closet designed by Leonardo da Vinci. The cat's mysterious movements link him to only child Bee, an intrepid 21st-century Brooklynite who discovers a drawing of herself—purportedly by Raphael—in the home of elderly neighbor . . . Murdock crafts an arresting blend of speculative time travel and art mystery with a sumptuously imagined Renaissance Italy setting filled with evocative sensory details. . . . Vividly rendered."
— Publishers Weekly
Greenwillow Books, 9780063015258, 288pp.
Publication Date: May 25, 2021