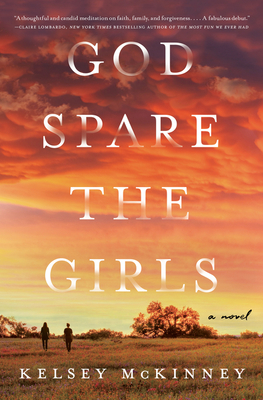 God Spare the Girls
A Novel
Hardcover

* Individual store prices may vary.
Other Editions of This Title:
Digital Audiobook (6/21/2021)
Compact Disc (6/22/2021)
MP3 CD (6/22/2021)
Paperback (5/17/2022)
Description
"Read it for twists on twists, meditations on faith, and a deeply thoughtful treatment of an evangelical community."  — Glamour, Beach Reads That Are Like Summer in a Book
"A thoughtful and candid meditation on faith, family, and forgiveness . . . fabulous." —Claire Lombardo, New York Times bestselling author of The Most Fun We Ever Had 
Recommended by Good Housekeeping, Elle, Parade, Real Simple, Glamour, Refinery29, Bustle, Oprah Daily, The Millions, Shondaland, Yahoo!, Literary Hub, and more!
A mesmerizing debut novel set in northern Texas about two sisters who discover an unsettling secret about their father, the head pastor of an evangelical megachurch, that upends their lives and community—a story of family, identity, and the delicate line between faith and deception.
Luke Nolan has led the Hope congregation for more than a decade, while his wife and daughters have patiently upheld what it means to live righteously. Made famous by a viral sermon on purity co-written with his eldest daughter, Abigail, Luke is the prototype of a modern preacher: tall, handsome, a spellbinding speaker. But his younger daughter Caroline has begun to notice the cracks in their comfortable life. She is certain that her perfect, pristine sister is about to marry the wrong man—and Caroline has slid into sin with a boy she's known her entire life, wondering why God would care so much about her virginity anyway.
When it comes to light, five weeks before Abigail's wedding, that Luke has been lying to his family, the entire Nolan clan falls into a tailspin. Caroline seizes the opportunity to be alone with her sister. The two girls flee to the ranch they inherited from their maternal grandmother, far removed from the embarrassing drama of their parents and the prying eyes of the community. But with the date of Abigail's wedding fast approaching, the sisters will have to make a hard decision about which familial bonds are worth protecting.
An intimate coming-of-age story and a modern woman's read, God Spare the Girls lays bare the rabid love of sisterhood and asks what we owe our communities, our families, and ourselves.
"A deeply felt book about love — love for family and community, for people who sustain you and people who disappoint you. And love for God, too, which Kelsey McKinney writes about with humane and incisive frankness."—Linda Holmes, New York Times bestselling author of Evvie Drake Starts Over
"The accomplishment of this canny novel is in positing coming of age itself as a loss of faith—not only in the church, but in our parents, our family, and the world as we thought we understood it." — Rumaan Alam, New York Times bestselling author of Leave the World Behind and Rich and Pretty
Praise For God Spare the Girls: A Novel…
"God Spare the Girls is an incandescent novel. The book is a clear-eyed breathtaking exploration of sisterhood, faith and love and loss. McKinney broke my heart a million times with her beautiful and unflinching exploration of two sisters caught in a repressive world of religion and even more repressive love. I couldn't put it down. I found myself lost in the world of Texas heat and the fires of faith. McKinney's world is both familiar and engrossing, compelling and poignant. God Spare the Girls is a dazzling debut."
— Lyz Lenz, author of Belabored and God Land

"Every family has its secrets. . . . God Spare the Girls is an exploration of individuality, family, religion, community, and how when one family secret is revealed, many more follow."
— Oprah Daily, 33 of the Best Beach Reads to Help You Escape

"God Spare the Girls by Kelsey McKinney is a fascinating look at the moment in a young woman's life when she starts to forge an identity separate from her family's."
— Real Simple, The Best New Books to Read in 2021

"Compelling . . . Both a coming-of-age book and an examination of belief, identity, and family, God Spare the Girls is unflinching and entrancing, and a reminder of the dangers of blind faith, but also the power of love."
— Refinery29, 38 Books You'll Want To Read This Summer

"This coming-of-age debut about sisterhood, faith, community, and Evangelical Christianity is sure to delight."
— The Millions, Most Anticipated of June

"The writing is evocative, and McKinney masterfully captures the nuanced dynamics of sisterhood. I wish it had been 10 times longer."
— The Atlantic Daily

"Kelsey McKinney's debut novel asks a difficult question: Why does God's love often feel more conditional when it comes to women? . . . With a story about family, womanhood, and the question of goodness, readers will not be able to put God Spare the Girls down."
— Shondaland, The 5 Best Books for June 2021

"A story of sisters, family, faith, power, performance, secrets, and betrayal . . . a gorgeously written exploration of what it means to attempt to love and trust when the foundations upon which we've built those words have been torn down."
— Lynn Steger Strong, author of Want and Hold Still

"A heart-filled exploration about faith, family, and loyalty, and what it means to strike your own path . . . Told with such tenderness, humor, and yes, hope, this is a novel for anyone who's felt broken down over faith and love and who has questioned what they thought they knew about life, which is to say, all of us. A coming of age tale that feels fresh and untold . . .These characters will be on my mind for a long time."
— Chelsea Bieker, author of Godshot

"Kelsey McKinney has written a real whopper of a novel with God Spare the Girls, a book that explores the ultimate cost of love within a family and the secrets people keep. I felt deeply touched by these characters as I read; both hopeful for their relationships and also wishing for their success. It is a precious thing to find a novel that allows for both the sweetness and the sour—McKinney writes it all deftly, beautifully, and fearlessly."
— Kristen Arnett, New York Times bestselling author of Mostly Dead Things and With Teeth


"Kelsey McKinney has wrought an elegant tale of sisters, yes—but its greatest success is in accommodating a story of Evangelicalism that both speaks to its strengths and all-too-human heartbreaks. A compelling read."

— Esmé Weijun Wang, New York Times bestselling author of The Collected Schizophrenias

"I don't know what I was more moved by in God Spare the Girls: the depths and twists of family love, the complexities of faith, or the failures of both faith and love. A devastating and large-hearted novel."
— R.O. Kwon, author of The Incendiaries 

"The highlight of McKinney's authentic narrative is her treatment of relationships, and Caroline and Abigail's growing connection as the rest of their world threatens to fall apart is at once engaging, witty, and heartbreaking. A loss of faith gives way to something much stronger."
— Kirkus

"Read it for twists on twists, meditations on faith, and a deeply thoughtful treatment of an evangelical community."
— Glamour, Beach Reads That Are Like Summer in a Book

"This stirring debut about faith, secrets, and familial bonds will keep readers turning the pages."
— Publishers Weekly

"An astonishingly assured debut that focuses on Caroline and Abigail Nolan, a pair of sisters in the fictional North Texas town of Hope, as they struggle with their evangelical faith and family betrayal."
— Texas Monthly

 "A feminist rewrite of Lot. . . . God Spare the Girls is, in short, delightful."
— Texas Observer

"Bewitching . . . [a] tender but cutting coming-of-age story."
— Elle, The Best New Books to Read in Summer 2021

"The story is fictional, but far too familiar to many who were raised in the church."
— Relevant Magazine

"The novel's strength lies in its note-perfect depiction of conservative white Bible Belt church culture, and what happens when that culture's image of perfection clashes with reality. Kelsey McKinney's powerful first novel takes on Texas summer heat, church politics and complicated family dynamics."
— Shelf Awareness

"A compelling and beautifully written tale, a book that captures the hubris and hypocrisy that can come from institutionalized faith while also finding ways to acknowledge the value that such circumstances can bring. Delicately heart wrenching, driven by sad realizations and quiet humor, it's an unforgettable read. . . . An exceptional piece of fiction, sad and smart and driven by an overarching verisimilitude. What McKinney has created feels like a real place with real people, all while sharing their stories of faith gained or lost or somewhere in-between. Believing matters—but what often matters more is that (or those) in which (or whom) we choose to believe."
— The Maine Edge

"McKinney is a strong and compelling storyteller and has crafted a captivating small town world full of gossip and intrigue. God Spare the Girls beautifully explores the challenges of young womanhood in the context of a religion that has its own very strict ideas about what it means to be a good daughter, sister, and wife. Above all else, God Spare the Girls is a touching and powerful story of a bond between two sisters navigating a world and life they never chose. It is a beautifully rendered spin on classic coming-of-age tales, with the characters navigating intricate layers of relationships with themselves, with each other and with their faith."
— Associated Press
William Morrow, 9780063020252, 320pp.
Publication Date: June 22, 2021
About the Author
KELSEY McKINNEY is a freelance features writer and cofounder of Defector Media. She previously worked as a staff writer at Vox, Fusion, and Deadspin. Her writing has appeared in the New York Times, GQ, Cosmopolitan, and New York magazine, among other publications. Raised Evangelical in north Texas, she now lives in Washington, DC, with her husband and dog. God Spare the Girls is her first novel.